Who Was Mike Pence's Biggest Influence In Politics?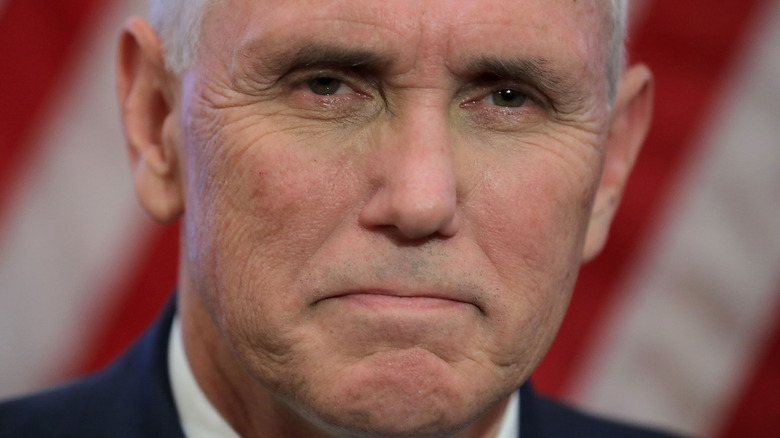 Chip Somodevilla/Getty Images
Mike Pence might have been in the public eye more than ever before during the latter half of the 2010s, being vice president to Donald Trump, but the public figure has been in politics for a long time — he first ran for Congress in 1988 (via The Hill) and had a radio show beforehand — and throughout his life, his political views and opinions have evolved.
We might know him as the arch-conservative Republican governor of Indiana and then as vice president to Trump, but that wasn't always the case. Growing up in 1960s Indiana to parents of German and Irish ancestry (via IndyStar), his family was Roman Catholic and all Democrats (via The New York Times). Believe it or not, Pence voted for Jimmy Carter in 1980 and even volunteered for the Bartholomew County Democratic Party as a teenager (via IndyStar). Of course, he's taken something of a sharp turn in the years since, but just who was Mike Pence's biggest influence in politics? Let's take a look. 
Mike Pence started out as a Democrat but his views shifted over time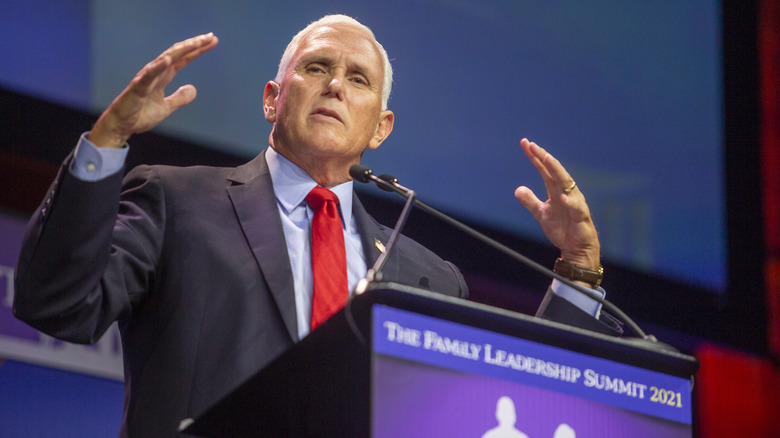 Bloomberg/Getty Images
When Mike Pence was younger, his political inspirations were John F. Kennedy and Martin Luther King Jr., the younger, more liberal Pence being a firm Democrat like the rest of his family (via IndyStar). However, during college, he turned away from Catholicism and became an evangelical, born-again Christian. Around the same time, he began to admire Ronald Reagan, and his political views shifted to become more conservative (via Fact Retriever).
However, his biggest influence over the years has been the political theorist Russell Kirk, whose 1953 book "The Conservative Mind" inspired conservatism in the wake of World War II. Kirk, who died in 1994 at the age of 75, met Pence during his lifetime, and Pence even said a few years ago that he hadn't "taken a vacation in the last 25 years without a Russell Kirk book under my arm" (via IndyStar).
Of course, other inspirations have included the likes of free-market proponent Milton Friedman and fellow economist Friedrich Hayek, but it seems clear that Kirk is number one in Pence's eyes.