Inside Mike Pence And Donald Trump's Relationship Today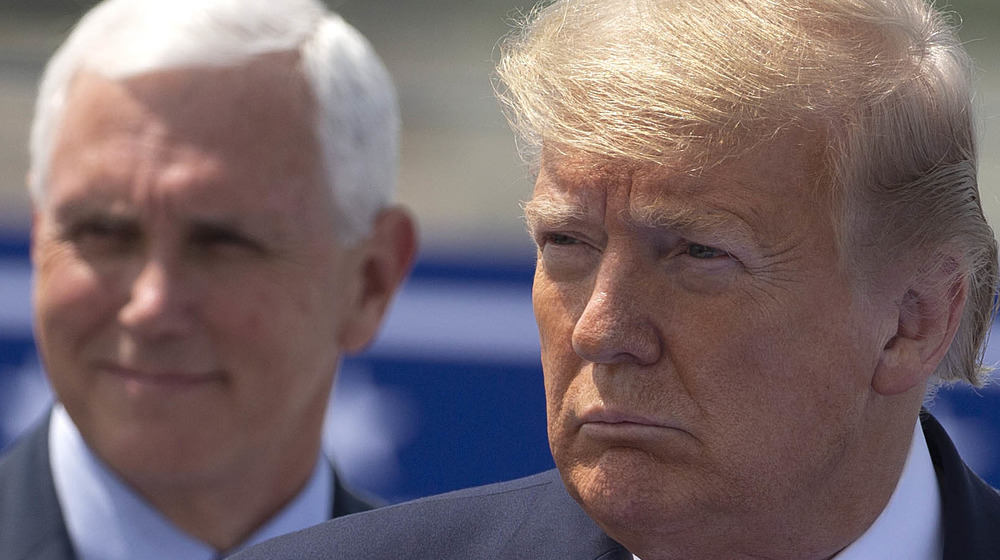 Saul Martinez/Getty Images
If there was a way to describe the relationship between former President Donald Trump and Vice President Mike Pence, it would probably be "it's complicated." Up until the beginning of 2021, both men were seen to be as thick as thieves. But that was before Trump's incendiary tweets regarding Mike Pence on January 6, the day of the Capitol insurrection — tweets that many viewed as encouraging the mob to go after the vice president (via The New York Times). 
But it seems Pence is over the small matter of his former boss appearing to wish him harm. House Republican Jim Banks, from Pence's home state of Indiana, said that when he last spoke to Pence, the former vice president "spoke very favorably about his relationship with President Trump." Banks told CNN, "I got the sense they speak often and maintain the same personal friendship and relationship now that they have for four years."
Trump and Pence's relationship appeared rocky for a while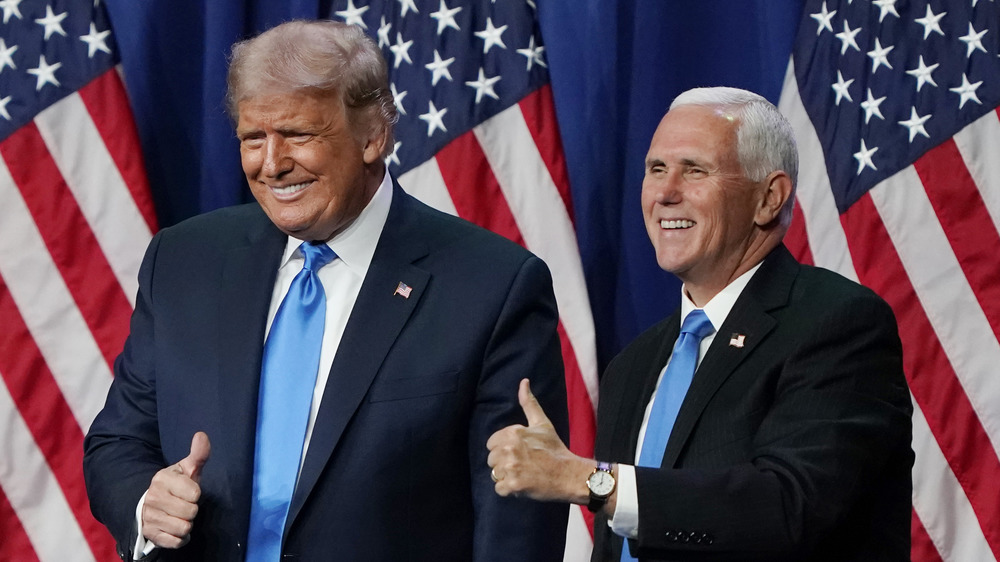 Pool/Getty Images
It had seemed, at least to those on the outside, that a sizeable breach had developed between Trump and Pence after the attack on the Capitol. The men did not speak for days following the riot, in part because the former president was reportedly angry that his number two didn't intervene on his behalf (something he did not have the authority to do) as the Electoral College vote was being certified (via The Hill). Then on Inauguration Day — Pence attended the inauguration of Joe Biden while Trump took off to Florida from Joint Base Andrews. 
Rumors of a rift between the two were further fueled by the news that Pence had declined an invitation to appear at the upcoming Conservative Political Action Conference (CPAC) event in Orlando, Florida, where Trump would be speaking. However the vice president's former chief of staff, Marc Short, refuted those rumors, telling CNN that Trump and Pence "departed amicably" and are on speaking terms. 
It seems Pence is ready to go to bat for the former president once again. Representative Banks told CNN that in the coming weeks, Pence would be setting up an organization to tout the achievements of their administration. "He'll be launching an organization defending the successful Trump-Pence record of the last four years," he said. Banks also told the outlet that Pence appears hopeful for the 2022 midterms, when he predicts the GOP will take over both houses of Congress.