The Truth Behind Mike Pence's Accidental Nickname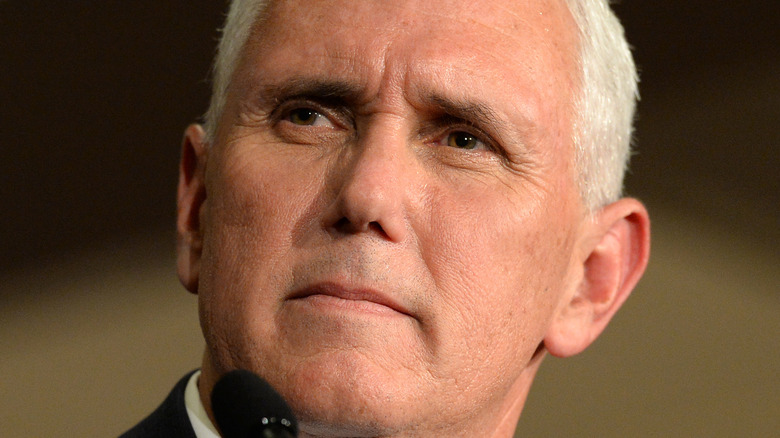 Gino Santa Maria/Shutterstock
Mike Pence seems like a simple enough name, and it's certainly a well-known one. After all, he was the vice president of the United States for four years after first being a congressman from Indiana and then the governor of the same state.
Michael Richard Pence was born on June 7, 1959, in Columbus, Indiana. Although he became a Republican politician, when he was young and coming of age, he was influenced by a Democratic politician whom he was said to idolize, President John F. Kennedy, who was assassinated when Pence was only 4 years old. In fact, the first time Pence ever voted for president, he chose the Democratic nominee at the time, Jimmy Carter. 
The election went to Ronald Reagan, and, as a young man, Pence found himself influenced by the Republican leader, which set him on a path in Republican politics (via Biography), eventually leading him to the second-highest office in the land — as well as an accidental nickname.
Donald Trump bestowed a nickname on Mike Pence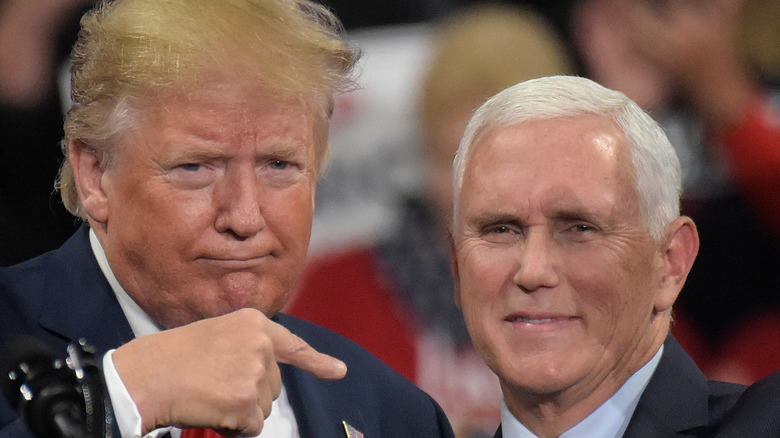 Matt Smith Photographer/Shutterstock
Former President Donald Trump was notorious for finding nicknames for people he perceived as his enemies. Hillary Clinton became "Crooked Hillary," while President Joe Biden became "Sleepy Joe." When he was running in the Republican primaries in 2016, Florida Senator Marco Rubio became "Liddle Marco," and Texas Senator Ted Cruz became "Lyin' Ted," but it took a while for his own VP to earn a nickname — and when that nickname came, it was because Trump misspoke.
It was 2019, and somehow Mike Pence managed to get through most of his vice presidency without a nickname being bestowed upon him by the commander-in-chief. But all that changed when Trump gave a speech in Baltimore and accidentally said "Mike Pounce" rather than Mike Pence when referring to his VP. He was rattling off a string of top Republicans at the time, and the word "Pence" apparently came out wrong, according to HuffPost.
Despite it being an accident, Twitter quickly "pounced" on the nickname, with CNN reporter Kate Bennett tweeting, "Meanwhile the president just called his Vice President Mike Pounce so everything is fine." Historian Kevin Kruse quipped, "Mike Pounce sounds like someone who guest MCed a Beastie Boys track."
While the accidental nickname gave Twitter some fodder for a while, Pence is still generally referred to by his given last name, as of this writing.