Here's What You Should Be For Halloween If You're A Taurus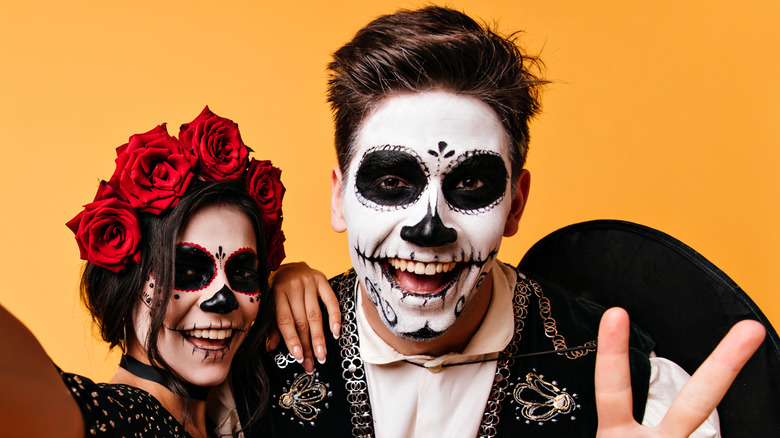 Look Studio/Shutterstock
Halloween comes just once a year, so if you're going to dress in a costume, you should do it right. Whether you love the spooky element of the holiday, or just the fun idea of dressing up and pretending to be something or someone else for a day, your costume should be a reflection of yourself and your personality. However, for those born under the sign of Taurus (born between April 19 and May 20), thinking about putting together an elaborate and fun Halloween costume may leave much to be desired.
Co-Star Astrology noted that Taureans tend to be homebodies, who love to cuddle up and watch television or read a good book opposed to going out and getting social. Some traits of a Taurus include a love for all things comfy such as sweatpants. The outlet even revealed that the zodiac sign hates changes, but when they decide to put their mind to something, they go all in. So, if you're ready to go all in on your Halloween costume, we've got you covered.
Taurus should dress to impress this Halloween season
Co-Star Astrology revealed that some famous Taureans include Malcolm X, Audrey Hepburn, William Shakespeare, James Brown, and Mr. T., all of whom would be fun and attention-grabbing costumes if you were looking to dress up as a famous fellow Taurus. However, Refinery29 noted that the zodiac sign has a love for high-quality and luxury, and their Halloween costume should reflect that. They suggested that Taureans may have a blast dressing up as their favorite character from history. Perhaps a flapper from the roaring 1920s, or even a pop culture icon like one of the Gorgeous Ladies of Wrestling.
Meanwhile, PureWow claimed that because Taureans love the finer things in life, and have a knack for getting their own way, the perfect Halloween costume to dress as could be the "Schitts Creek" character, Moira Rose. The character, portrayed on screen by actress Catherine O'Hara, is not only a fan-favorite among watchers, but offers so many possibilities as she's known for her over-the-top style and amazing wigs. Of course, the wacky accent is optional!
While putting on a Halloween costume and getting out of your comfort zone may seem like a lot of work, you likely won't regret the decision to have a little fun with your ensemble this spooky season. So go big and dress to impress.