How Da Brat Made Hip Hop History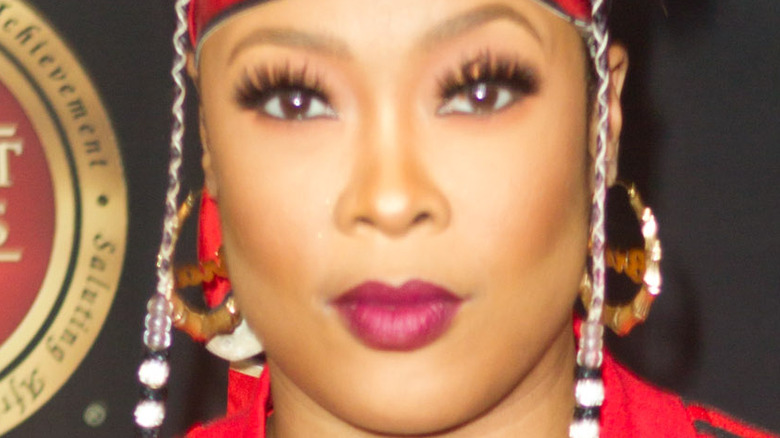 Jamie Lamor Thompson/Shutterstock
Nicki Minaj, Cardi B, Megan Thee Stallion, and Doja Cat are among the biggest names in rap (via Capital Xtra), but before them came a host of female rappers who paved the way. Alongside Missy Elliott, Lil' Kim, Ms. Lauryn Hill, Eve, and a number of other female rappers, Da Brat really broke new ground for today's rappers to take the stage (via Hip-Hop Wired). 
Many of us might be more familiar with Da Brat because of her recent TV career — "Brat Loves Judy" features Da Brat alongside her partner, Jesseca "Judy" Dupart, while she's also appeared in "Growing up Hip Hop: Atlanta" since 2017 (via IMDb) — but in the late '90s and early '00s she was a rather influential rapper indeed. She might not have released an album since 2003's "Limelite, Luv & Niteclubz" (via Discogs), but she's left a rich legacy. She even managed to make hip-hop history before taking time away from music, firmly securing her position as one of the most iconic women in rap.
She's the first solo female rapper to go platinum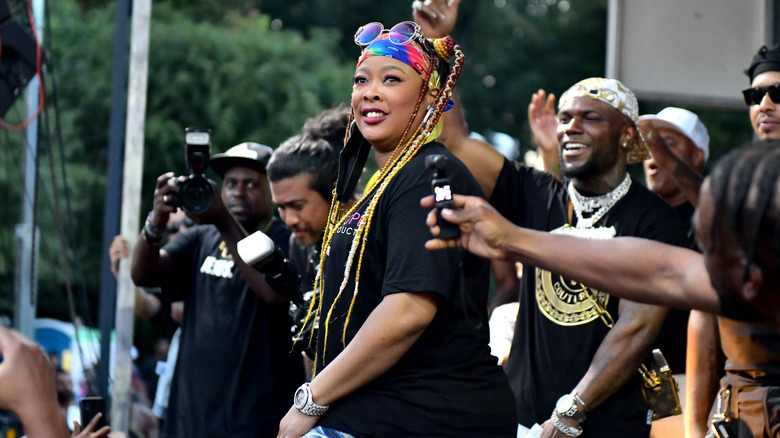 Derek White/Getty Images
Da Brat's 1994 debut album "Funkdafied" was a huge success. It went platinum, meaning that Da Brat was the first female solo rapper to have a platinum-selling album. Not only that, but she also won a Soul Train award for Best Rap Album, and three Billboard awards too: Top Hot Rap Artist, Top Rap Single, and Top Female Rap Artist (via 939X Indy).
For context, Da Brat went platinum three years before Missy Elliott released her debut album and two years before Lil' Kim's debut solo album. Okay, so Da Brat might have been pipped by Salt-N-Pepa as the first female rap act to go platinum (via The Source), but becoming the first female solo artist to go platinum is still certainly no mean feat. 
While Da Brat has been focusing more on TV, and her family life, she's not entirely been staying away from music in recent years. Take, for example, her single "Quarantine With U" released in 2020 with a clear pandemic theme (via Variety). Could we see her hit the same heights again, decades later?