The Truth About Da Brat's Girlfriend, Jesseca 'Judy' Dupart?
Paras Griffin/Getty Images
Jesseca Dupart and Da Brat confirmed their relationship in early 2021 after several months of rumors. Since then, lots of fans have wanted to know everything they can about the woman who captured Da Brat's heart. 
The pair live in Atlanta, Georgia. Dupart, the CEO of Kaleidoscope Hair Products, originally hails from New Orleans and is a survivor of Hurricane Katrina. The rapper has said that when she first met Dupart, she was so intimidated she didn't know how to behave. Per the Daily Mail, Da Brat explained that she was just overwhelmed. "I was just real nervous and scared. At first, I would hide behind furniture when she would talk to me. I would cover up my face when I laughed."
Luckily, Dupart liked the behavior and the two made things work. They did have to meet in the middle on one aspect of their relationship: privacy. As Da Brat explained to Variety in March 2020, she had to grow to understand that Dupart works online, and part of that means her life is online, too. "I've always felt like being private is the better way to go, because then you don't have so many people in your business. I was fine staying quiet, but my partner is a social media mogul — that's how she became who she is. And when you get with somebody, you have to meet in the middle. So to me, the middle was just letting everybody know: 'Hey, she's the one.'"
Sheen Magazine calls Jesseca the "Queen of Success"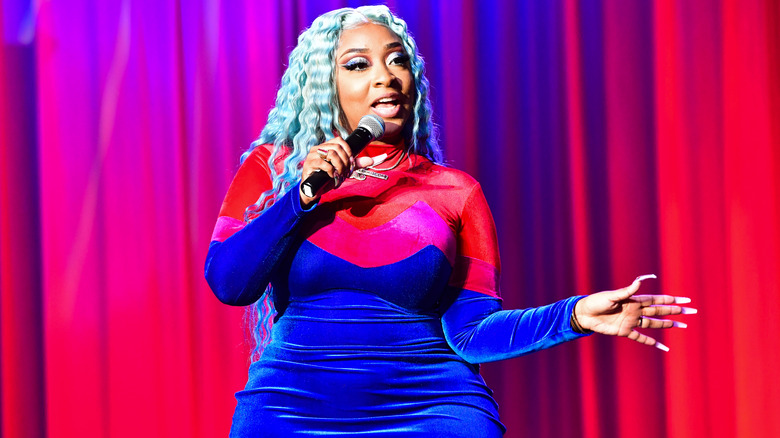 Erika Goldring/Getty Images
For many people, the name Jesseca Dupart means one thing: success. In addition to Kaleidoscope Hair Products, Dupart is also the woman behind one of the best-selling hair growth products out there, Miracle Drops. Dupart explained to Sheen Magazine that she saw a spot in the market and she went for it to help women everywhere.
"I saw hair loss as a major void in the marketplace, from wearing tight braids, wig irritation, poorly installed weaves to alopecia. A woman's "Krown" affects how she flows. Miracle Drops are infused with tea tree oil, aloe vera, peppermint, and coconut oil to name a few natural goodies. Our goal with Miracle Drops is to grow hair and boost self-esteem for the freedom to be."
Dupart is also known for her marketing prowess, and she told the publication that it's all about remembering your ideas. "I have an ongoing note in my phone, and we check off as we go and add as they come. I have a few ideas I've been sitting on a few years and waiting for the right time. So, at any time I'll have about 40 things in my phone. From lines, we have to those we haven't even launched yet," (via Sheen).