Chrissy Teigen Opens Up About Her Recent Plastic Surgery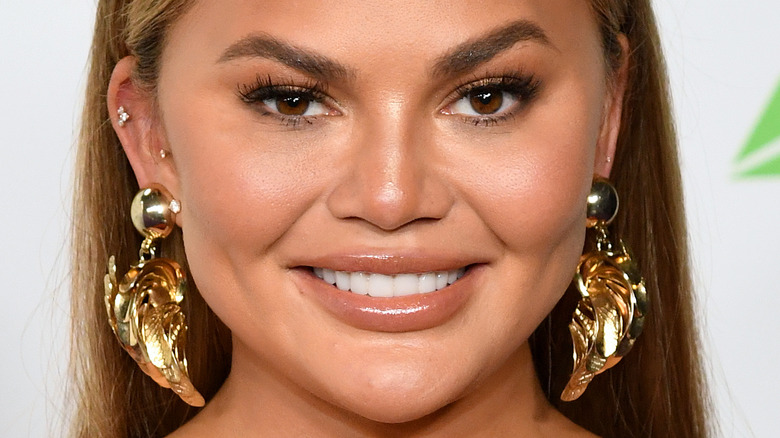 Kevin Mazur/Getty Images
Chrissy Teigen is not one to hide what work she has had done. The model previously copped to getting breast implants, and later shared her journey to have them removed (via Glamour U.K.). The cookbook author is also up front about being devoted to Botox (via Showbiz Cheat Sheet).
In an effort to make her arms appear longer, the star also had fat sucked out of her underarms, according to Distractify. "It made me feel better in dresses; I felt more confident. It was the dumbest, stupidest thing I've ever done. The dumbest, but I like it, whatever. I have no regrets, honestly," she elaborated about the procedure (via Page Six).
Now, Teigen is opening up about having undergone another plastic surgery procedure. This time, the target area was her famous cheeks, which she previously joked were the only real thing about her.
So what did the sometimes-controversial star have done?
Chrissy Teigen's plastic surgery procedure is quite popular it seems
In a recent Instagram Stories video, the influencer shared that she turned to a celebrity plastic surgeon to work on her famous face. "I did that Dr. Diamond buccal fat removal thing here," Teigen explained (via Page Six).
According to Byrdie, buccal fat removal is one of the most-requested procedures on cosmetic surgeons' menus of late. It basically involves taking fat out of a patient's cheeks with the goal of making their face appear slimmer, and their bone structure more defined.
As for Teigen, she said in her video about the procedure, "And since I quit drinking, I'm really seeing the results, and I like it. Yeah, I did it, what?" As People reports, the model mama recently celebrated 50 days of sobriety. "This is my longest streak yet! I still dunno if I'll never drink again but I do know it no longer serves me in ANY way," she shared in part about her journey refraining from alcohol thus far.