Sponge Beauty Blenders Vs. Silicone Beauty Blenders: Which Is Better For You?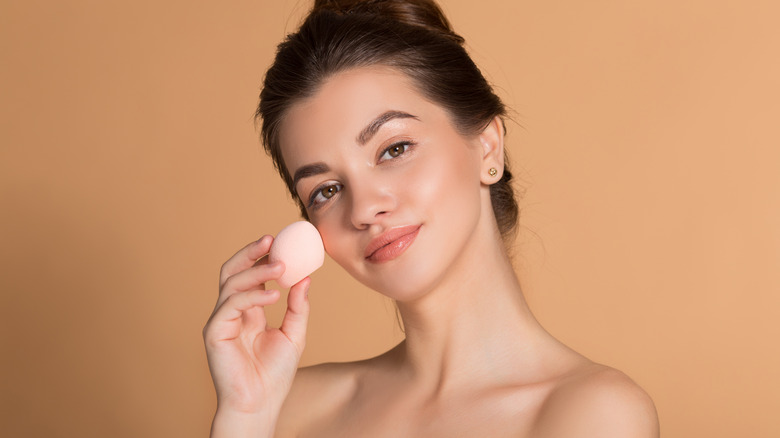 PonomarenkoNataly/Shutterstock
Gone are the days of applying your foundation with a brush. Beauty blenders became all the rage around 2007, according to Racked. The original brand, Beautyblender, hit the market that year and has sold over 6.5 million makeup application sponges.
The vision for the Beautyblender was to transform the idea of disposable sponges and make something more sustainable to use to apply foundation. "Sponges were a disposable, throwaway product. We were taught very early on through marketing and the way sponges are sold in bags of 36 or whatever to throw them away and get a new one and use it," shared Beautyblender founder Rea Ann Silva. She transformed the makeup sponge industry.
Now, there are several versions of the Beautyblender on the market. According to Medium, there are several shapes, sizes, and brands to choose from. There are wedged sponges, teardrop-shaped sponges, and even silicone blenders. All of these different versions have hype behind them, but when it comes to choosing a traditional sponge or a silicone blender, which one is actually better?
When it comes to beauty blenders, stick to the classic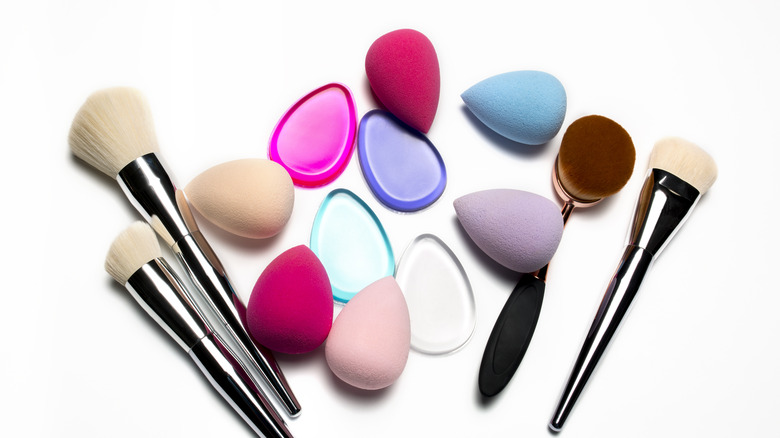 Viktoriya Pavliuk/Shutterstock
Everyone wants to find the best way to apply foundation. Nothing beats a flawlessly blended face. According to Refinery29, there are benefits to using both a sponge beauty blender and a silicone one. The silicone options tend to be more hygienic, but the sponge blender has more of a cult following. "The advantage of a foam makeup sponge is that, due to the porosity and bounce, it flawlessly blends the makeup into skin. This creates an airbrush finish," said makeup artist and beauty vlogger Mayerling Cintron. "A silicone sponge, which is flat, just spreads the product, making it virtually impossible to achieve the same results.
While there are makeup lovers out there who enjoy applying their foundation with a silicone blender, it seems most professionals favor the traditional sponge blender. "I find that silicone sponges don't quite give you the even application you can achieve with traditional sponges/beauty blenders or even brushes or clean hands," makeup artist Moani Lee told Real Simple.
It seems the general consensus is that sponge beauty blenders are the way to go. They blend products smoother and the application process is easier. If you are drawn to silicone blenders because of their hygienic nature, washing your sponge blender regularly will keep it clean and ready to use.