What You Should Know About Robin Roberts' Partner, Amber Laign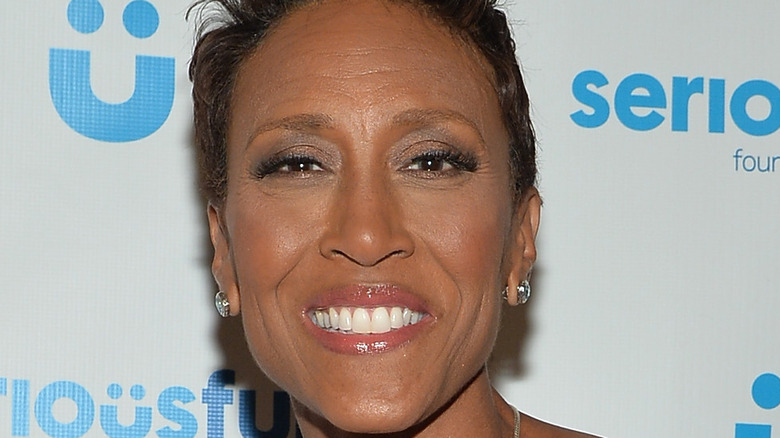 Mike Coppola/Getty Images
Robin Roberts has been helping viewers wake up each day on "Good Morning America" for more than 15 years, and viewers have had a front-row seat to some of the television host's biggest challenges, including her battle with breast cancer in 2007 and a bone marrow transplant in 2012 (via Biography). Through it all, Amber Laign, Roberts' partner for the past 16 years, has been by her side.
Roberts and Laign met on a blind date in 2005, but kept their relationship under the radar until 2013 when Roberts decided to announce to the public that she was gay (via Hello!). When the couple celebrated their 15-year anniversary in July 2020, each posted loving tributes to the other on social media. "I drive you crazy ... I know which is why I love you even more to this day. You have the kindest heart and most beautiful soul than anyone I know," Laign wrote on Instagram. "You have shown me time and time again to stay humble and to always treat others with the utmost respect as you never know what one might be going through."
But while Roberts is comfortable being in the public eye, Laign lives a relatively private life. In fact, when Roberts appeared on "Ellen" in 2014, she explained that "[Amber] doesn't really like the spotlight. She's here right now, I can't even get her to come out [on stage] ... You know, not everybody wants to be in the spotlight." (via E! News)
Robin Roberts' partner doesn't like the spotlight
J. Merritt/Getty Images
Robin Roberts has been on television for more than 20 years, but her longtime love, Amber Laign, has chosen to stay out of the spotlight. The couple rarely walks the red carpet together, with Laign choosing to spend time focusing on her own career. After studying at the Swedish Institute of Health Sciences, Laign became a licensed massage therapist specializing in chronic pain (via Distractify). She is also the co-founder of Plant Juice Oils, a company with products that "feature blends of essential oils and CBD to deliver Mother Nature's medicine to women everywhere."
Laign, who hails from San Francisco, was inspired to launch the business after taking care of Roberts during her health struggles. "Amber saw the effects of cancer treatments firsthand as the primary caregiver to her partner," according to the company website. "In 2012, Amber found herself back in the caregiver role as Robin received a bone marrow transplant. While searching to find a holistic approach to help with the many side effects, Amber discovered the wonderful benefits of combining essential oils with broad spectrum CBD oil."
The couple lives in Connecticut with their dog, Lukas (via Hello!) — and Roberts pointed out the pandemic only made their relationship stronger. "We spent more time together this past year than in the previous 15 years combined. We've never been stronger," she told People.