The Truth About Florence Pugh And Timothee Chalamet's Relationship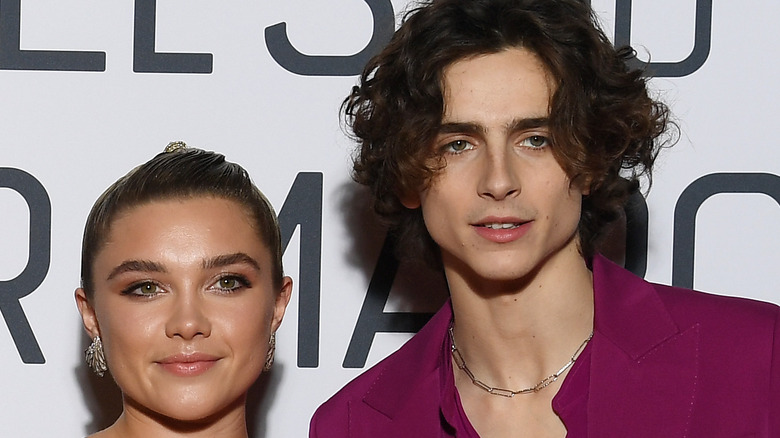 Pascal Le Segretain/Getty Images
Florence Pugh and Timothee Chalamet are two of the hottest young stars in Hollywood right now. Pugh rose to fame after her memorable performance in the horror film "Midsommar" in 2019, and Chalamet first captivated audiences in "Call Me By Your Name" in 2017. It was only a matter of time before this talented duo starred in a project together, and fans were pleased when it was announced that both actors would appear in Greta Gerwig's "Little Women" film adaptation. The movie premiered in 2019 to critical acclaim, with Pugh earning an Oscar nomination for her portrayal of Amy March (via Vogue).
Chalamet starred opposite Pugh as beloved character Laurie. In both the original novel and Gerwig's film adaptation, Laurie and Amy fall in love with each other after Laurie falls out of favor with Amy's older sister, Jo. The complicated dynamics of Amy and Laurie's relationship played out beautifully on-screen as Pugh and Chalamet had an undeniable sense of quiet chemistry in every shared scene.
Since Pugh and Chalamet play love interests in "Little Women," many people began to wonder what their off-screen relationship was like and whether the two were actually close. Read on to find out the truth about Pugh and Chalamet's relationship.
Florence Pugh and Timothee Chalamet share a close bond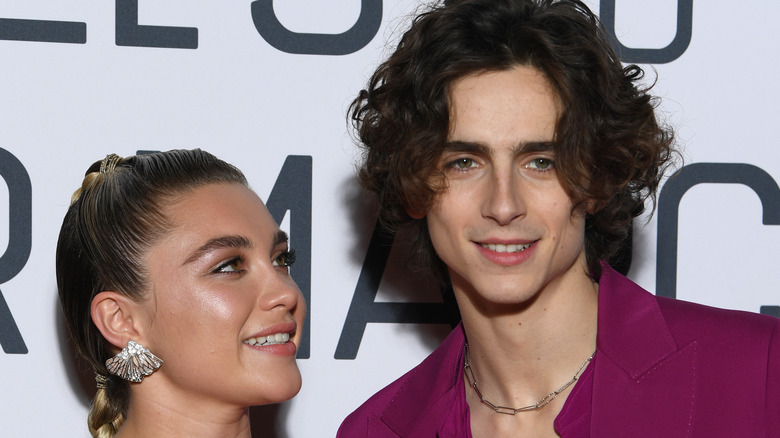 Pascal Le Segretain/Getty Images
When Florence Pugh and Timothee Chalamet were completing their press tour for "Little Women," Pugh openly shared her admiration for her co-star. Speaking to Glamour, Pugh had these wonderful remarks to say about Chalamet. "Timmy was so involved with all the girls," she said (via Grazia Daily). "He was just as desperate to be a part of our gang as we were." She then continued: "He was instantly in with the jokes and the wrestling. Everything about that dynamic didn't feel like we were welcoming a boy — it was really wonderful."
It sounds like the two really got along well when they were on set. And this affection clearly translated to their off-screen dynamic as well, since Pugh admitted to Elle that she actually had Chalamet work as her stand-in stylist while they were promoting the film. Chalamet has been known to dress himself when attending press events, and Pugh asked him to lend his stylistic eye to her own ensembles for their shared public appearances.
Now that sounds like an awesome friendship!