Why Elliot Page's Debut At The Met Gala Was So Significant - Exclusive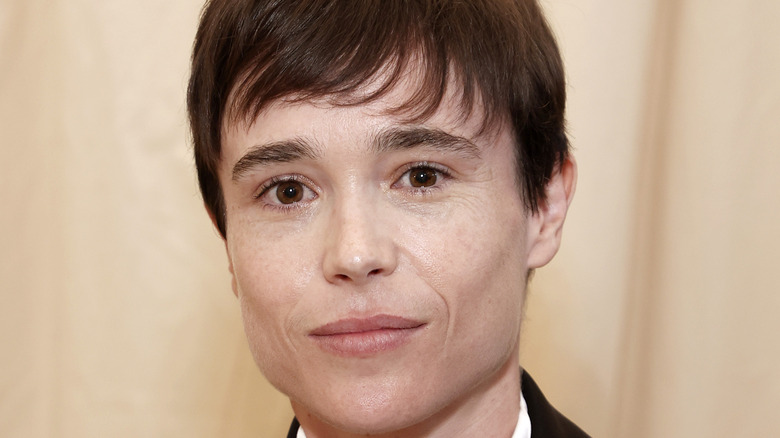 Arturo Holmes/mg21/Getty Images
People are still buzzing over all the appearances made Monday night at the Met Gala. Held annually at The Metropolitan Museum of Art, this year's theme was "In America: A Lexicon of Fashion." There were gowns fit for fairytale princesses, all-black looks full of mystery, and some less avant-garde outfits, such as the black suit seen on Elliot Page.
This was the "Juno" actor's first time to the Met Gala, as well as his first time on a red carpet since coming out as transgender in December (via Page Six).
Some people criticized the fact that he was just wearing a plain suit since the Met Gala is known for its over-the-top ensembles. However, many fans showed their support online. "He literally showed up to the Met Gala in just a normal suit ... and ABSOLUTELY ROCKED IT," tweeted one fan. Another person wowed by the look tweeted, "The only man i'll allow a basic a suit," while another wrote, "It's his first [time] wearing one since coming out so it's bigger than it seems regardless of how it looks."
Elliot Page's 'green flower made a statement,' says expert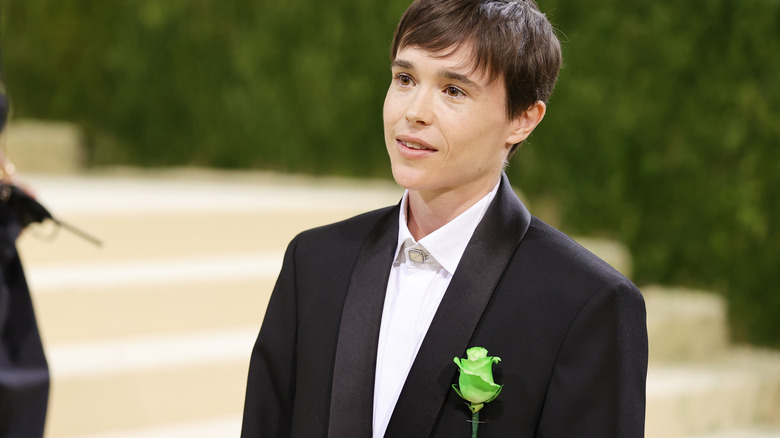 Mike Coppola/Getty Images
According to Page Six, Elliot Page's Met Gala suit was by Balenciaga, and he paired it with two distinct accessories: a pair of black sneakers and a green flower on his lapel.
Jess Ponce III, a body language expert, media coach, international personal branding expert, and author of A.W.E.S.O.M.E, talked exclusively with The List about the look. "This included a certain confidence, almost swagger, when he walked down the red carpet," said Ponce. "In recent press, we've seen the more sober, serious Elliot share his struggles and experiences. At the Met Gala, he seemed at ease, yet still purposeful." Ponce went on to say that Page's "green flower made a statement."
For those who don't know, the green flower "hints at homosexuality," thanks to Oscar Wilde. In 1892, the famous writer and LGBTQ icon had people wear a green carnation on the opening night of a play, and it became a symbol. "Gays in Wilde's time could not be open in the way we are today," states Oscar Wilde Tours. "That is why we have to hunt for clues about their lives — in art, in literature, and in symbols that made up a kind of private language. In choosing the green carnation as our symbol, we are acknowledging that past and those languages. And besides, it simply looks fabulous."