The Real Reason Da Brat Went To Prison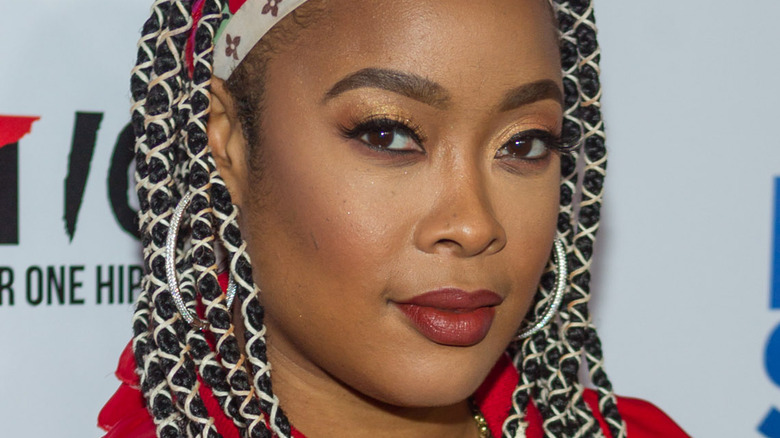 Jamie Lamor Thompson/Shutterstock
Rapper and radio personality, Da Brat, has had a career filled with highs and lows. In 1994, her album "Funkdafied" was a mega success and made her the first female rapper to go platinum. Most recently, she again felt the love from the masses when she shared with the public that she was gay (her partner is Jesseca "Judy" Depart). "Oh, my God, the reaction made me feel like, 'Why didn't I do this s*** years ago?'" She then added, "I got so many positive messages, phone calls, and I had at least 1,500 texts. My DMs were flooded too" (via Variety).
Yes, the singer, whose real name is Shawntae Harris, has absolutely enjoyed some public love. But her successful career and embraced personal admissions are just the highs. Unfortunately, her lows are surrounded in violence. Back in 2000, the "What'Chu Like" performer faced legal charges after she beat a woman with a gun during a dispute over VIP seating at a nightclub in Georgia. After this incident, the radio host avoided jail time by pleading reckless conduct, performing 80 hours of community service, serving a year's probation, and paying a $1,000 fine (per MTV News). But that wasn't the only year when Da Brat's public profile was cast in a cloud of violence.
Da Brat was involved in yet another violent altercation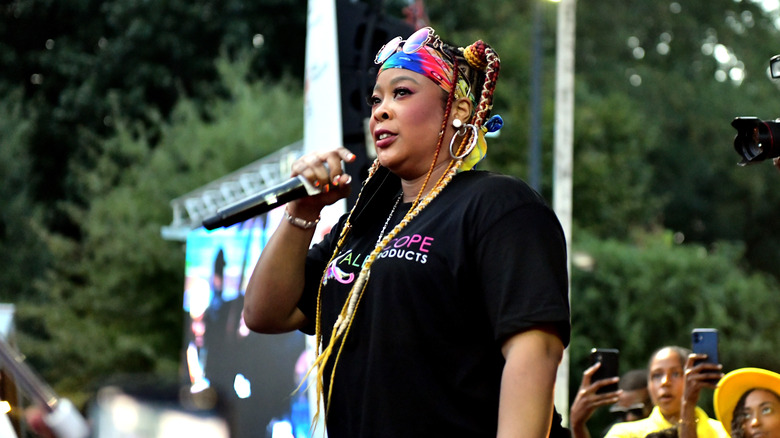 Derek White/Getty Images
In August of 2008, Da Brat was sentenced to three years behind bars, seven years of probation, and 200 hours of community service after pleading guilty to aggravated assault. This incident again happened in a nightclub in Georgia. After getting into a heated argument with a nightclub waitress, Harris hit her in the face with a rum bottle, causing permanent scarring (per MTV News).
When asked about what she learned from her time in prison, Da Brat answers, "Not to take anything for granted, because it's the little things that mean the most. The letters, the food — I had no idea I wouldn't see a shrimp for three years. You don't look at those little things you take for granted so easy, until you get sat down, get locked up, or get into a position where you see other people who are less fortunate than you — that don't have anybody" (via Essence).
The rapper's aggressive rap sheet is in the past and she appears to be living the calmer life working as a radio co-host on the nationally syndicated "Rickey Smiley Morning Show" in Atlanta (via Variety). Da Brat's decades-long career and public life are no different than many other celebrities. There are bound to be highs and lows. Though we're keeping our fingers crossed her jail stint was just a one-off.