If You're An Aquarius, These Are Careers You Should Consider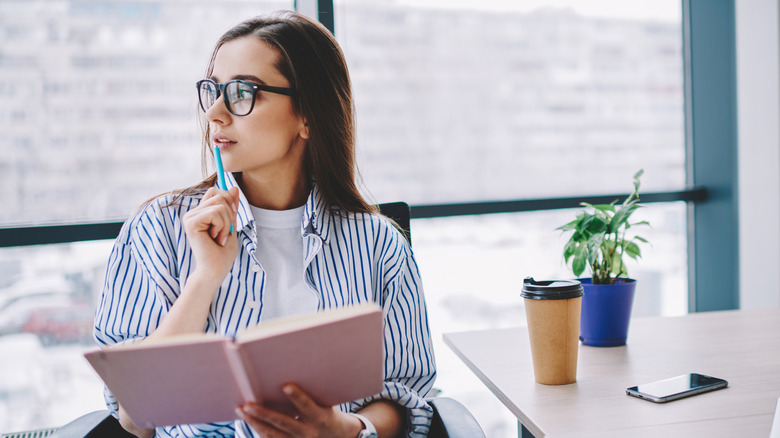 GaudiLab/Shutterstock
Finding the right career isn't always easy. But, it turns out that you can get guidance from the stars in this area of your life. Each zodiac sign has different aspects of themselves that they lean into. If you pay close attention to those aspects, your dream career could be hiding in the details. The perfect jobs for Aquariuses are often multi-faceted, combine passion with purpose, and offer opportunities to grow and learn. Just don't tell this sign what they should be and let them figure it out for themselves.
According to Thought Catalog, Aquarius sun signs genuinely know what they want out of life and don't stop until they get it. The only catch is that there are probably a whole lot of items on that dream board. But, if an Aquarius can narrow down what he or she wants, there's a good chance that they will make it happen.
When Aquariuses find the right career for them, they want to make sure that they can grow in that position. This sign wants to have freedom and commitment at the same time (via Power of Positivity), which means that their ideal job will be in a field where they will continue to learn and grow. 
An Aquarius needs a career where they can use their voice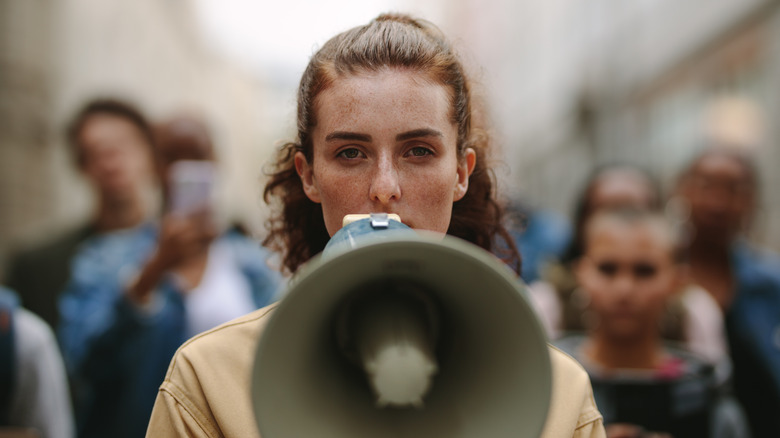 Jacob Lund/Shutterstock
Let's just say that an Aquarius will likely not be happy with a ghostwriting gig. As the most humanitarian astrological sign (via Allure), an Aquarius is always looking to make sure their voices are heard. That makes advocacy a great occupation for the water bearer. While anyone can be an advocate when it comes to social media, an Aquarius won't stop with a social media post. This sign will find a way to root their passions in everything they do. This could mean starting their own organization, non-profit, or even stepping into the realm of politics.
There needs to be just enough flexibility and structure for all sides of an Aquarius to thrive, however. This sign is always evolving or growing, which is what makes the more unconventional career paths — like blogging or becoming a social media influencer — great for them. They can use their voice for something that matters, but still have room to grow if their passions change.
For that reason, social work is also great for Aquariuses. Just beware of stepping into roles that are too emotionally demanding. According to The Times of India, Aquariuses are the most empathic sign, which makes it hard for them to "turn off" at the end of the day. That's especially true when they create a career out of things that they're truly passionate about. 
Aquariuses need to continue to expand their minds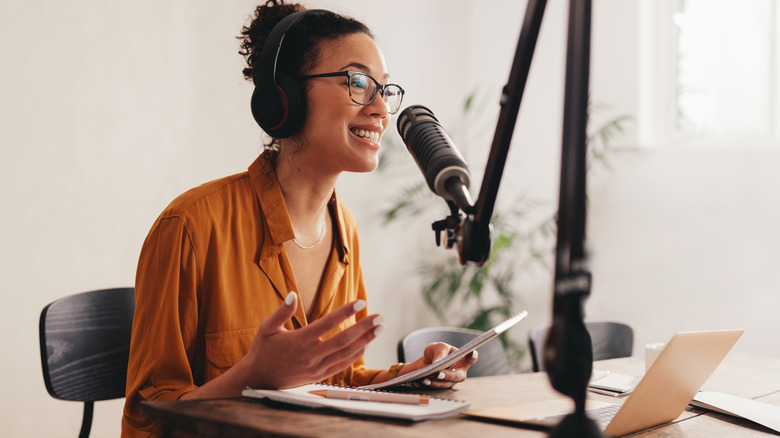 Jacob Lund/Shutterstock
Aquariuses are firm believers that people never stop learning (via Nylon), which means that they're going to make sure to incorporate some aspect of learning into their career. This makes an activity like podcasting a great option for an Aquarius. Not only can they talk about what they're passionate about, but it toes the line of being conventional but not too mainstream. These thoughtful rebels need a creative gig that's also going to be stable if done correctly.
If that's a bit too unconventional for you, becoming a professor is also a great option. There's a good chance that a teacher is going to be a little too rigid of a career path for an Aquarius, but professors have the flexibility that the sign needs to thrive. They can take sabbaticals when they feel like learning and switch up what they teach fairly easily.
You get the pattern, right? An Aquarius needs to feel both like they're a functioning member of society and also like they've got one foot on the outside. Think outside the box and find your passions — both are great compasses to guide any Aquarius.