The Truth About Bling Empire's Kane Lim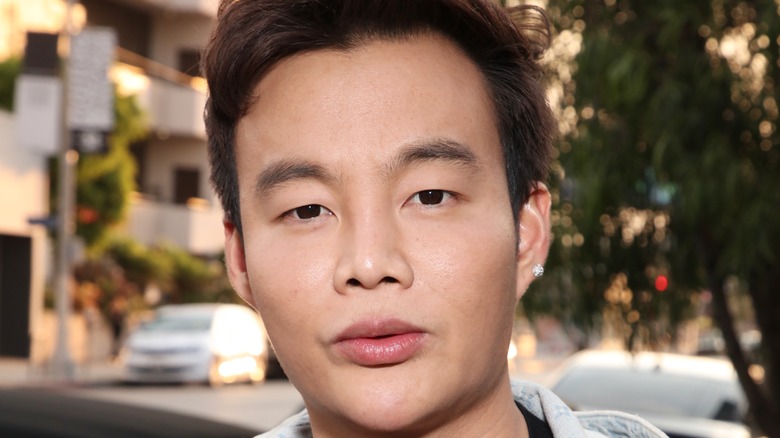 Robin L Marshall/Getty Images
Netflix's "Bling Empire" gave viewers a unique insight into the lives of LA's super affluent and connected Asian community. Larger than life characters like Kim Lee, Cherie Chan, Kevin Kreider, and Anna Shay were an instant hit with fans. But here's the truth about "Bling Empire's" Kane Lim: The 31-year old brought serious main character energy to series one and wasn't afraid to put his money where his closet is.
NME writes that Lim gained a reputation on "Bling Empire" as the cast member with a serious sense of style. He dressed some of his fellow castmates and always ensured that he looked on point for filming.
Looking so fresh comes with a price tag. Heart explains that Lim comes from a family with a lot of money. He's apparently worth around $20 million. His family are in the shipping, oil, and real estate businesses. Lim followed in their footsteps and reportedly started investing his money when he was 17 years old. He'd made $1 million by the time he was 19 and now works in real estate and investment.
However, going on "Bling Empire" was about more than flashing his cash. Lim told Style that he's gained great friends, such as Anna Shay. "I treat her like family now, my parents are so happy that I found someone like her in my life," he said.
And here's what you need to know about Kane Lim ahead of season two.
Kane Lim is proudly Singaporean
Robin L Marshall/Getty Images
He may live in LA, but Kane Lim is proud of the fact that he's from Singapore. Tatler Singapore writes that Lim was born and raised in Singapore but moved to the U.S. for the opportunities that it may afford him. "Growing up, Singapore is my home, but it's so limited to what I want to do in terms of creativity or just expanding my knowledge," he said.
Lim revealed that he's aspired to have a big platform for a long time and in order to do that he felt he needed to move and challenge himself. With 564k followers on Instagram, he's certainly achieved that.
However, he told Style that he's proud of the fact that he could represent Singapore on "Bling Empire." "Singapore represents a multicultural, all-embracing, melting pot of people. I grew up with Indians, Malays, Chinese, Caucasians, African-Americans. I really appreciate that upbringing," he said. "The country is also really accepting in terms of religion."
During his time on "Bling Empire," Lim didn't reveal a lot about his families businesses. Much of the limelight fell on the star himself. However, he told Yahoo! News, "All I can tell you is that my grandparents came from Communist China with nothing. They're so private; even in the way they dress, they're so simple. They don't flaunt anything. I'm actually the black sheep of the family — I'm the only one with social media and everything."
His religion means material things aren't everything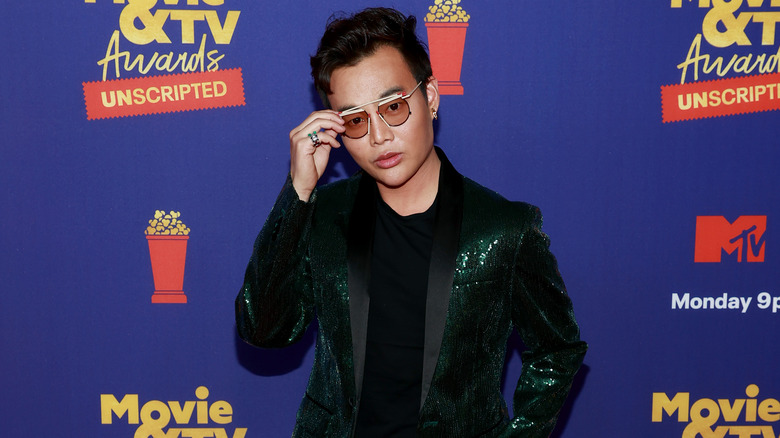 Matt Winkelmeyer/2021 Mtv Movie And Tv Awards/Getty Images
"Bling Empire" lifted the lid on many aspects of the casts life. Viewers saw them at lavish parties, brunches, and in their homes. There was serious glitz and glamour. However, Kane Lim revealed that he subscribes to Buddhist practices and wants to put out the understanding that material wealth isn't everything.
During an interview with The Straits Times, he revealed that he started his journey into Buddhism three years ago. "It really taught me to be compassionate to myself. I've been vegetarian for the last three years and I've stopped smoking," he said. Many of the cast members on "Bling Empire" party hard together. However, Lim revealed that his religion has changed his lifestyle in many ways.
"I think in Buddhism, letting go of things doesn't mean you have to completely let go of the current moment," he told Style. "You can own it, but you don't have the fear of losing it. So if I lose something today, I have to be able to let that go. It doesn't mean I have to throw my material stuff away. What Buddhism teaches you is not to have the idea of grasping it too tightly."