What Brought Simone Biles To Tears During Her Senate Testimony?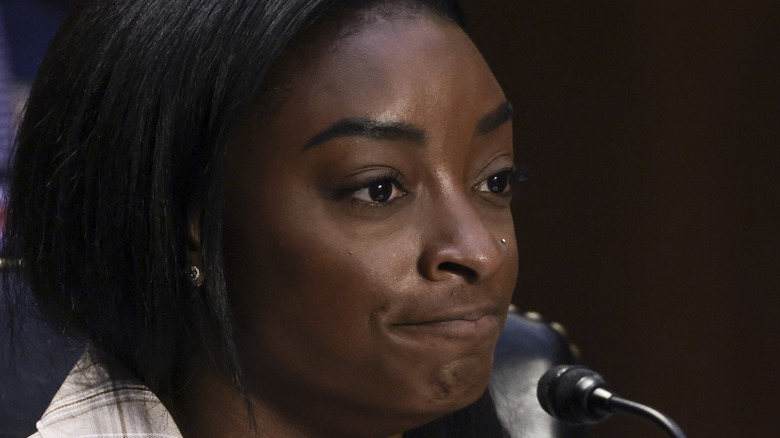 Anna Moneymaker/Getty Images
It's been quite an up-and-down year for Simone Biles. While she may have been excited to head off for Tokyo to compete in the long-delayed 2020 Olympics, she wound up getting the "twisties," a term she used to refer to certain mental health challenges (via ESPN) which led to her pulling out of several events. She managed to rebound, though, earning a bronze medal for her balance bar performance and sharing a silver medal with her entire team, including surprise breakout star Suni Lee.
More recently, Biles was seen strolling down the red carpet at the Met Gala –- slowly, since she was wearing 88 pounds of padding and beadwork that Vogue explained was meant to allude to the gowns worn by 1920s showgirls. A few days later, she found herself in an entirely different venue, and for a far less festive occasion. As The New York Times reported, she, along with some of her fellow gymnasts from the 2012 and 2016 Olympic gymnastics teams, were in the nation's capitol testifying in front of the Senate Judiciary Committee for an investigation into alleged incompetence on the part of the Federal Bureau of Investigation. So what do Biles and her fellow gymnasts have to do with the FBI, and why would testifying in front of the Senate lead to Biles breaking out in tears? It all had to do with the abuse suffered by these young women at the hands of someone who was supposed to keep them safe and healthy.
Biles feels the FBI is partly to blame for what happened to her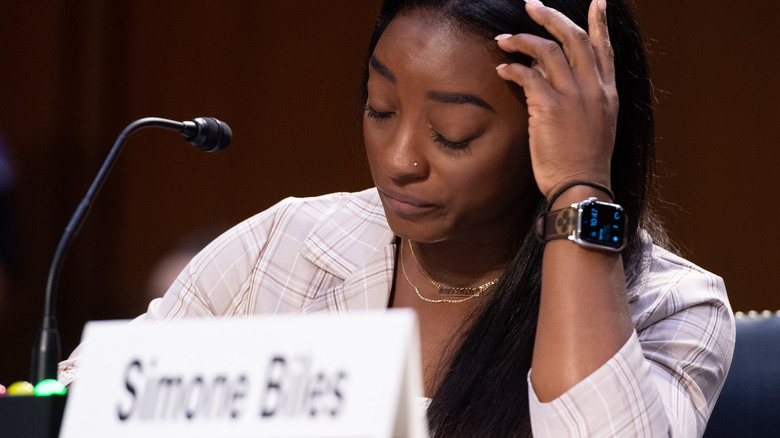 Pool/Getty Images
The reason for the Senate hearing in question was due to a probe into the FBI's alleged mishandling of an investigation into Larry Nassar, former doctor for Team USA Gymnastics. Allegations that Nassar was sexually abusing the gymnasts in his care first surfaced in 2015, and three years later, CNN reported that Nassar had been sentenced to spending the rest of his life behind bars. With this latest investigation, the Senate isn't looking into Nassar's misdeeds so much as the FBI's failure to put an end to them in a timely fashion. According to Fox News, at least 40 more of Nassar's victims were molested after the FBI had been informed of his proclivities.
Simone Biles broke down and wept as she described how betrayed she felt when all of the adults who should have been protecting her from Nassar's horrific abuse had let her down. She confessed that the lingering damage from the abuse she suffered caused her to withdraw from some Olympic events this year because the scars are still with her. Not only does Biles blame her abuser, but she had harsh words for the agency that didn't step in to prevent it from happening. "I blame Larry Nassar and I also blame an entire system that enabled and perpetrated his abuse," she told the committee, continuing, "If you allow a predator to harm children, the consequences will be swift and severe. Enough is enough."