Painting Your Kitchen This Color Can Earn You Big Bucks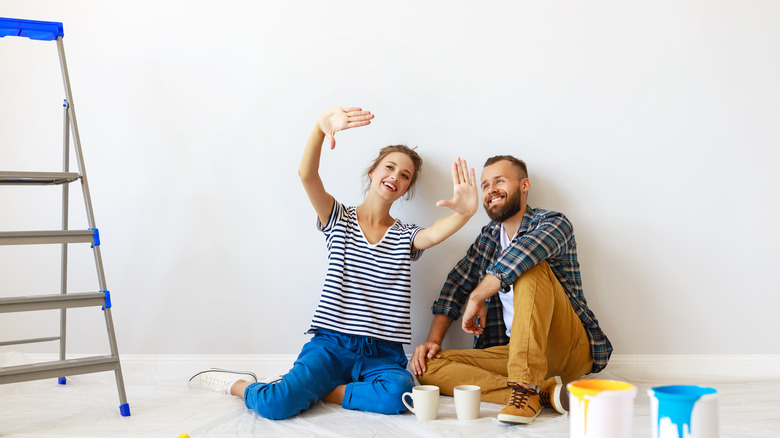 Evgeny Atamanenko/Shutterstock
There are many tips and tricks that can help when selling a home. For instance, HGTV suggested emptying out half of your closets and organizing what is left, in order to make them look bigger. Another tip is to maximize light by cleaning windows, removing drapes, and changing lampshades. The area that should receive the most attention is the kitchen, as this can make or break the deal. An example from HGTV is that a homeowner could spend a couple thousand dollars to replace their countertops before selling or they could have someone ask for $10,000 off the asking price, all due to an outdated kitchen.
One of the best ways to revamp a room is with paint, and a new study from Zillow shows that a fresh coat could increase offers. The study found that light blue is best for the bathroom, and gray is a popular pick for the living room. But what is the way to go in the kitchen?
This kitchen color can increase the chances of you selling your home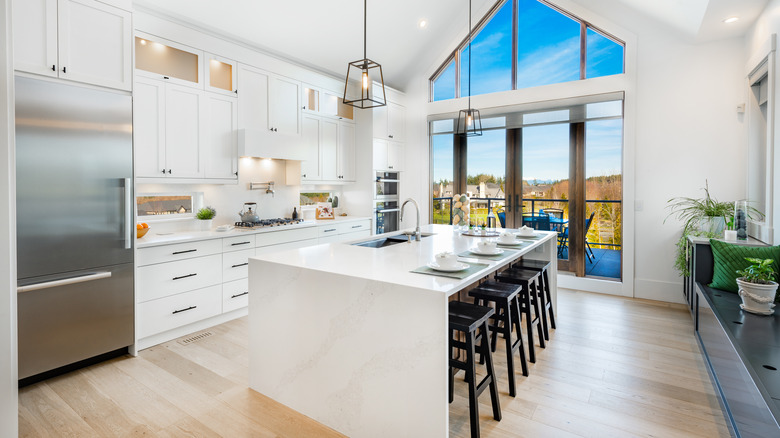 Sheila Say/Shutterstock
According to Zillow's new study, those looking to sell their houses should paint their kitchens white. This light and neutral color can increase interest and the chances of potential buyers actually making a purchase. David Hoffman of David Hoffman Realty talked with WCNC on the subject, and said that those with white cabinets may opt for an off-white wall, "just not exactly the same [color]," as "you don't want to distract from those accent pieces" like backsplash tiles or barstools.
Specifically, Kylie M. Interiors suggested White Duck by Sherwin-Williams. It is a gray-beige color that pairs nicely with white subway tiles and wood accents. Another idea is The Spruce Best Home First Frost. Its warmth compliments contemporary and metallic accents well (via The Spruce).
For those who think white is a bit too boring, Zillow said alternatives include light yellow and gray, while the colors to avoid are bright greens, pinks, yellows, and reds. Bright red, in particular, could decrease the price that someone is willing to pay by about $1,500.