The Biggest Jeopardy! Payouts So Far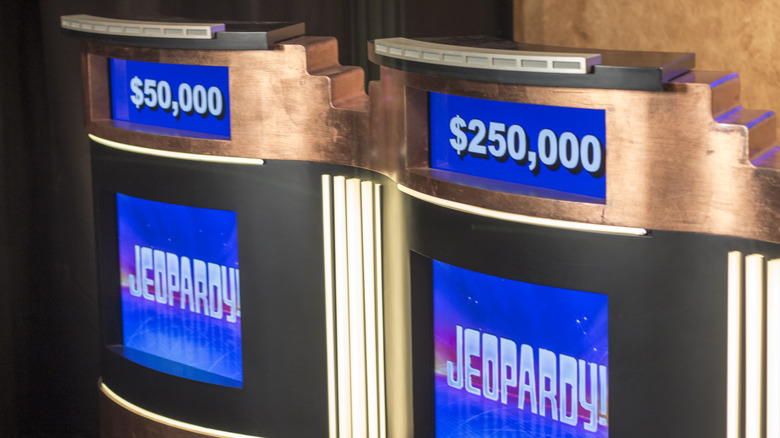 Ryan J. Thompson/Shutterstock
The game show "Jeopardy!" is just like your favorite pair of sweats. Both are comforting, incredibly old, and not particularly exciting, but you love them anyway — just as we do "Jeopardy!". The quiz-based series started in 1964 and has since been crowned the longest-running game show in TV history. The show's creator, Merv Griffin, was hoping to revive the popularity of quiz shows from the '50s after they died out due to various scandals (via Cleveland). With this desire came one of the first incarnations of "Jeopardy!".
The late and legendary Alex Trebek came on board as the host in 1984 and kept his role for the next 37 years. According to The New York Times, previous winner Ken Jennings and actress Mayim Bialik will act as tag-team hosts for the show through 2021. While we're excited about what the new hosts will bring, we're perhaps even more excited to find out how much the new winners will rake in. To get a better idea of what those numbers may look like, we dove into the game show's past to find out how much previous big-time winners have walked away with.
Larissa Kelly beat both her husband and sister on Jeopardy!
First up, we have the self-professed quiz lover, Larissa Kelly. Kelly's impressive run on Jeopardy led her to walk away with a cool $655,930. She holds the record for the highest-winning woman in the history of the show. If that isn't brag-worthy enough, the former contestant can also boast that she did better than both her husband and sister, who were also contestants (via Yahoo! Finance).
Kelly's earnings are impressive, but we're gawking at the amount the next big winner brought home. Enter Ken Jennings — a name that has become synonymous with "Jeopardy!" after he maintained a 74-game winning streak and raked in a total of $2,520,700. In 2020, Jennings came back to scoop up some more change and earned another million dollars after winning the "Jeopardy! The Greatest of All Time" tournament. From all of his stints on the show, the Seattle resident took home a total of $4,370,700 (via Stacker).
Past Jeopardy! winners have walked away with millions
Who were Ken Jennings' worthy competitors in the tournament? None other than Brad Rutter and James Holzhauer — two dudes who also cashed in on their killer memories and love of knowledge. In fact, Rutter surpasses Jennings in prize earnings and wears the quiz crown as the highest-earning Jeopardy contestant in the history of the show. Rutter has walked away with a total of $4,938,436. Holzhauer has also won an impressive $2,962,216 (per Stacker).
These four contestants are obviously bright and know how to press a buzzer. If you're considering the idea of signing up and trying to win big, Rutter has a tip. "You can't really afford to let yourself get frustrated by wrong answers," he said. "One of the reasons I've had success is [being able to] put it behind me and focus on the next clue" (via The Washington Post). Noted. 
If you prefer to stay behind the camera and bright lights, consider throwing on your favorite sweats and watching as a new era of "Jeopardy!" contestants win big.