What Role Will Mike Pence Play In The 2024 Election?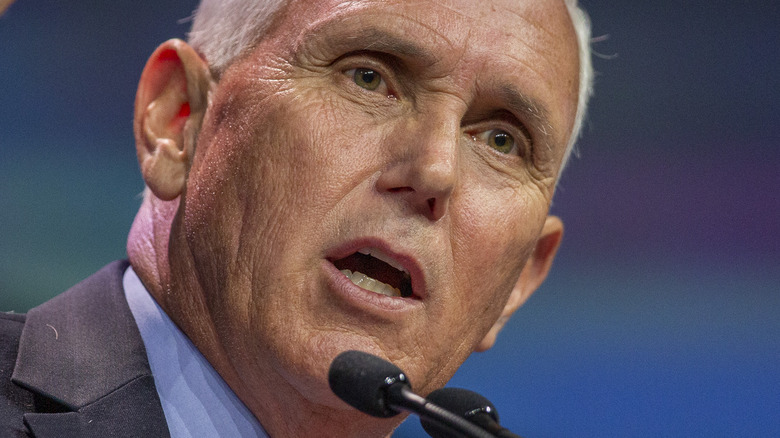 Rachel Mummey/Bloomberg/Getty Images
If it feels like we're perpetually living during a presidential election campaign, that's because we are. As of September 2021, it's been less than a year since the last American presidential election, and it didn't take long for people to speculate that former President Donald Trump would run again, despite him still claiming that he actually won in 2020. If he does run again, who would he choose as his running mate? Would it be the same man who was first in line for the presidency, Mike Pence, while Trump served as commander-in-chief, or would Trump choose someone else?
It already looks like Pence has been thinking about that for a while and has a contingency plan if Trump runs and doesn't choose him. Or perhaps if Trump runs, Pence would not want to be on the ticket with him this time. After all, according to the new Bob Woodward and Robert Costa book, "Peril," detailing the final days of the Trump presidency, Trump told Pence, "I don't want to be your friend anymore" if the VP didn't refuse to certify the 2020 election (via CNN). So, will Pence go it on his own in 2024?
Mike Pence seems like he's on the campaign trail already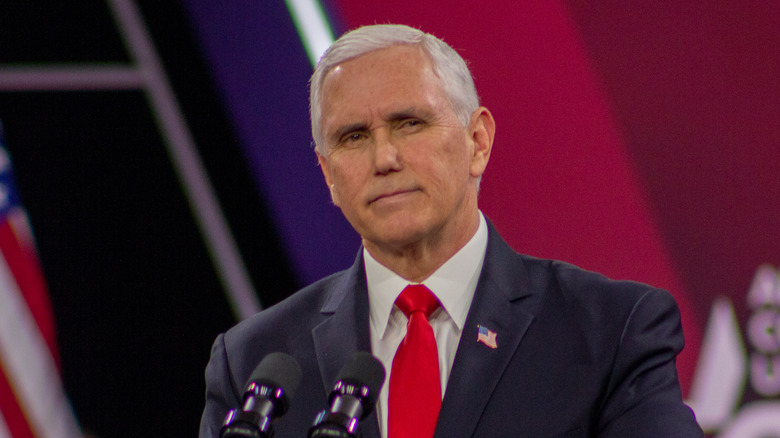 Valerio Pucci/Shutterstock
The first thing you want to do when you consider running for president is raise cash, and Mike Pence aims to do just that. According to Axios, Pence has a goal of raising a whopping $18 million by the end of this year through his political advocacy group, Advancing American Freedom. The group was launched in April 2021 and has already spent $60,000 on digital ads asking for contributions while promoting the former vice president.
While hardcore Donald Trump supporters like the ones who invaded the U.S. Capitol on January 6 might not feel any love for Pence because he went ahead and certified the election results (and he had no actual power to not do so, despite Trump's belief), average Republicans might be looking for a change. A CNN poll showed that while 51% of Republicans favor Trump as their presidential candidate in 2024, it also showed that 49% think the party needs someone new at the top of the ticket. If Pence does throw his hat in the ring, it's sure to be a crowded one as other possible contenders in the Republican primary include Florida Gov. Ron DeSantis and Texas Sen. Ted Cruz, according to Market Watch.