Did Rudy Giuliani Really Reject This Special Honor From Queen Elizabeth?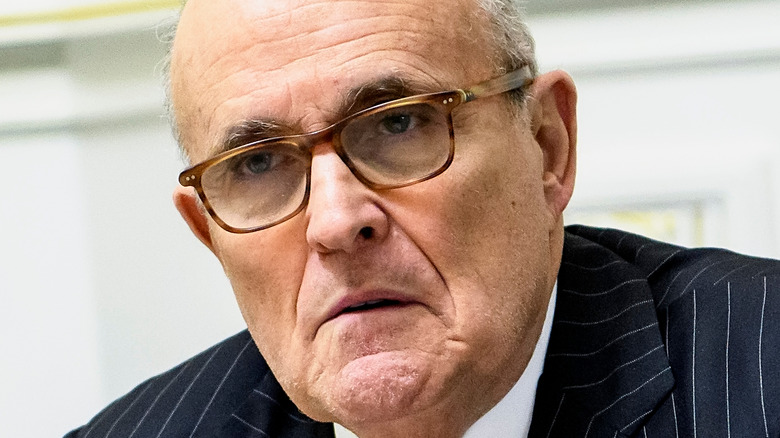 paparazzza/Shutterstock
In the days following the September 11, 2001 attack on the Twin Towers in New York City, the world poured out a wave of support for the U.S; not least of which came from Great Britain. After he worked with the families of the thousands of victims who died that day, Queen Elizabeth II offered Rudy Giuliani a special honor that he is rumored to have rejected. 
The former New York Mayor was put through his paces by 9/11 and while his performance at the time was somewhat controversial, Queen Elizabeth at least felt Giuliani did an honorable job with his response. At the time, she offered him an honorary knighthood (per CNN). He received the award at Buckingham Palace and made an impassioned acceptance speech. "I was receiving it not on behalf of myself, but all the police officers and firefighters and rescue workers, heroic people of New York," he said. "It means to me recognition for a group of people that went through the worst attack on their country ever and came through it stronger ... and I'm just honored to be their representative." 
Despite the honor the queen bestowed on him, the "honorary" aspect of the title removed some of the pomp and circumstance of a full knighting ceremony. He received two medals from Queen Elizabeth throughout the ceremony, but did not get to experience kneeling and receiving the famous two taps of a sword on his shoulders before being told to "arise."
Was Rudy Giuliani truly knighted?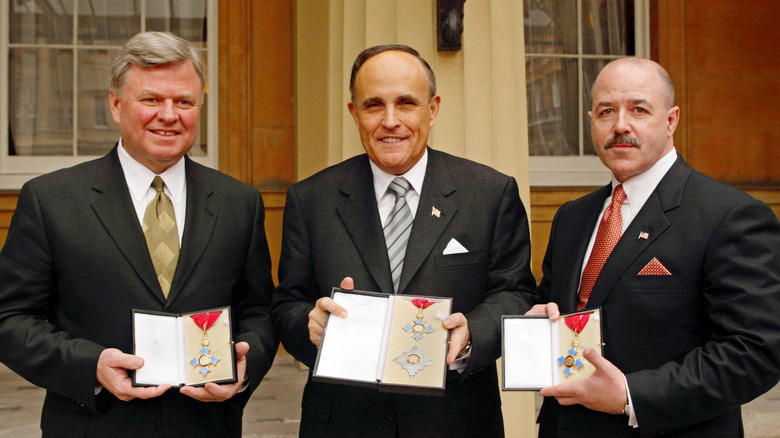 Sion Touhig/Getty Images
The full title given to Rudy Giuliani by Queen Elizabeth was "Knight Commander of the Most Excellent Order of the British Empire," per the Los Angeles Times. Because he isn't a British citizen, Giuliani is not able to call himself "Sir Rudolph" as a true British knight would. Instead, he is able to put the initials KBE (for Knight of the British Empire) after his name should he decide to.
But his comments about the event on its 20th anniversary had some thinking that he declined the award. During his appearance on September 11, 2021, he impersonated Queen Elizabeth as he looked back on his experience following the attack, per Snopes. The speech led many to believe that he was intoxicated while speaking. In the same interview, he claimed that he "turned down a knighthood" because of the potential for loss of American citizenship. However, he went on to deny the claims, per Daily Mail. 
Snopes went on to determine that Giuliani's claims were, in fact, false. Giuliani did receive the honorary knighthood and there was no need to relinquish American citizenship to have it. Until he explains his reasoning for saying he did not, speculation and rumor will abound.