Concealer Vs Foundation: What's The Difference?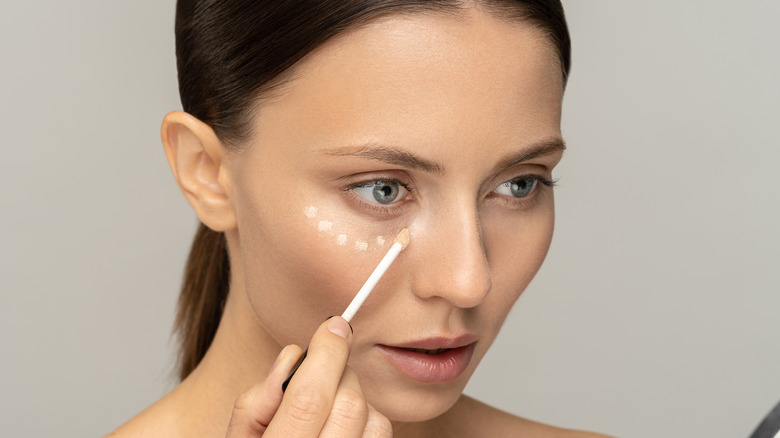 DimaBerlin/Shutterstock
Many people want smooth, flawless complexions, and there are many ways to achieve this. There's no doubt that one of the most effective ways to get a full coverage look, regardless of skin type, is with handy concealers and foundations. There are a multitude of products to choose from, from powders to liquid and creams. 
And while many might confuse the two because they are both meant to improve the look of the skin, concealers and foundations are actually very different when it comes to their functions, formulas, consistencies, and proper application processes. But don't worry, concealers and foundations are not mutually exclusive when it comes to your makeup routine, and in fact, it's very common to use both at the same time. Plus, one is not inherently superior to the other; what you use and how you use it all depends on the look you're trying to achieve.
But how exactly are they different, and what's the best way to use them? Keep scrolling to find out the main differences between concealers and foundations.
Concealer is for certain areas, foundation is for the whole face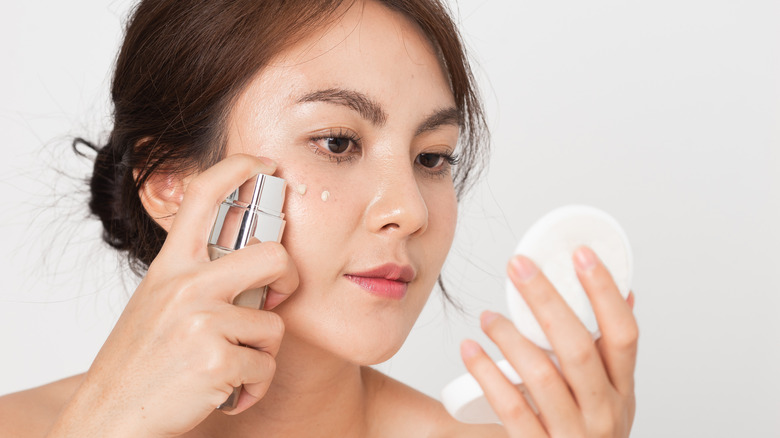 ME Image/Shutterstock
Foundation is meant to be applied on the entirety of the face for an overall more even skin tone, and can blur out fine lines, dark spots, acne scars, and more. Foundations can range from a sheer to full coverage, and come in various textures such as matte for oily skin or dewy for dry skin. Foundations can be applied with a brush, sponge, or in classic cases, the fingers, per Free Bunni.
Concealer is meant for certain spots on the face only, such as dark eye circles and blemishes. They typically come in a stronger, more full coverage formula than foundations, and many opt for their concealer to be one shade lighter than their actual skin tone for a brightening effect. Another interesting feature of concealers is that they often have color-correcting effects that can help with specific concerns such as hyperpigmentation or redness. While foundations and concealers often match the skin tone, concealers come in shades of orange, pink, and green, too. Concealers can also be applied with sponges or fingers, but many concealer products come with their own built-in applicator.
When in doubt, remember the name of the products. "Concealer is meant to conceal, while foundation is meant to be the base, or foundation, of your look," makeup artist Fiona Stiles told Allure. Therefore, it is ideal to apply your foundation as the first step to your makeup routine, and then go over certain areas with your concealer.