The Hidden Meaning Behind Elizabeth Olsen's Emmy Dress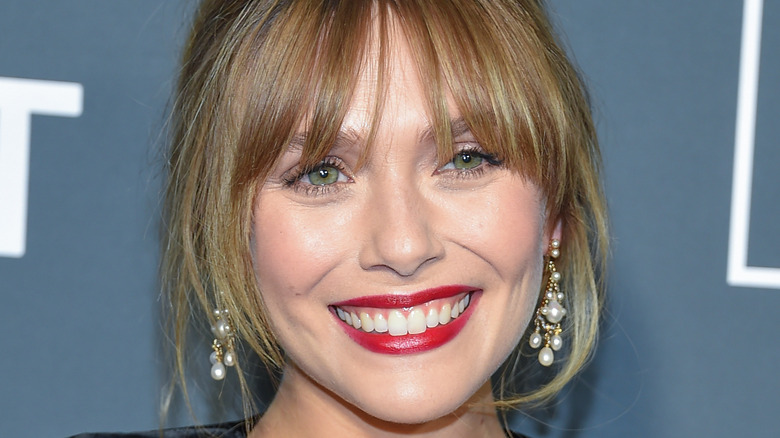 DFree/Shutterstock
Unlike the 2020 Emmy Awards, for the 73rd annual Emmy Awards, there was an in-person ceremony, and with that, TV and fashion fans got to watch their favorite stars walk the red carpet as they entered the Microsoft Theater in Los Angeles. One of those stars was Elizabeth Olsen, who was nominated for outstanding Lead Actress In A Limited Or Anthology Series Or Movie for her role as Wanda Maximoff aka Scarlet Witch in the series "WandaVision" (via Emmys). It was her first Emmy nomination for her role as a Marvel superhero, and she showed up looking pretty much the opposite of her character.
Her white v-neck dress was simple and stunning with a cape that had a very angelic vibe accessorized with 68.77 carat diamond earrings (via Yahoo! Life). The special meaning behind the look for what was surely to be a special night for Olsen was that her dress was designed by none other than her very own older sisters, Mary-Kate and Ashley Olsen. Zanna Roberts Rassi was working the red carpet for E! and confirmed it: "Her stylist just texted me and just told me this look has been made by her very own sisters — Mary Kate and Ashley and it's by The Row" (via Insider).
Elizabeth Olsen got a dress and great advice from her older sisters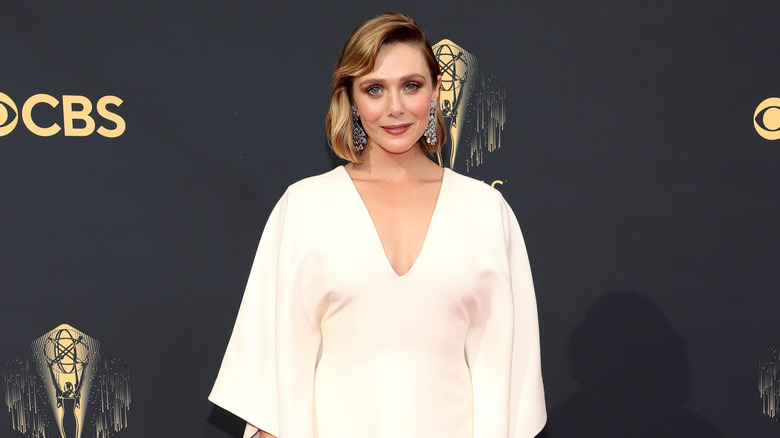 Rich Fury/Getty Images
Mary-Kate and Ashley started out as actors on "Full House," but pivoted to fashion design and established the luxury brand The Row in 2006 (via The Row). Along with her stunning Emmys dress, Elizabeth also got some invaluable advice from her older sisters.
"Something my sisters always say [...] is that 'no' is a full sentence. And I really like that, especially as a woman. You can just say 'no,' and I just really like that in all aspects of life" (via InStyle).
With the fame of her older sisters, Elizabeth had considered not using Olsen as her name as an actor. She didn't want to be given a role because of who she was related to. "I guess I understood what nepotism was like inherently as a 10-year-old," she told Glamour UK. "I don't know if I knew the word, but there is some sort of association of not earning something that I think bothered me at a very young age. [...] So I don't know how much I processed, but I did think, 'I'm going to be Elizabeth Chase [her middle name] when I become an actress.'"
Elizabeth seems to have gotten over that, and she's clearly established herself as a force to be reckoned with in the acting world. Wearing a dress by her sisters' brand seems to cement her confidence in herself and her connection with her family.