Adam Driver And John Oliver's Long-Running Joke Explained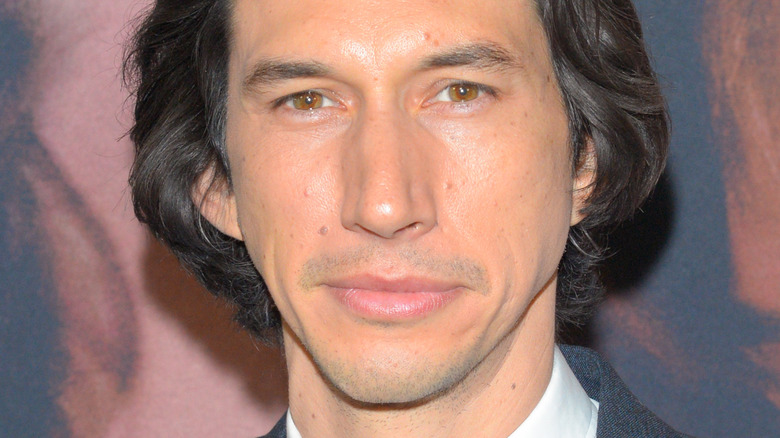 Ron Adar/Shutterstock
"Last Week Tonight with John Oliver" won for Outstanding Variety Talk Series for the 2021 Emmys, and if you were a little confused by John Oliver's acceptance speech, you weren't the only one. Oliver started out well with a classy tribute to Conan O'Brien and the late Norm Macdonald, per The Hollywood Reporter. Then, things took a twist when one of the writers for "Last Week Tonight" paid a tribute to someone else. "And finally, we would like to dedicate this award to Adam Driver. He knows what he did," one of the writers said, in a very serious tone (via Twitter).
While some viewers were confused about the mention of Driver, others knew immediately that it was a reference to a long-standing joke between Driver and Oliver. Oliver frequently makes comments about how much he loves Driver. In fact, many fans were expecting a Driver reference in the "Last Week Tonight" team's acceptance speech.
"I want someone to love me the way John Oliver loves Adam Driver," one Twitter user wrote in response to the speech. "John Oliver's love for Adam Driver rivals mine," someone else tweeted. "John Oliver has a contract with Adam Driver or something I'm cackling [sic]," another suspicious fan tweeted. But how did this joke even come about?
John Oliver's had a joking obsession with Adam Driver for over a year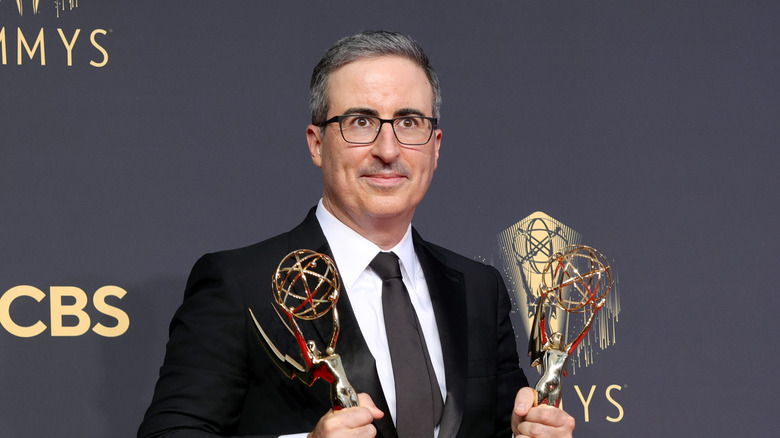 Rich Fury/Getty Images
According to Mashable, John Oliver made his first ever Adam Driver joke in 2020. "Step on my throat, Adam Driver, you rudely large man," Oliver said in an episode of "Last Week Tonight" (via Entertainment Weekly). When only a portion of the audience laughed, Oliver and his writers decided to try a similar joke a few weeks later. That one didn't go well either. "At that point, it became something of an obsession in our staff," Oliver explained to Seth Meyers in an interview on "Late Night."
Oliver and his team began making Driver jokes whenever they had a chance. "Shatter my knees, you f***able redwood," Oliver said once, along with "ravage my lungs, you relentless hillock" (via EW).
It didn't take long for Driver to catch wind of the jokes. But instead of being annoyed, he decided that he wanted in on the fun. In the final episode of Season 7 on "Last Week Tonight," Driver made a surprise cameo via FaceTime, per Insider. He called Oliver and yelled at him in mock anger. "Do you realize, over this past year, what you've asked me to do to you? Collapse on your chest. Tie your fingers in a square knot ... What's wrong with you?"
Naturally, the running gag garnered a great amount of attention. So when the writers of "Last Week Tonight" referenced Driver in their 2021 Emmys acceptance speech, fans were overjoyed to hear the joke live on.