The Surprising Reason Queen's Gambit Emmy Win Has Twitter Divided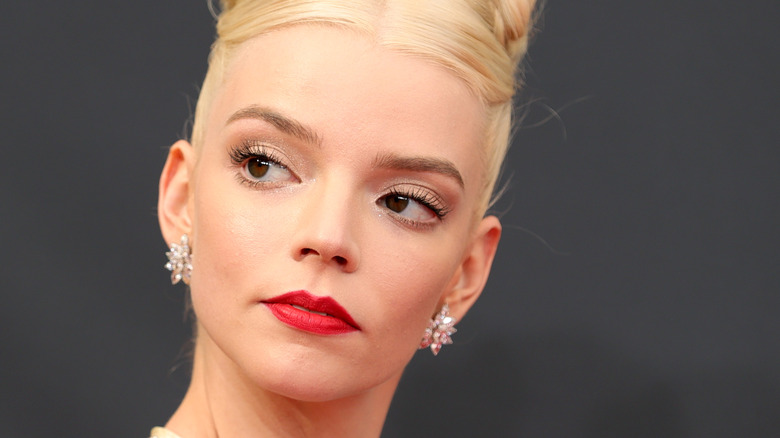 Rich Fury/Getty Images
"Queen's Gambit" Director Scott Frank accepted an Emmy for Outstanding Directing For A Limited Or Anthology Series Or Movie on September 19th. When he did so, Twitter flared up — nay, erupted — and not in a good way. 
No one was disputing how phenomenal "The Queen's Gambit" is. In November 2020, the series broke Netflix's record as the most-watched scripted limited series on its platform, having reached 62 million accounts in under a month (via Variety). "The Queen's Gambit" star Anya Taylor-Joy was even nominated for the 2021 Emmy in the Outstanding Lead Actress In A Limited Or Anthology Series Or Movie, although she did not win. (That honor went to Kate Winslet.) Not that Taylor-Joy needed the validation. People will remind you that earlier this year, the actress accepted a Golden Globe and a Screen Actors Guild Award for her portrayal of Beth Harmon in the now legendary Netflix series.
And yet, despite the "The Queen's Gambit's" dominance in past award ceremonies, no one was prepared for Director Scott Frank's acceptance speech.
Here's Twitter's problem with Scott Frank's Emmy's speech
Twitter is not especially concerned about the fact that Scott Frank won an Emmy. The social media platform is, however, incensed with how he chose to celebrate his win. More specifically, Frank stubbornly (petulantly?) overstayed his welcome on The Emmy's stage ... and by a long shot.
To hand the mic to the peanut gallery: "The Queens Gambit was great and glad they got an #Emmys but man your speech didn't need to be that long or slowly read, you're not the queen," wrote one exasperated Emmy's viewer (via Twitter). "In case you've ever wondered what white male privilege is, it's #ScottFrank reading a two-page #Emmy speech through getting played off three times," tweeted another. "Wasn't tweeting about the Emmys until Scott Frank ... decided he was more important than any of his fellow winners and nominees with that pompous speech and undeservedly rude attitude," fumed a third via tweet.
Frank's unquestionably lengthy time on stage was followed by Michaela Coel's short, heartwrenching speech that Twitter has largely deemed the best of the night. Coel who won an Emmy for Outstanding Writing for a Limited or Anthology Series or Movie following her work on "I May Destroy You." She told aspiring writers succinctly: " Do not be afraid to disappear, from it, from us, for a while. And see what comes to you in the silence" (via Vanity Fair).