Julianne Hough Shares Her All Natural Toothpaste Hack To Get Whiter Teeth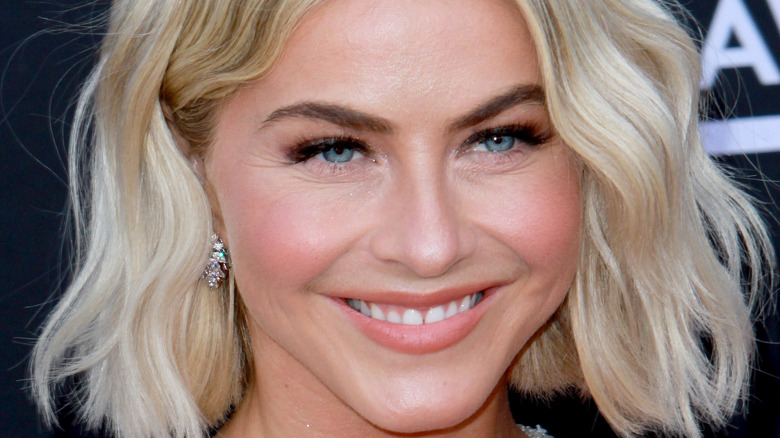 Kathy Hutchins/Shutterstock
Are you looking for an all-natural toothpaste that can also whiten your teeth? If so, you might want to steal some tricks from Julianne Hough. The 33-year-old actress has flawless skin and sparkling white teeth, and she doesn't shy away from sharing no-makeup selfies on social media. 
Hough keeps her beauty routine simple and prefers a natural look, she told Us. Most times, she only applies a little bit of foundation, mascara, eyeshadow, and highlighter. The dancer's approach to exercise isn't that simple, though. Hough is constantly trying new workouts to keep her body guessing. "I change my workout routine every day to ensure I'm exercising different parts of my body in a variety of ways," she said in a 2019 interview with Health. "I typically go to Body by Simone, Tracy Anderson, SoulCycle, and CorePower Yoga." 
As far as her diet goes, Hough starts the day with a light breakfast and lemon water. Her meals consist largely of fruits, veggies, grilled chicken, and eggs. But what about her perfect smile? 
Surprisingly, the Fitbit ambassador doesn't resort to whitening strips or expensive toothpaste to attain her sparkly smile. Instead, she uses a common food ingredient that you might already have in your kitchen. 
Julianne Hough uses this spice to keep her teeth white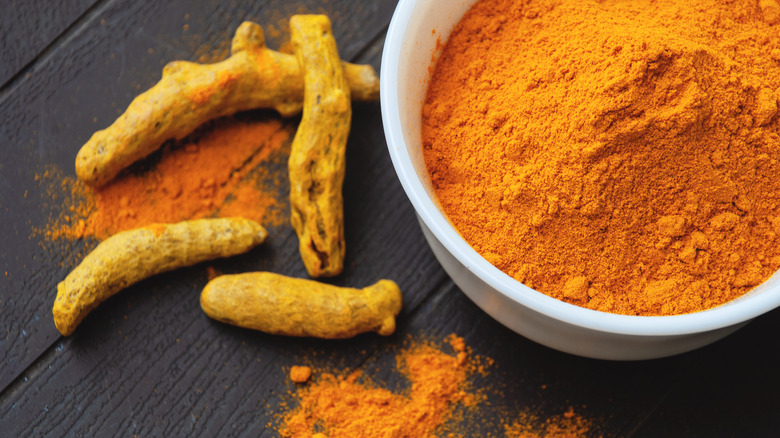 Ben M_O/Shutterstock
You've probably heard of turmeric, the golden spice that fights inflammation and oxidative stress. Curcumin, its active compound, may relieve pain, anxiety, and muscle soreness, explains a 2017 review featured in the journal Foods. Given these benefits, it's not surprising that some people add turmeric to coffee, tea, smoothies, and homemade meals.
As it turns out, actress Julianne Hough uses this spice to brighten her teeth. "You'd think it would be the opposite and it'd stain your teeth, but it actually makes them whiter," she revealed in an interview with E!. "Turmeric is the bomb. Y'all should try it." Ayurvedic expert Trudy Collings recommends mixing this spice with coconut oil to fully reap the benefits. "Coconut oil reduces plaque and fights the bacteria that contributes to cavities and gum disease," she told Well + Good. Turmeric, on the other hand, may whiten your teeth and soothe swollen gums. Plus, it has antimicrobial properties.
Unfortunately, the American Dental Association doesn't support these claims. Scientists say that coconut oil and turmeric or other spices are unlikely to make your teeth whiter. Some studies suggest that turmeric may help prevent and treat gingivitis, but more research is needed to confirm these findings (per Complementary Therapies in Clinical Practice). 
However, nothing is stopping you from trying Hough's toothpaste hack. Turmeric has antimicrobial effects, so even if it doesn't whiten your teeth, it might reduce bad breath and bacteria buildup.