Why Chris Rock's COVID-19 Tweet Has Fans Talking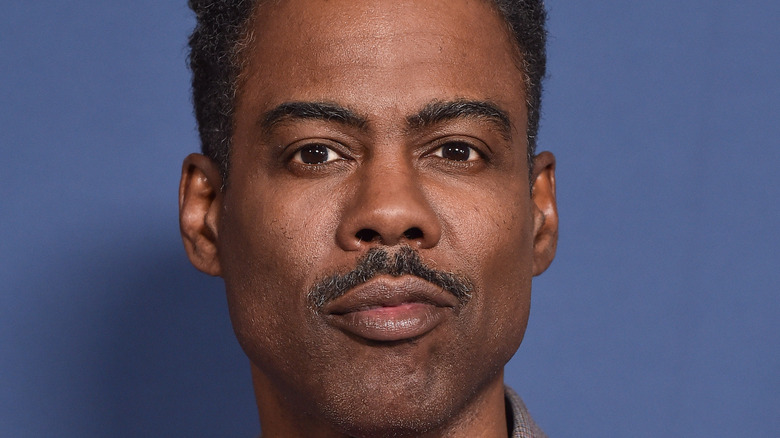 DFree/Shutterstock
In the early days of the pandemic, comedian Chris Rock was very vocal about his support for the COVID-19 vaccine (via Page Six). During an appearance on "The Tonight Show," he revealed that he got the Johnson & Johnson vaccine. He said, "I'm two-shots Rock, that's what they call me." He also joked that he cut the vaccination line. Rock said, "I was like, 'Step aside, Betty White, I did 'Pootie Tang.' Step aside, old people."
The "Grown Ups" star also stoped by former New York Governor Andrew Cuomo's press conferences to encourage New Yorkers to wear a mask. He said, "It's the kids who really aren't wearing a mask, and you know, it's sad. It's sad that our health has become, you know, a sort of political issue ... It's a status symbol, almost, to not wear a mask." But despite his efforts to support COVID-19 protocols, on Sunday, September 19, 2021, Rock revealed on Twitter that he tested positive for COVID-19. He tweeted, "Hey guys I just found out I have COVID, trust me you don't want this. Get vaccinated." This revelation caused a stir on the platform.
Chris Rock is urging people to get vaccinated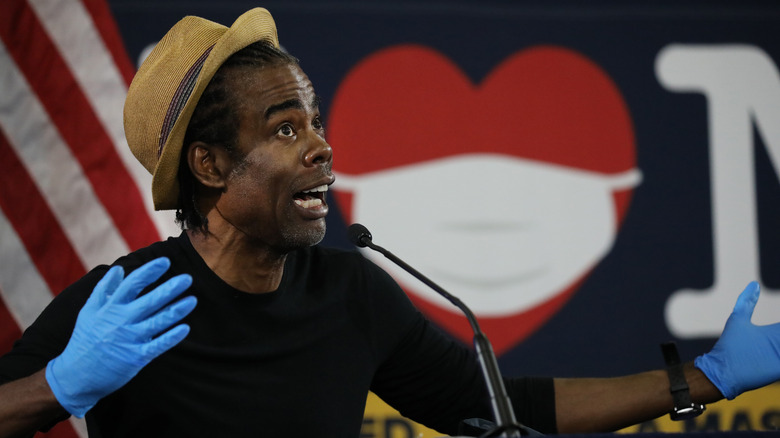 Spencer Platt/Getty Images
When Chris Rock revealed on Twitter that he contracted COVID-19, he left many of his followers confused. Many commenters are starting to question if the outspoken celebrity ever got his vaccination. @tomricks1 tweeted, "Why weren't you vaccinated," which as of publication has 587 likes and 13 retweets. However, many other commenters were quick to point out that you can be vaccinated and still catch COVID-19. @MoutainBark explained, "You can still catch COVID even tho you're vaccinated. That has always been the case for all vaccines. The chances of you DYING or going to hospital is greatly reduced (that means less chance btw) if you are vaxxed."
Still, many people still took Rock's revelation as an opportunity to argue that the vaccine isn't effective. @RickLeventhal tweeted at Rock, "But you said in May you got the vaccine. So why would you tell others to get the shot when you still got COVID and say it's bad even though you already got vaxxed?? Makes zero sense." Luckily, many Twitter users took to the comments to advocate for the importance of getting vaccinated. @TweetFiction simply responded, "Why wear a bulletproof vest if it still hurts when you get shot? Makes zero sense." Regardless of the debate taking place on his Twitter page, we're all hoping Rock has a speedy recovery.