Why Taylor Swift Fans Are Turning On Shawn Mendes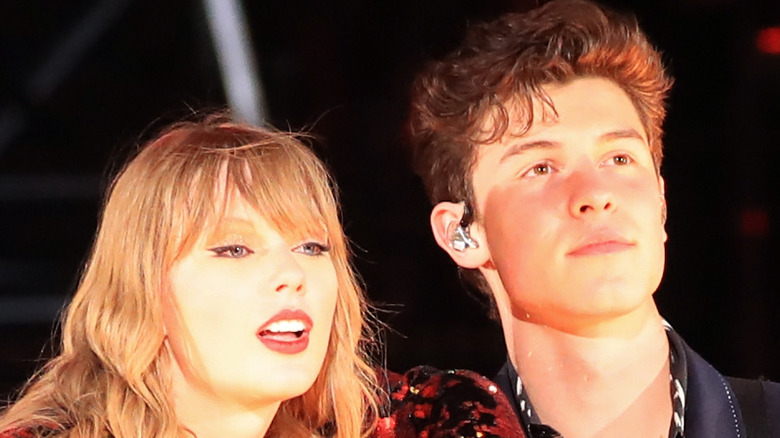 Christopher Polk/tas18/Getty Images
Taylor Swift has had a monumental last year and a half with the release of three individual albums — "folklore," its sister album, "evermore," and "Fearless (Taylor's Version)," the first of Swift's re-recorded albums in an attempt to reclaim her masters, per Forbes. Now, with the re-release of "Red" only a few months away, Swift has even released "Wildest Dreams (Taylor's Version)," a single from her 2014 album "1989" (via Billboard). Needless to say, Swift is consistently feeding her fans new content.
Swift has had one of the most stunning transformations in the music industry, with her eras varying widely yet remaining strong, coherent, and immersive. Because her career has spanned so many years and music genres, Swift's fan base is not only vast but also passionate. She riles up Twitter into a frenzy virtually every time she tweets, but there are also downsides to having such a passionate fan base. Sometimes things get heated or taken out of context, and sometimes, fan bases act on a singer's name in ways they wouldn't approve of. Such may currently be the case for Shawn Mendes.
This is what Shawn Mendes actually thinks about Taylor Swift's boyfriend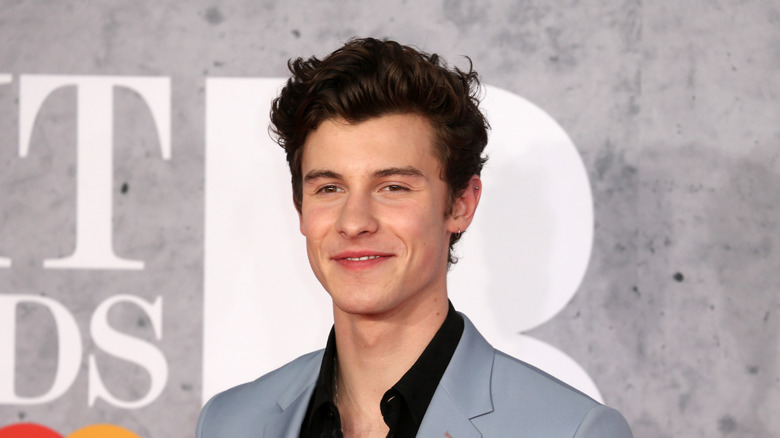 Cubankite/Shutterstock
The current controversy between Taylor Swift and Shawn Mendes comes after the latter took a lie detector test on camera with Vanity Fair. In the video, which can be found on Vanity Fair's YouTube page, Mendes is first asked about his relationship with Swift and then whether he approves of her boyfriend, Joe Alwyn. Mendes discusses touring with Swift in 2015 and answers that he and Swift are still friends, with Mendes often texting the "Cardigan" singer to ask for advice about music.
However, the test reveals that Mendes lied when he said that Alwyn "looks like a sweet guy." He clarified while holding a photo of Alwyn, saying, "He's kind of got a little bit of a villain look about him." 
The video was uploaded on Monday, September 20, and Twitter is already crazy about it. One Twitter user wrote, "[S]hawn Mendes saying Joe Alwyn looks like a villain is the best thing I've seen all day," while another simply tweeted, "Shawn Mendes is scared of Joe Alwyn ???" Others questioned the question itself. "I need to understand the thought process behind Vanity pulling out a whole photograph of Joe Alwyn when interviewing Shawn Mendes. Like???," a user said. 
Mendes ultimately reasoned that Alwyn's eyes are too blue and that he handles brown eyes better. While this reason doesn't make the most sense, it can't be easy to be put in such a position.