The Real Reason Liz Hurley Posts So Many Swimsuit Pictures On Social Media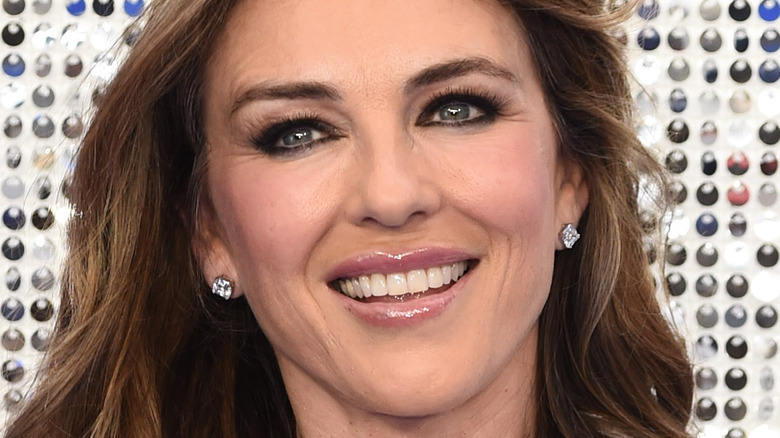 Featureflash Photo Agency/Shutterstock
If you follow actress Elizabeth Hurley on Instagram or other social media, you've probably seen her sporting a bikini, or 10, over the years. Maxim reported that age is merely a number for the "Austin Powers" actress because she lives an active, healthy lifestyle. At 56 years old, Hurley rocks a two-piece as well as or better than other women half her age, and she regularly gets a lot of compliments on her posts. 
Not everybody loves Hurley's gorgeous bikini photos, though. She addressed rude comments she occasionally receives in an interview with Extra. "I think people are mean to women, and I don't think it's how people should be, so I can't say I am a fan of those comments, really," she said. However, there's more to the actress' bevy of beautiful beachwear on her Instagram account. Read on to find out why Hurley often showcases her unbelievable curves in cute two-pieces.
Here's how Liz Hurley promotes her swimwear line
Liz Hurley explained her penchant for bikinis and other swimwear to Extra. "I have my own swimwear line. I wouldn't ordinarily be prancing around in quite so much beachwear, so there is a reason behind prancing around in so many swimsuits," she revealed. The line is Elizabeth Hurley Beach, and it stocks a variety of one-piece and two-piece swimsuits along with children's swimwear and coverups.
Due to the pandemic, the "Bedazzled" actress had to switch up the way she does things since she hasn't gone on vacation to the beach in a while. "We haven't been allowed to go on vacation in 14 months ... I have a beachwear company and haven't been on the beach ... Hence, we have been selling what we can. We've been improvising. So, yes, we've been on hay bales, we've been in the snow, we've been in the shower," Hurley said. Prior to that, Hurley often shared photos on Instagram of herself in exotic locals wearing bikinis and coverups from her swimwear line.