How Anna Marie Tendler's Art Is Reflecting Her Divorce From John Mulaney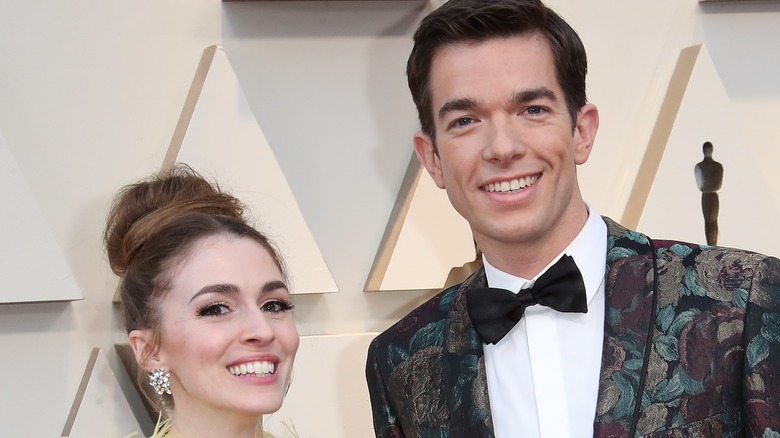 Dan Macmedan/Getty Images
Anna Marie Tendler has found herself in the public eye more than ever after her divorce from comedian John Mulaney. The split comes after a trying 2020 for Mulaney, who entered rehab twice, once in September and once in December (via Us Weekly). As Mulaney detailed on "Late Night with Seth Meyers," the pair separated in October after his first stint in rehab, and their divorce was confirmed in May 2021. Through a spokesperson, Tendler said of the divorce, "I am heartbroken that John has decided to end our marriage."
At the same time that Mulaney and Tendler's divorce was confirmed publicly, sources confirmed that Mulaney had started dating actress Olivia Munn. In his "Late Night with Seth Meyers" appearance, he also dropped the bombshell news that not only were he and Munn together but that they were expecting a child. The news sent shockwaves through Mulaney's fan base, as his love for Tendler had often been a subject of his stand-up routines — as well as his repeated insistence that he did not want children.
Now, as a multidisciplinary artist, Tendler has been using her work to detail the process of grieving her relationship.
Anna Marie Tendler's photo series shows her mourning her marriage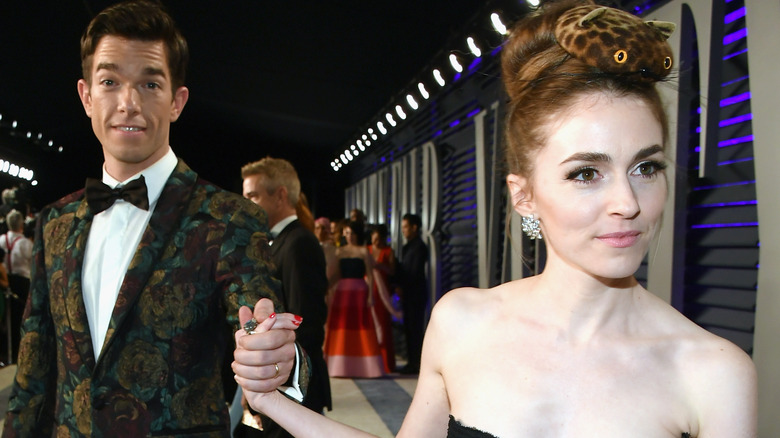 Mike Coppola/vf19/Getty Images
Since John Mulaney and Anna Marie Tendler's divorce, Tendler's Instagram has been full of haunting self-portraits of her in her Connecticut home and elsewhere (via Page Six). Her collection, "Rooms in the First House" — which will be displayed at The Other Art Fair in Los Angeles at the end of September 2021 — seems to document the artist's journey through divorce. A photo from the series, "Dinner in March," shows Tendler seated alone at a candlelit dining table wearing a white dress. Two plates of untouched food sit on the table, one in front of her and one in front of an empty place setting, which implies that it's meant to be for Mulaney.
There are several photos throughout the series that demonstrate the feeling of loneliness in a place that used to be full of life and love, including empty places where someone used to sit, such as the piece "A Room That Once Was," which shows Tendler curled up on the floor of a sitting room and clutching an empty armchair.
Anna Marie Tendler's art reflects more than sadness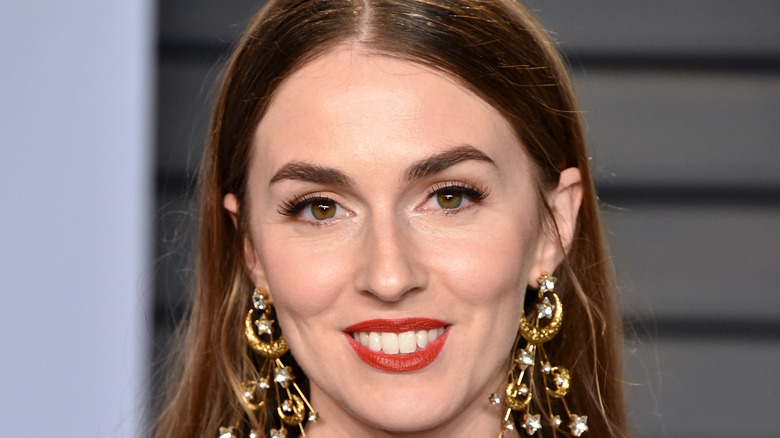 John Shearer/Getty Images
While coping with the trauma and emotions surrounding divorce seems to be the most prominent theme of Anna Marie Tendler's recent work, not every photo shows her mourning her life with ex-husband John Mulaney. Some of the images capture Tendler's transition into a new life of independence. In June 2021, Tendler posted a self-portrait on her Instagram, in which she is lying upside down on a staircase and looking at her phone. It's titled, "God, It's Brutal Out Here," from pop sensation Olivia Rodrigo's breakup-inspired debut album, "Sour."
Another image, "Dinner in July," shows Tendler sitting in bed in an oversized T-shirt, eating Chinese food, with a pair of high heels sitting on the bed next to her. Compared to "Dinner in March," which showed her at a dining room table with an empty place setting, this seems to indicate that Tendler is moving into a place of acceptance with the situation.