How To Give Your Hair The Salon Steam Treatment At Home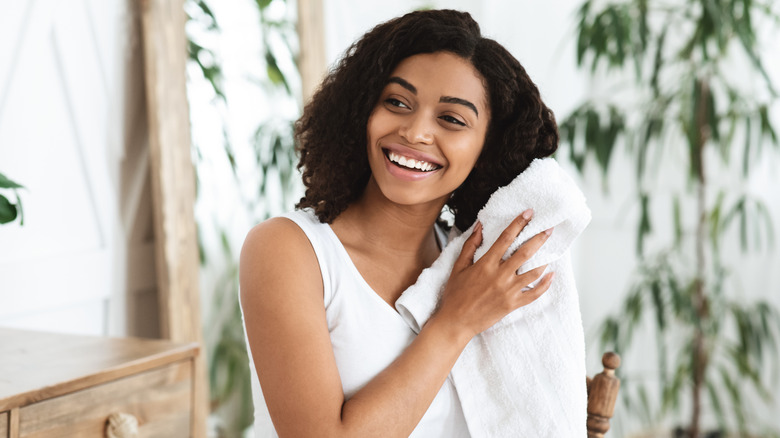 Prostock-studio/Shutterstock
If you have natural hair, you might have heard that hair steaming is somewhat like a facial for your hair. Hairstylist Charlotte Mensah explained the process of hair steaming to Glamour. "Steaming is the process of using moist heat to help open up the hair follicle, lift the cuticle on the hair shaft, and allow conditioner and treatments to penetrate each strand to allow better absorption of moisture," she said. "Steaming is one of the best things you can do to pamper your hair, as the heat aids in hydrating dry hair, leaving your parched hair happy."
Ultimately, hair steaming is a treatment for your hair and scalp that helps remove impurities and buildup while allowing moisture to penetrate deeply, softening your locks. In addition, it serves as a deep cleaning for your scalp, and it may even have calming effects if you have scalp irritation. 
According to JouJou Hair Studio, you can receive the benefits of a good hair steam at home — without even needing to purchase an expensive steamer. If this sounds like something you'd love to do, read on to find out how.
Here's the best way to steam your hair at home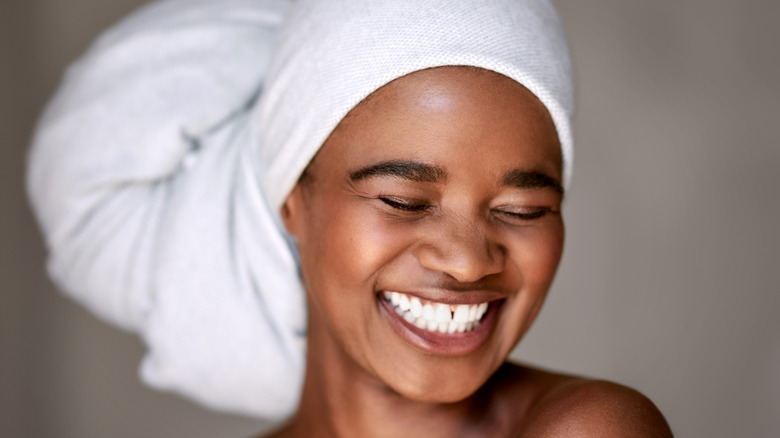 marvent/Shutterstock
When you steam your hair at home (or at the salon), it's essential to wash it first (via JouJou Hair Studio). Once your hair is clean, apply your favorite conditioner and put a processing cap over it. If you don't happen to have one, you could try a shower cap or a plastic bag. Next, get an absorbent towel or turban, and soak it in water. Once it's saturated, microwave it for about two minutes, ensuring it gets warm. Wring out the towel, and then gently wrap it around your head. Put a plastic bag large enough to cover the whole towel around your head, and sit under a hooded or bonnet dryer for 30 minutes to up to two hours. If you don't have a dryer, you can also use your own body heat. Once you're finished, rinse your hair in cool water to seal your hair cuticle.
According to Glamour, if your hair is incredibly dry, you can try this treatment at home every week to 10 days. Otherwise, if your hair isn't extra dry, once a month should be sufficient. If you have any questions, be sure to ask your stylist for advice.