Chloe Grace Moretz Shares Her All Natural Face Wash To Keep Her Skin Clear
DFree/Shutterstock
Celebrities letting us in on their beauty secrets and their favorite products has to be our favorite trend of 2021, and it's the trend that keeps on giving. Up to bat now is Chloe Grace Moretz, the actor known for such films as "Kick-Ass," "The 5th Wave," "Carrie," and "Let Me In" (via IMDb). This isn't new for Moretz either, as she's previously revealed the drugstore eyeshadow palette that she swears by.
Moretz has been in the entertainment industry for a long time, and she's thus experienced a transformation that's truly stunning. This is in part because she's been in the business since she was five years old. In fact, she told Wonderland that she ultimately landed her first movie at just six years old. She also told the outlet about her evolving relationship with fame and the public's constant sight of her.
"I was okay with it for years, and all of a sudden around 18 I started getting a lot of anxiety with the idea of being on a carpet. I started realizing that those cameras are eyes and lenses," Moretz explained. However, she found her groove and cemented her relationship with her fans and the world. This leads us to today, when Moretz is letting people into her life more than ever — even when it comes to sharing her favorite beauty products.
This is what Chloe Grace Moretz does with olive oil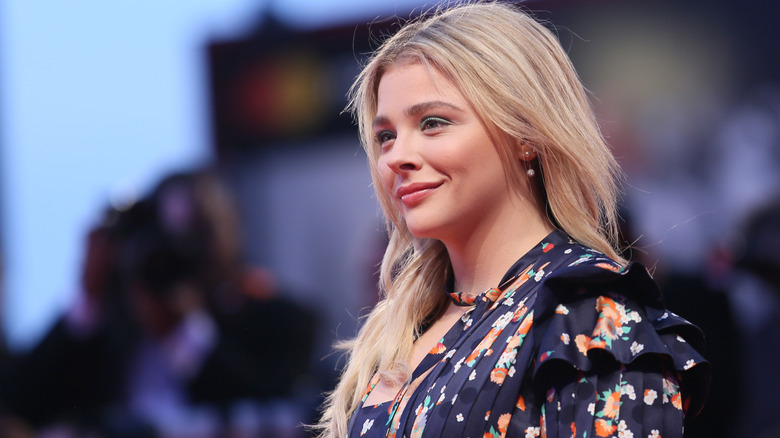 Denis Makarenko/Shutterstock
When it comes to natural, radiant beauty, Chloe Grace Moretz instantly stands out. Her skin is always glowing, and we may now know why. The film star told Allure that there's one natural substance that she uses on her face more than anything else. The substance? None other than olive oil, the same cooking oil used in various cuisines around the world.
"I wash my face with olive oil," Moretz told Allure. "I swear my skin is so much clearer because of it." This claim isn't unsubstantiated, either. According to Treurer, olive oil is capable of moisturizing "even the most sensitive skin," as well as strengthening your skin's tonicity, revitalizing your skin, combating aging because of its antioxidants, and helping to repair damaged skin cells.
It appears to be a miracle on the skin just as in cooking, and what's more, Treurer notes that it's an excellent makeup remover, too! It's also particularly great if you have acne-prone skin, as the olive oil can help keep your acne at bay (via Healthline).
With Moretz's skin always clear and glowing, it's safe to say she may be on to something with her use of olive oil on her face, and we may just have to give it a try soon!