What Is DaBaby's Real Name?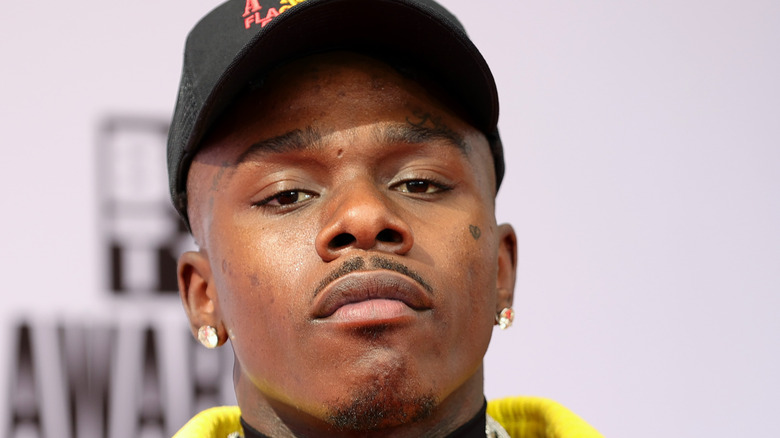 Rich Fury/Getty Images
Rapper DaBaby has taken the music industry by storm. The North Carolina native first stepped onto the scene in 2015 under the alias Baby Jesus. The rapper changed his name in 2016, a decision he explained on his track "Intro" to his mixtape "God's Work: Resurrected" (via XXL). On the track, the rapper mentions that his name change was "political." In an interview with Interrupted Blogs, the rapper further explains his decision.
"I don't want the name to keep me from any listeners," he tells the outlet. "I feel like the music, and the movement is bigger than all that."
2016 was a massive year in the rising rapper's career. In 2016, DaBaby dropped six mixtapes, an "ambush" on the music industry, according to All Music. His 2016 track "Light Show" was his first big single to create buzz. He went on to perform the hit at South by Southwest in 2017. Building off of his previous success, in 2019, he officially made it to the mainstream when he released his debut studio album "Baby on Baby." The album peaked at no. 7 on the Billboard 200 Charts (per Need Some Fun). DaBaby's freshmen album featured Hip Hop heavy hitters such as Offset, Rich Homie Quan, and many more (via Raptv). By the end of 2019, Dababy had 22 entries on the Billboard Hot 100, making him the most featured of any artist that year. Dababy released his second album "Kirk" later that same year, solidifying his spot in hip hop.
What is DaBaby's birth name?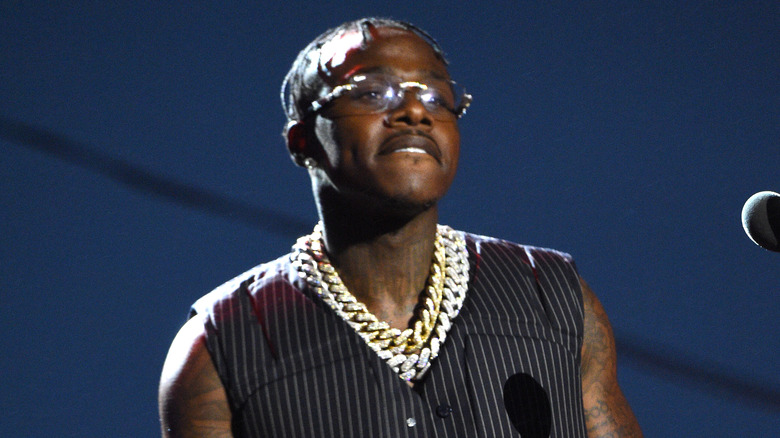 Kevin Mazur/Getty Images
DaBaby was born on Dec. 22nd, 1991 (via Need Some Fun). Baby, whose real name is Jonathan Lyndale Kirk, is the third and youngest child. Although born in Cleveland, the rapper spent most of his childhood raised in Charlotte, North Carolina.
In 2014, following his trouble with the law, Kirk decided to change his life around and focus on music (via All Music). Although heavily influenced by early '90s hip hop chart-toppers such as Eminem, 50 Cent, and Busta Rhymes, Dababy shared with XXL that the only sound that influences his music is his own. "My sound, I don't ... I ain't [really] pull from no rapper," he told XXL. I make it a point not [to], you know what I mean?"
But out of all the rappers from his childhood, Dababy admits one of his all-time favorites was Lil Wayne. "Out of all the people I named, they had big eras, they had the time. Wayne, it was something different. Just his mentality. That's what I'm on. That's why I gotta say Wayne — the best muthaf****** rapper in the world, that's me now."
Confident and talented, DaBaby is adamant that he will leave his mark in the realm of hip hop.