Inside Yvonne Strahovski's Relationship With Chris Pratt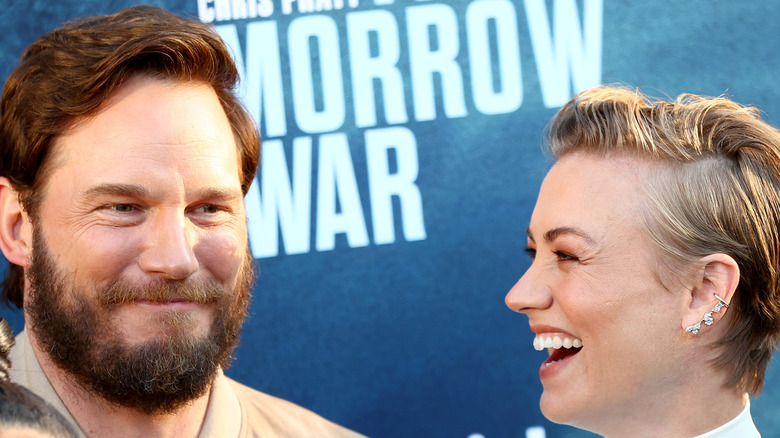 Matt Winkelmeyer/Getty Images
Actress Yvonnne Strahovski is probably best known for her portrayal of Serena in "The Handmaid's Tale," in which she plays a commander's wife who is complicit in the subjugation of fellow women. But despite being able to channel an ice queen on-screen, Strahovski appears to be the opposite in real life. 
According to a profile of the actress in the Sydney Morning Herald, Strahovski once "stopped traffic in LA's Sunset Boulevard to rescue a pigeon that had been hit by a car (the bird died in her arms) and more recently picked up a duck precariously waddling down a main road in Adelaide."
Even more proof that Strahovski is much nicer IRL than her fictional counterpart? Her close friendship with her "Handmaid's Tale" costar, Elisabeth Moss. Although they're at odds on the show, Strahovski has said that working with Moss is "like having the greatest sparring partner ever" (via The Hollywood Reporter). "I have so much respect for her, as I do really with everybody," Strahovski told Parade, adding that working with Moss has been "really wonderful." 
"Everyone is so wonderful and everyone brings such a unique spark to what they're doing on the show," Strahovski said of her coworkers — an attitude she appears to bring to each and every one of her projects.
What Yvonne Strahovski has to say about Chris Pratt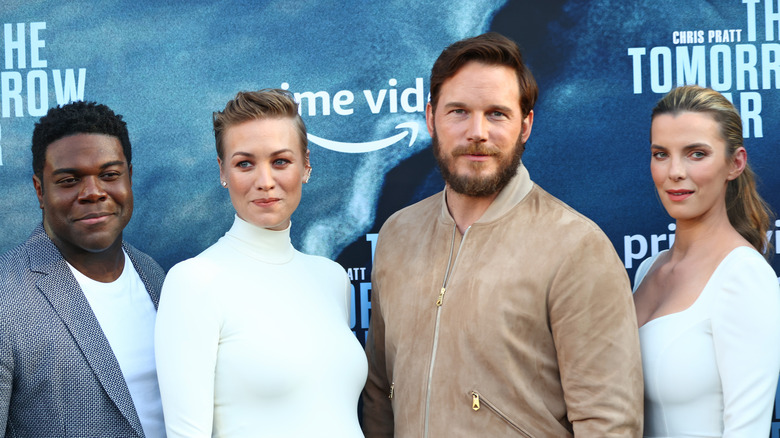 Matt Winkelmeyer/Getty Images
Outside of filming "The Handmaid's Tale," Strahovski recently co-starred in the sci-fi film "The Tomorrow War" alongside Chris Pratt. In order to prepare for the action film, the actors underwent actual military training — and given the content of the movie, it could have been a real bummer to shoot (via Republic World). However, Strahovski's co-star — a known funnyman — ensured that was not the case.
Strahovski said that working with Pratt was a "joyful experience." Per Strahovski, Pratt would be making jokes and goofing off up until the very moment when their director said "action" and the cameras started rolling. She also said that Pratt was "naturally funny" and could resume his character like "the flip of a switch."
Apparently, the admiration is mutual. "On Yvonne's maybe second day [filming], she had to climb to the top of this 200 or 300-foot tall power plant in Atlanta and essentially do a catwalk," Pratt told People. "You're on a wire suspended on a rig, but if you fall, you're actually going to mess yourself up because you're going to be careening off a beam before they catch you. And she did it seamlessly."
"I had been practicing this thing all day," Pratt continued. "I had absolute vertigo. I was freaking out. You could tell that for a brief moment she was nervous and she just zipped it all up, got super tough and nailed it right away. It was pretty impressive." Impressive, indeed!