Salma Hayek's DIY Hair Hack Involves Your Favorite Food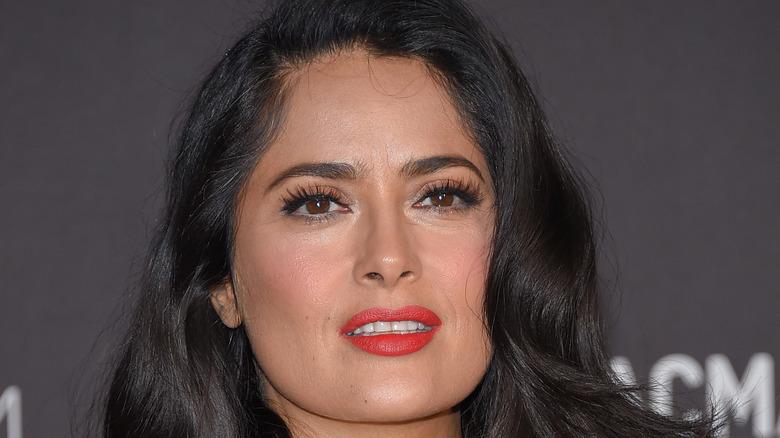 DFree/Shutterstock
Scoring lush, silky hair can often seem like a celebrity's best-kept secret. After all, what better way do you keep the mystery of Hollywood alive? Every once in a while, a makeup artist or celebrity hairdresser may spill and share with fans of their famous clients how they achieve a particular look. However, stars like Salma Hayek aren't shy about sharing how they care for their hair.
Known for her gorgeous brunette mane, Hayek has stunned on the big screen, and it's not hard to see why. With Latina and Arab roots, Hayek fully embraces her natural hair texture and can often be seen showing it off on Instagram in posts that include fans singing words of praise. Unlike other celebs, she keeps it real and reveals her hair care techniques, which might surprise you. Ready to switch up your beauty routine? Here are Hayek's top coveted hacks for getting your hair ready for the red carpet — or, at the very least, date night ready.
The actress uses basic kitchen essentials to offset dryness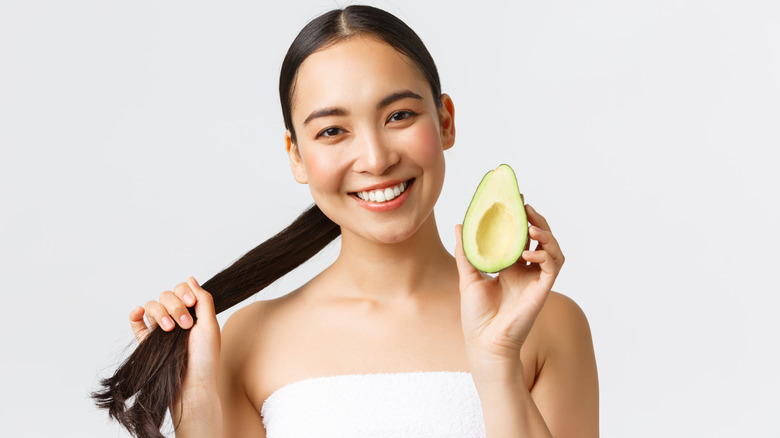 Mix and Match Studio/Shutterstock
When it comes to having amazing hair, Hayek knows her stuff. After all, she did launch the cosmetics and hair care brand Nuance with drugstore giant CVS in 2011 (via WWD), and even though it's been pulled off the shelves, many of her best tips aren't exclusive to a single product. In fact, you can score some of Hayek's haircare staples right from the comfort of your own home.
Take avocados, for instance. In a 2015 interview with Buzzfeed, Hayek revealed that guacamole sans the toppings or avocado by itself can work wonders for dry hair. So what exactly is it about this fruit that is so effective? For starters, avocados are chock full of good fats and oils that add moisture back into strands, plus vitamins can produce a shinier scalp, which leads to overall better hair health (via Healthline).
Hayek also recommends using mayonnaise as a mask if avocados aren't available, given its greasy properties. While it may sound funky, mayonnaise is a key ingredient in hair masks, because it's made with vinegar, which can help restore hair's pH levels (via Byrdie).
To give strands a glossy sheen, Hayek suggests rinsing hair with apple cider vinegar. Per Medical News Today, thanks to apple cider vinegar's anti-inflammatory and anti-microbial properties, it can even stave off conditions like dandruff that can mess with dry hair.
Hayek doesn't shy away from unusual ingredients in the name of beauty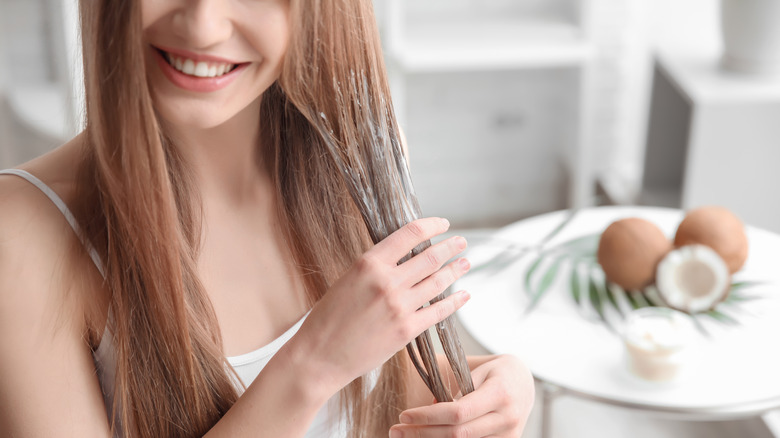 New Africa/Shutterstock
As a general rule of thumb, according to Hayek, the smellier the food, the more likely it is that it will be good for your hair. Take, for instance, egg yolk. While egg yolk can seem a little bizarre, it can help revive parched strands. If you're worried about the odor, the movie star has just the thing to make the mask a bit more tolerable. "One thing you can do to take away some of the stench is to take the skin of the egg yolk out, and put a couple of drops of lemon, but it's still going to stink," she shares with Buzzfeed.
As an alternative, Hayek recommends running coconut oil through hair, not only for its pleasing scent but also because it treats hair that's extremely dry. Plus, it also has protective properties that help it act as a barrier ,making it the perfect ingredient to apply before washing hair to prevent shampoo from sucking out moisture (via Marie Claire).
Although Hayek's Nuance hair care mask is no longer available for purchase, it's nice to know that similar results can be achieved with a few common, inexpensive items from the kitchen. Just be sure to really get in there and rinse out all traces of the ingredients to prevent unwanted buildup from weighing hair down.