The Best Hydrating Primers For Dry Skin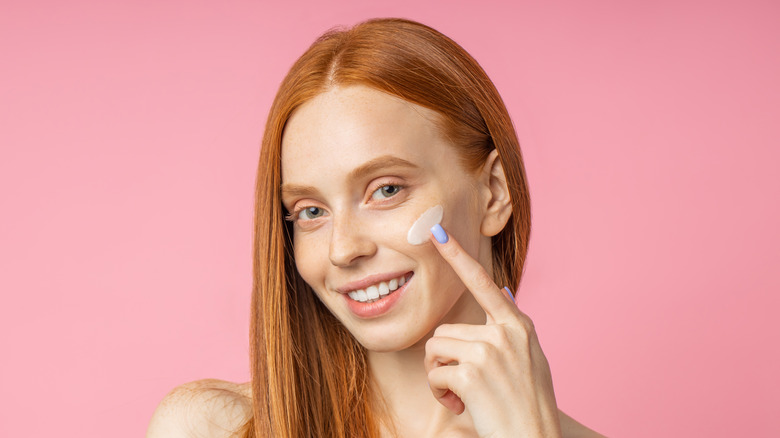 Stockshakir/Shutterstock
Avoiding a parched, cake-face look when applying foundation can be especially difficult if you have dry skin. Add your concealer and setting powder on top and it can soon start to feel drier than the Sahara Desert. Luckily, there's a way to hydrate, smooth, and prep your face for an Insta-ready glam makeup look, and all it takes is primer. The key is to look for hydrating face primers with active skincare ingredients that will plump your skin and give you a glass-skin glow.
One standout product is the Victoria Beckham Cell Rejuvenating Priming Moisturizer. Beckham collaborated with famed biomedical scientist and globally renowned stem cell specialist Augustinus Bader to create the priming moisturizer (per Who What Wear and Augustinus Bader). The moisturizer helps rejuvenate the skin's cellular turnover process while treating wrinkles and firming the skin with Bader's signature TFC8 compound, peptides, and avocado oil (via Who What Wear and Victoria Beckham). The TFC8 compound contains amino acids, vitamins, and synthesized molecules that are naturally found in the skin.
Moisturizing primers for the ultimate glow-getter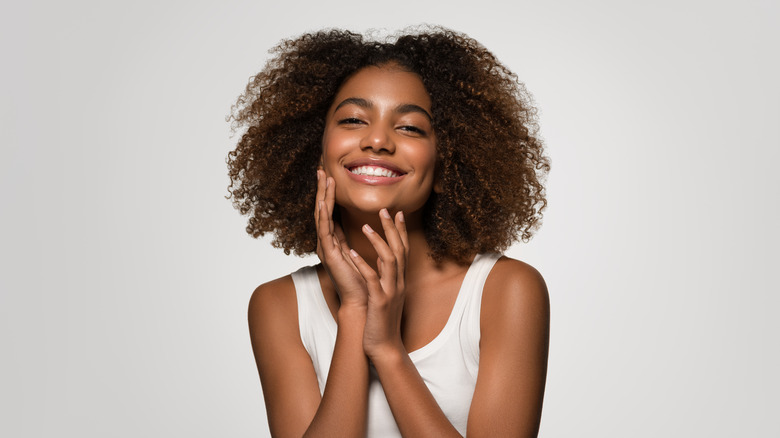 Irina Bg/Shutterstock
Milk Makeup Hydro Grip Primer, a holy grail product for several beauty guru enthusiasts, offers several benefits in a multi-tasking formula that grips the makeup in place all day long while simultaneously refreshing and hydrating the skin with hemp seed extract, blue agave extract, aloe water, and hyaluronic acid (via Who What Wear).
If you had one too many drinks the night before, the Too Faced Hangover Primer may not be able to cure your hangover, but it will erase all the signs of one from your face (via Byrdie). The coconut water in the primer is like a refreshing drink for your skin, while the probiotics in it will help your skin recover (per Sephora). 
For those who want hydration and anti-aging ingredients, Dr. Barbara Sturm Anti-Aging Primer contains hyaluronic acid, lactic acid, and antioxidants (via Sephora and Byrdie). A staple that's popular among celebrity makeup artists and will give you plump skin is Bobbi Brown Vitamin Enriched Face Base, per Who What Wear. It's a 2-in-1 moisturizer and primer with shea butter and vitamins B, C, and E.
Affordable options that will give you glass skin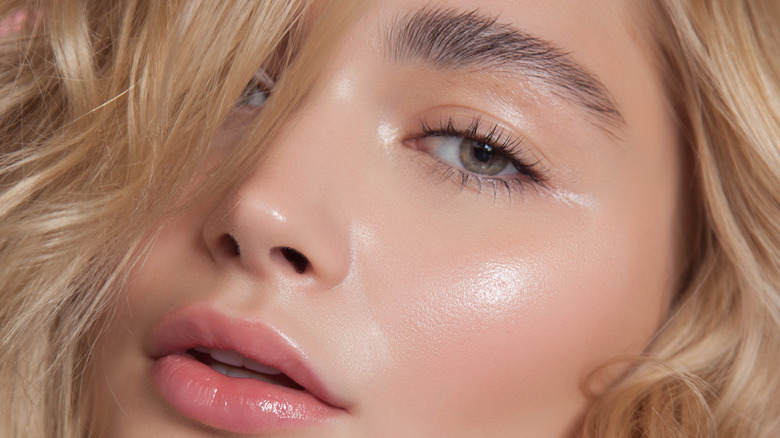 Nelia L/Shutterstock
Thankfully, there's a primer that's similar to Bobbi Brown Vitamin Enriched Face Base but is a whopping $30 cheaper, and it's called LORAC Dewy Canvas Prep. According to Allure, the combination moisturizer-primer product contains skincare ingredients like hyaluronic acid, glycerin, and squalene, as well as matcha powder and jade powder, which give the product a green color-correcting tint. 
Molly Smith, LORAC's senior director of product development and marketing, told Allure, "We were having a hard time finding a moisturizer that was giving off a beautiful dew, a beautiful, plump glow, without compromising the performance of the makeup," adding, "We wanted to create something that gave the flow of a facial oil but would still work under a full face of makeup."
Another skincare-infused primer is Neutrogena Hydro Boost Glow Booster Primer & Serum. This product is a primer and serum in-one that contains hydrating glycerin and hyaluronic acid. 
A dupe to the Milk Makeup primer mentioned earlier that has gone viral on TikTok and Instagram is the e.l.f. Mint Melt Cooling Face Primer, per Southern Living. The primer has a similar gripping formula that will lock your makeup in place, while giving you a dewy, fresh glow thanks to the hyaluronic acid in it, per e.l.f. Cosmetics. It's also packed with antioxidants and peppermint extract, which will keep you cool for the summer. According to Southern Living, this primer will even help your makeup last through a hot day in the South!