This Bernie Sanders-Inspired Halloween Costume Is Turning Heads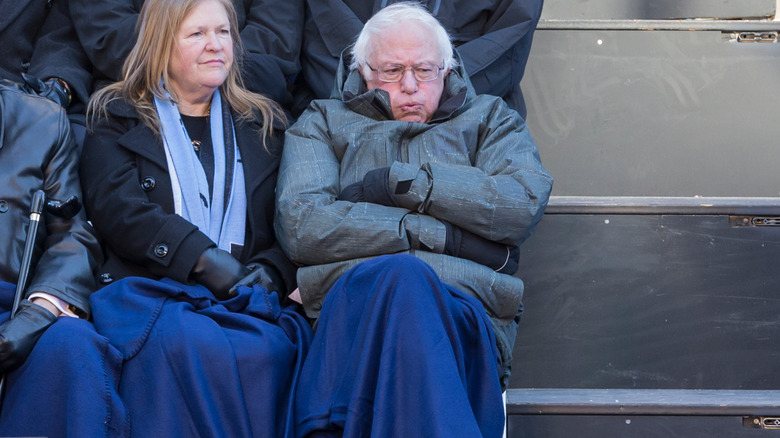 lev radin/Shutterstock
We all remember the iconic meme of a disgruntled and masked Bernie Sanders sitting candidly at President Biden's January 2021 inauguration in his oversized mittens. It took the internet by storm, as people began to edit the Vermont senator in a range of amusing situations, such as classic paintings or the moon. Some memes even garnered millions of likes showing Sanders with his seemingly vexed body language (via CNBC). "In Vermont, we know something about the cold, and we're not so concerned about good fashion," Sanders told CBS while reacting to the viral sensation (via Twitter).
Now, around nine months later, with Halloween around the corner, some highly creative costume designs have begun to appear online. Everyone knows that Halloween is the best time to get your sexy on. Sexy angel? Check. Sexy nurse? A classic. Sexy Bernie Sanders? Well, there's a first time for everything.
Online retailer Dolls Kill creates edgy clothing for "Misfits and Miss Legits" — aka Gen-Z e-girls, according to New York Post. They even have their own pop culture section for their large collection of Halloween costumes, and there's one specific costume that's "trending like crazy," according to Dana Rosenberg, director of marketing at Dolls Kill (via Vice).
The "Once Again Asking Costume Set" capitalizes on Sander's virality
Dolls Kill's take on the Bernie Sanders meme, titled the "Once Again Asking Costume Set," comes with a polyester grey coat, a simple surgical mask, and mittens. The original pair of mittens were made by a schoolteacher, via People, but these included with the costume closely resemble the ones worn by Sanders during that fateful day. A notable difference, however, between this costume and the original Sanders outfit is that the Dolls Kill version doesn't include pants.
Needless to say, the internet had strong reactions to the online retailer's creation. "Why did they make Bernie as a hot got e-girl costume I'm wheezing," someone Tweeted.
Although Sanders himself has yet to comment on the costume, one of his spokespeople, Mika Casa, had very strong words to say. "If fans of Sen. Sanders' mittens are looking for a real scare this Halloween, they should see how hard the wealthy and world's biggest corporations are fighting to stop Congress from finally addressing the long-neglected needs of the working class," Casa told Vice. Since the "Once Again Asking Costume Set" comes in at $85 from a fast fashion retailer, according to Teen Vogue, it's somewhat ironic given Sanders' stances on minimum wage that you might need to save up money to resemble the 80-year-old Democrat.