What LuLaRoe Consultants Really Did With Smelly Leggings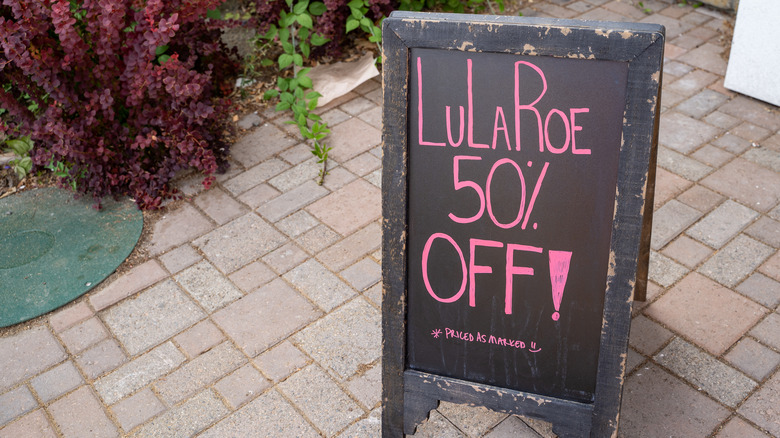 melissamn/Shutterstock
Amazon Prime's "LuLaRich" is the four-part limited documentary series people can't stop talking about, chiefly because the story of how LuLaRoe founders Mark and Deanne Stidham — who had little to no business acumen prior to launching the company (via Buzzfeed) — became two of the richest people in the fast-fashion industry is ruthlessly addictive. Featuring testimonials from the couple themselves, alongside former employees in various stages of grief due to the losses they incurred as LuLaRoe retailers, "LuLaRich" is part true crime, part scam, and all crazy.
Even the trailer for the documentary is filled with jaw-dropping moments, as statistics fly across the screen showcasing how many millions of dollars were being banked by what was, ultimately, revealed to be a pyramid scheme — and not a particularly sophisticated one at that. In particular, former retailer Roberta Blevins' shocking revelation that her "whole house smelled like dead fart leggings" (via YouTube) after opening a shipment of inventory is equal parts hilarious and disturbing. 
Thankfully, she's sharing the true story behind that bonkers statement. 
LuLaRoe retailers were sent defective merchandise
Taking to TikTok, former LuLaRoe employee and truther Roberta Blevins acknowledged that, at one point, it was relatively normal to receive defective products. These items might have holes in them, be soaking wet, or, in the case of the now-infamous stinky leggings, simply reek. According to Blevins, the stench was interminable and hit her right in the face as soon as she opened the shipment in question. 
There were three pairs that were particularly offensive, which Blevins was advised by her superiors to simply wash and sell at a discount. She didn't. Instead, Blevins asked fellow retailers for their guidance, but, again, she was told to soak the leggings in vinegar or put them in the freezer overnight to kill the odor.
The "LuLaRich" star refused to try any of those wacky ideas either and instead went to her superiors again, requesting a refund. Unfortunately, because there was no "visible damage" (as Blevins air quotes), she was denied any monetary compensation. She was simply left to wallow in the smell, which she reiterated was genuinely stomach-churning. Describing the offending leggings as "the worst thing I've ever smelled," Blevins went on to try to accurately capture the stench in question, comparing it to "poop in a wet bathing suit," "a dead rat pool party," and, of course, a "dead fart." 
The former LuLaRoe retailer ended her hilarious rant by noting sagely, "Many people were affected by the dead fart leggings."