Here's What Jake From Love Island Is Doing Now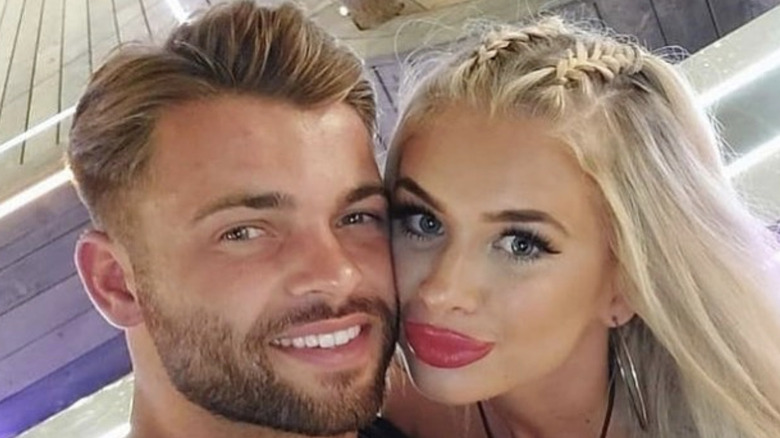 Jake Cornish/Instagram
Season 7 of "Love Island" UK had its fair share of ups and downs, and one of the most shocking moments in the series occurred when fan favorites Liberty Poole and Jake Cornish called it quits as a couple and left the show together (but separate). Just days away from the final week, they decided to depart the villa to free up a spot in the final for another couple that deserved to be there, Sky News outlines. 
So what is Cornish up to now? Some eyebrows were raised when the water engineer didn't attend the "Love Island" reunion special, per iNews, however, he's been pretty open about his life since leaving the show. After departing the villa, Cornish has had a lot of time to reflect on his relationship with Poole and his communication with her. "If you don't know me, I can't articulate my words very well, I can't express how I feel," he told KISS Breakfast's Harriet Rose (via Heat World). "It's on the end of my tongue in my head but I can't get it out. It's my way and only my way. I need to sit back and take a breath and process it and I've learnt that about myself now."
Shortly after leaving the villa, he told Bang Showbiz that his mind wasn't on love at the moment. "Right now my priority is spending time with the family, spending time with the friends who I've not seen for 10-12 weeks," he said. "Just letting everything happen naturally you know? Just see what's what."
However, his life has certainly changed — in more ways than one — thanks to being on "Love Island," and he may have an intriguing job offer in his future.
Jake Cornish just might land his dream job
After leaving "Love Island," many contestants waste no time in making online brand deals, booking event appearances, and generally living life in the spotlight. However, The Sun reports that Jake Cornish hasn't been clamoring for attention. Per the publication, he hasn't been spotted at any events with his fellow islanders and has instead been pictured at home in Weston-Super-Mare with his family members. They've appeared on his Instagram a number of times recently, and, under one picture of him and his mother, he wrote, "Missed You So Much Mum."
In addition to spending quality time with family, it appears that Cornish may have a dream job on the horizon. After participating in a raunchy striptease challenge on "Love Island" — for which Cornish memorably dressed as a scantily-clad Viking — he said (via Heat World), "If anyone from Dreamboys is watching, get on the phone to me now!"
Apparently, the producers at Dreamboys, a male revue, were watching and saw something they liked in Cornish. During an interview with OK! Magazine (via Bang Showbiz), Alice Woods, owner and director of Dreamboys, said, "I've loved watching Jake on 'Love Island,' from the first few episodes he instantly caught my eye as a potential Dreamboy, he's got the look! He has the perfect cheeky chappy demeanor we look for in all our performers, and a few Islanders who left the series earlier on had mentioned to us that his dream in life was to perform with the Dreamboys."
Woods confirmed that she reached out to Cornish about the opportunity, so only time will tell if Cornish will reprise his tantalizing striptease any time soon.