Meet Marilyn Monroe's Doppelganger On Lookalike Love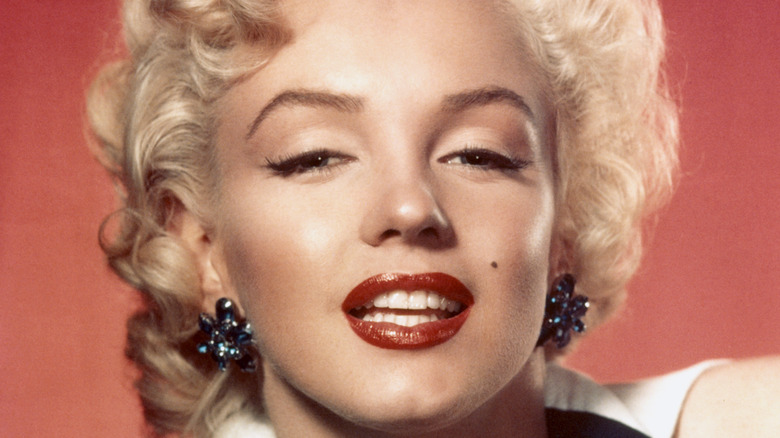 Michael Ochs Archives/Getty Images
Reality TV is the bread and butter of internet culture, whether it's channeled through memes, TikTok recreations, or Twitter debates. After the success of multiple shows like "90 Day Fiance" and "Too Hot To Handle" on our quarantined screens, networks are on production overdrive well into 2021. Lifetime's newest reality segment is called "Lookalike Love," a title that doesn't prepare you for what it's about. Produced by the people behind "Love is Blind," this show explores the lives of celebrity lookalikes and their partners (via People).
The show premiered in July, featuring versions of Kim Kardashian West, Beyonce Knowles, Marilyn Monroe, and even Barbie. According to The Hype Magazine, these people have transformed themselves into their celebrity obsessions with plastic surgery and makeup routines while embodying the "speech patterns, extravagant fashion, and mannerisms" of the celebrities as well.
Marilyn Monroe's lookalike is one of the four doppelgängers who navigate the authenticity of their relationships and partners. Read on to know more about her.
Marilyn Monroe's lookalike lives in the celebrity's old house
Jasmine Chiswell (or Marilyn Monroe to the untrained eye) channels Monroe's classic aesthetic into her 1950s outfit changes, hairstyles, and mini vlogs, earning her 12.7 million followers on TikTok. But Chiswell's content also features another star: Marilyn Monroe and Joe DiMaggio's house.
The lookalike lives in the sprawling Hollywood mansion with her husband, often giving viewers a peek that results in millions of views (via TikTok). However, she's also admitted to paranormal activity in the house. "Is the house haunted? Yes," she says in one video (via TikTok). She also went on the British TV show "This Morning" to explain the phenomenon. "There's been so many weird things that have happened," she said (via Youtube). "My husband and I have tried to debunk the things we hear, but so many people have experienced things we just can't explain ... We're just both not sure, but we've had a psychic over who believes it is her and Joe and possibly another ghost that likes to play tricks."
We see more of the house and Chiswell's husband in "Lookalike Love," where the authenticity of their dynamic is explored. "I am worried that he is hiding something," Chiswell explains in one of her testimonials (via Daily Mail). The show ultimately creates a perfect balance of genres in Chiselle's story, but there are three other glamorous doppelgängers to follow as well.