Does Dog The Bounty Hunter Really Have Information On Where Brian Laundrie Is?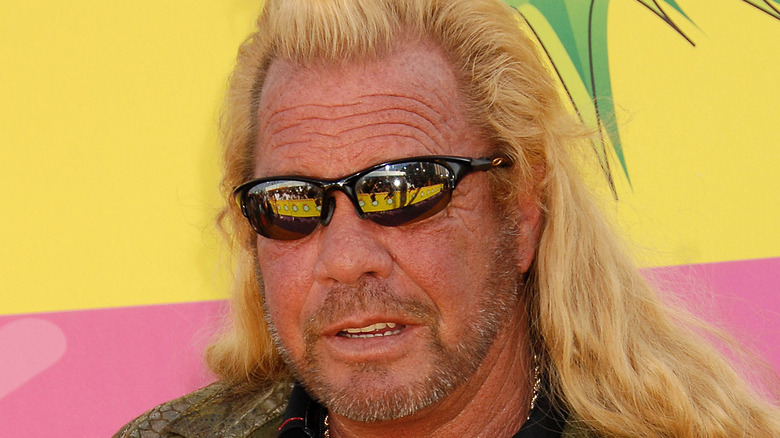 Ga Fullner/Shutterstock
Duane Chapman — aka Dog the Bounty Hunter – has made a name for himself tracking down some of the most dangerous fugitives in the country, and viewers got to see him in action for eight seasons on his A&E reality show. Now Chapman has gotten involved in one of nation's the most high-profile cases: the search for Brian Laundrie.
The FBI is looking for Laundrie in connection with the death of Gabby Petito. The 22-year-old Long Island native disappeared while on a cross-country road trip with Laundrie, who refused to cooperate with law enforcement and went on the run soon after. Petito's body was discovered in Teton County, Wyoming on September 19, 2021, and a coroner has ruled her death a homicide (via CNN). And now Chapman — along with his new wife Francis Frane — has entered the search for Laundrie, vowing to find him within six weeks so Petito's family can get some answers. He has set up a hotline — 833-TELL-DOG — for information about the fugitive and even showed up at Laundrie's parents' house in Florida. "I'm chasing several leads," Chapman told the Daily Mail. "We've got a lot of leads. I can't tell you more but we are getting leads every 10 minutes." 
And now Chapman says he has some information that could help lead the FBI to Laundrie.
Dog the Bounty Hunter got a tip on Brian Laundrie's possible location
Duane Chapman has been chasing down leads in an effort to find Brian Laundrie. And he told Fox News that he received a tip that Laundrie and his parents took two camping trips at Fort De Soto Park in Pinellas County in early September, but on the second trip, only Laundrie's parents came home. "They were registered, went through the gate," Chapman revealed. "They're on camera. They were here. We think at least if he's not here right now, we are sure he was caught on camera as he went in the gate — that he was here for sure. Not over in the swamp."
"Allegedly, what we're hearing, is two people left on the 8th," he added. "Three people came in on the 6th, and two people left on the 8th. I think he's been here for sure."
But the Laundrie family attorney, Steven Bertolino, claims that they have no idea where their son could be. "They are concerned about Brian and hope the FBI can locate him," Bertolino wrote. "The speculation by the public and some in the press that the parents assisted Brian in leaving the family home or in avoiding arrest on a warrant that was issued after Brian had already been missing for several days is just wrong."