What Muhammad Ali Really Thought Of Hank Aaron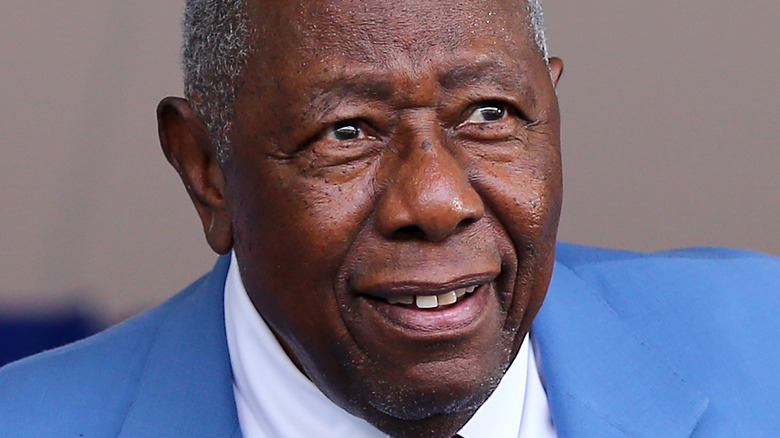 Elsa/Getty Images
Baseball legend and civil rights activist Henry Louis "Hank" Aaron died in January 2021. During the 23 seasons he was in the major leagues, the former Atlanta Braves player surpassed some formidable records set by some of the biggest names in the game, such as Babe Ruth, Ty Cobb, and Stan Musial (via Britannica). On April 9, 1974, Aaron, also known as '"Hammerin' Hank," hit his 715th home run, breaking Ruth's 1935 record. It was a career-changing moment that thrust him into the Hall of Fame but also had devastating repercussions.
As he approached Ruth's record, the Home Run King began receiving death threats. In an interview with Sports Illustrated, almost 20 years after breaking the record, Aaron revealed how many of the threats he received still haunted him. "I never finish a drink anywhere, even a glass of water," Aaron told the magazine, "unless I'm right here at home."
He also mentioned to the outlet that he was wary of cars driving behind him and never sat with his back to a restaurant door. Still riddled by the traumas he faced during his career, Aaron realized that his role was larger than just baseball. "I realized that I had some kind of role that I should be playing. I'm not talking about a baseball role ... someone who had a role to play to help other Blacks like myself," he told WSB-TV.
During his lifetime, Hank Aaron fought for racial equality on and off the baseball diamond, similar to another sports great, boxing legend Muhammad Ali.
Muhammad Ali gave Hank Aaron the greatest compliment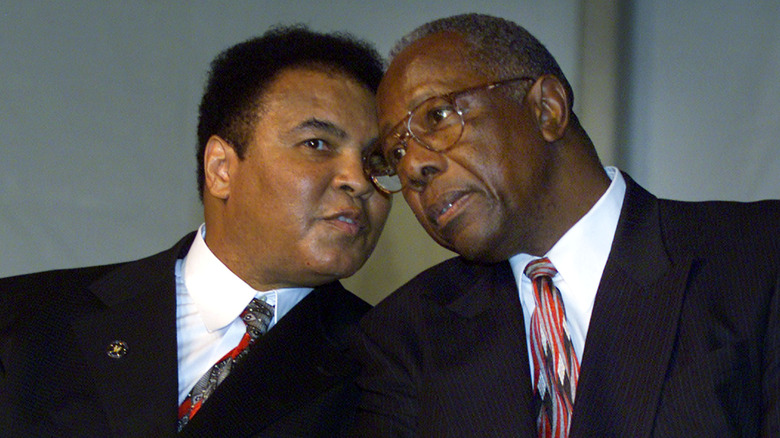 Mark Wilson/Getty Images
Boxing legend and civil rights activist Muhammad Ali admired Hank Aaron. According to Red Tricycle, Ali once referred to Aaron as "the only man I idolize more than myself." That's a pretty big compliment, coming from the boxer who famously called himself "The Greatest" and was known for quips like, "I'm still pretty" after winning a bout (via The Undefeated).
Although the two professional athletes led outstanding careers in their respective fields, each also faced rampant racism. Despite receiving racist letters and death threats, and becoming aware of a plan to kidnap one of his daughters, Aaron continued to hammer his way into the baseball Hall of Fame. During his career, Aaron set a total of 12 major league baseball records and won three Golden Gloves Awards (via NPS.gov). According to the Baseball Hall of Fame, Aaron remains the all-time leader in RBI (2,297) and total bases (6,856).
Following one of Hammerin' Hank's record-breaking home runs, Georgia state congressmen Andrew Young proclaimed him a "model of humility, dignity and quiet competence" (via Baseball Hall of Fame). "He did not seek the adoration that is accorded to other national athletic heroes," Young said. "Yet, he has now earned it."