Here's How Tall Jeff Goldblum Really Is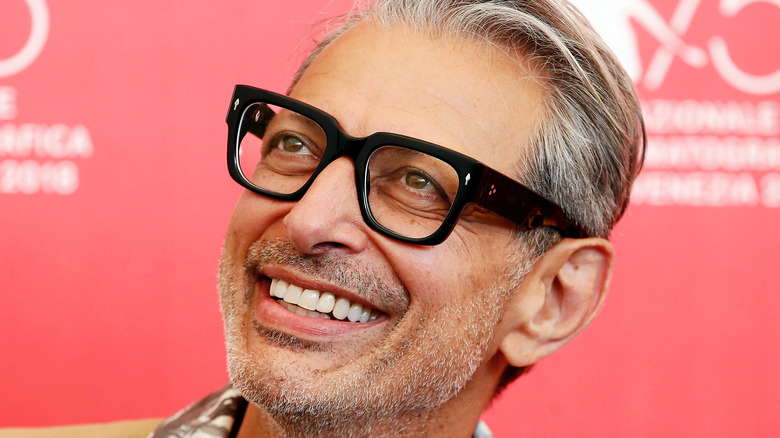 Andrea Raffin/Shutterstock
Jeff Goldblum is an American actor and musician who started his acting career in the '70s. But it seems he didn't really hit ultimate popularity until his role as Dr. Ian Malcolm in the 1993 box office hit "Jurassic Park." According to Simplemost, there are a few actors that Goldblum would have to literally look up to, like Brad Garrett, James Cromwell, and Dwayne Johnson. Film can be deceptive. Especially as you watch these people on bigger-than-life screens, doing bigger-than-life things. It's understandable that one could mistake Tom Cruise for a tall man. And before the internet, he probably got away with that.
Goldblum, one of the stars of "Thor: Ragnorak," has much more going for him than just his height. He is a talented actor who has managed to work consistently for four decades. His career has been consistently gaining momentum that entire time. He brings the charm, charisma, and very specific speech pattern to every role he embodies. He leaves the audience wanting more of whatever he's bringing to the table.
Jeff has his own day in Pittsburgh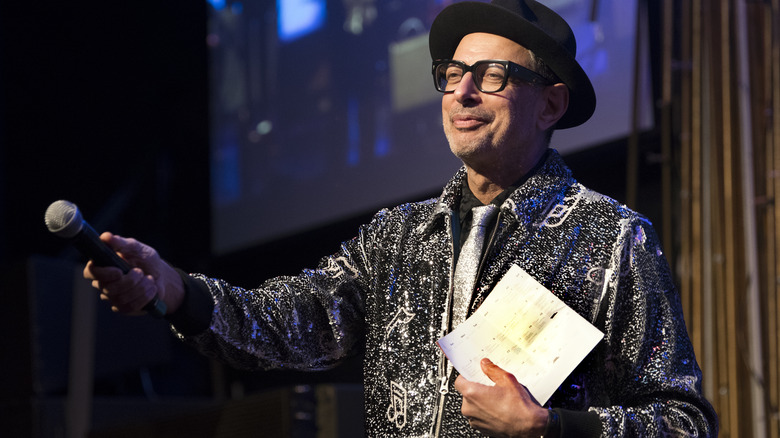 Debra L Rothenberg/Getty Images
Goldblum, born and bred in Pittsburgh, is proud of his Pennsylvania roots. And Pittsburgh is proud of him, too. The pride runs so deep, that in 2004 the Pittsburgh City Council declared July 13 as Jeff Goldblum Day. On this day, Goldblum fans of all ages and walks of life gather together to enjoy food, music, Goldblum-inspired art, and movie marathons. In 2019, Goldblum surprised fans by showing up for the celebration at a local tattoo gallery (via WPXI News). The fun didn't stop there. The encounter was captured for his Disney+ documentary series, "The World According to Jeff Goldblum." He danced with fans, took selfies, and even picked up a tattoo needle as one die hard fan allowed him to assist in inking a Goldblum tattoo on his leg.
Goldblum, moving around the crowd more like an eccentric uncle than a celebrity, enjoys meeting and chatting with his fans. According to a BuzzFeed video posted on YouTube of him playing with puppies, he likes to make himself available to his fans, specifically at his jazz gigs. That's right. The newly appointed fashion icon is also a performing jazz musician (also via YouTube) with two albums under his belt. Jazz makes perfect sense for him, since when watching him in interviews, his train of thought seems to take a very improvisational, jazz-scatting path.
Jeff likes being zaddy
Kathy Hutchins/Shutterstock
While the jazz musician is an actual daddy to his two young sons, Charlie and River, the internet likes to call him that as well. Or more accurately, "zaddy." According to his appearance on "The Hot Ones" (found on YouTube), he kind of likes the "sexy talk" circulating about him in his mentions. It seems the older he gets, the more his swagger and style solidify his place as a silver thirst trap.
We've all seen the iconic photo of him as Dr. Ian Malcolm — chest bared, badly injured, laying across the back seat of a Jurassic Park jeep. That image has served as inspiration for many an artistic creation, including a 25-foot statue located in front of London's Tower Bridge (via Time). The statue was meant to commemorate the 25th anniversary of "Jurassic Park," but let's be real: It's mostly commemorating Goldblum at peak sexy. And at 25 feet, it's almost four times the size of its human inspiration. The star of "The Fly" (and we do mean fly – check his Instagram) has stated in a YouTube video from Wired that he is 6' 4" ("and a skosh"). Now, 6' 4" is a considerable height, especially for a Hollywood actor, where the average is closer to 5'8".
There's swagger, style, confidence, and loads of talent all wrapped up in that extremely tall package. We hope he continues to grace all of our screens with it, movie to computer.