The Meaning Behind Hailee Steinfeld's Song Most Girls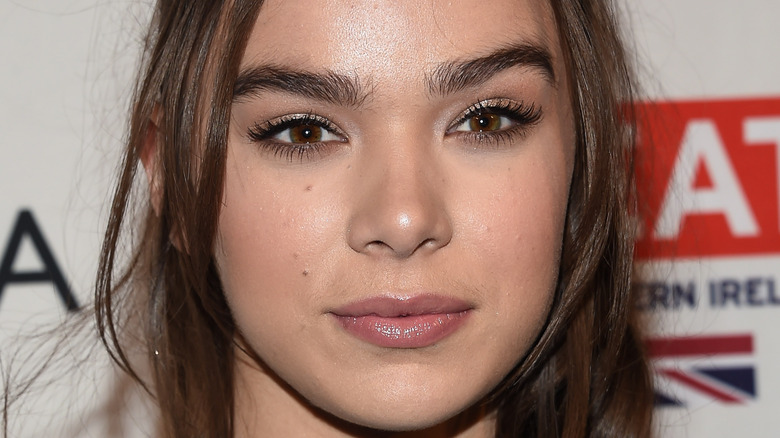 DFree/Shutterstock
While most people know Hailee Steinfeld from her impressive acting resume, which includes blockbusters like "Bumblebee," the critically acclaimed "The Edge of Seventeen," and the Marvel series "Hawkeye," the A-lister also has a successful music career (via IMDb). Steinfeld made her singing debut in 2015, around the time her musical film "Pitch Perfect 2" premiered (via Billboard). At just 18-years-old, her debut track "Love Myself" was a huge hit that made the Billboard Top 40 chart. The self-love anthem currently has over 500 million streams on Spotify.
Steinfeld released her first EP, HAIZ, in 2016 and followed it with a string of well-received singles. Her biggest track to date, "Starving," has almost 1 billion streams on Spotify. One of Steinfeld's most personal songs is the 2017 single "Most Girls." The upbeat pop track features a surprising but uplifting message. In an interview with The Guardian, the now-24-year-old explained what inspired the track.
Hailee Steinfeld wants to be like "Most Girls"
Hailee Steinfeld's hit song "Most Girls" celebrates all sorts of women. The empowering track calls for girls to support and admire one another through lyrics like, "Most girls are smart and strong and beautiful / Most girls work hard, go far, we are unstoppable," and "Our fight to make every day, no two are the same / I wanna be like, I wanna be like most girls" (via Genius). 
In an interview with The Guardian, Steinfeld explained, "I felt that we've been accepting the compliment 'You're not like most girls' for a very long time. I have. I feel like there's been this golden standard or rule that in order to be special you have to be different to other women."
The singer added that the track is "empowerment pop" that encourages self-love over basing your worth on other people's opinions. In closing, Steinfeld said, "I think this generation of women is more than ever banding together and really lifting each other up, and I think girls and guys are really starting to think that way as well." We don't know about you, but we'll certainly be listening to this bop in a whole new way.