The Truth About Taylor Swift And Hailee Steinfeld's Friendship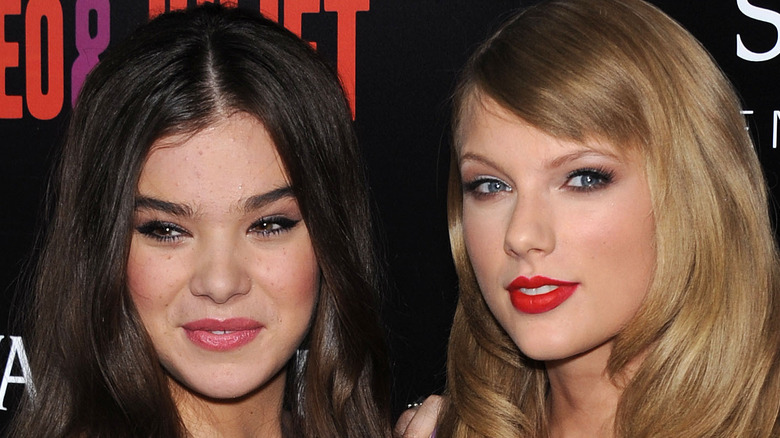 Shutterstock
Once upon a time, Taylor Swift's super-star squad was the group of A-listers everyone wanted to be a part of. The coveted positions of the squad were held by models, musicians, and actresses alike, including Karlie Kloss, Cara Delevingne, Hayley Williams, Selena Gomez, Blake Lively, Dianna Agron, Jaime King, and Hailee Steinfeld — just to name a few (via Insider). And whether it was Swift casting the group of famous stars in her iconic "Bad Blood" music video or bringing them on stage throughout various legs of her 1989 tour, for a while, everywhere the "Blank Space" singer went, her squad followed.
"Pitch Perfect 2" star Hailee Steinfeld, who was just a teenager at the time, opened up during a 2015 interview with Vogue about what it was like to be a part of Swift's squad, telling the outlet, "Oh, my God. That, I've experienced nothing like. The whole show we were all super present so that we weren't going to be missing our cues. So we went backstage and we all got dressed together — it was me, Lena [Dunham], Gigi [Hadid], and Lily [Aldridge] — and Taylor's up onstage doing her thing, no big deal, just another night."
"We got up onstage, we got off, and we looked at each other, and we were like, 'What the hell just happened?' I don't remember a thing," Steinfeld continued, jokingly adding, "I'm pretty sure I just blacked out."
Hailee Steinfeld and Taylor Swift's friendship has remained steady throughout the years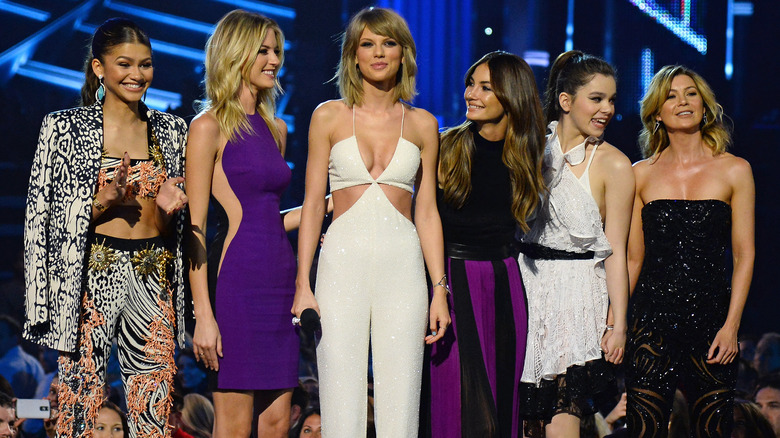 Ethan Miller/Getty Images
While Taylor Swift and Hailee Steinfeld have remained friends over the years, Steinfeld revealed that the pair aren't actually as attached to the hip as people think they are. Speaking to Seventeen Magazine in 2016, the "Barely Lethal" actress opened up to the outlet about their friendship, saying, "I think people think we spend a lot more time together than we actually do! She's amazing though."
However, just because the pair doesn't spend a ton of time together doesn't mean that they don't support one another. During an interview with Vogue, Steinfeld revealed the helpful career advice Swift gave her when they first struck up their friendship. "One of the first things she told me was, 'You're going to have to make a lot of decisions — make sure it's you that's making them,'" the actress said. "And at that time, I was obviously very thankful for that and I nodded my head, yes and we went on to our next conversation."
"It wasn't until I had to start making decisions that I realized how many people are involved and how important it is that my decisions are being made," Steinfeld continued, adding, "I mean, she's made a few right decisions."
Both Hailee Stenfield and Taylor Swift have been focusing on their careers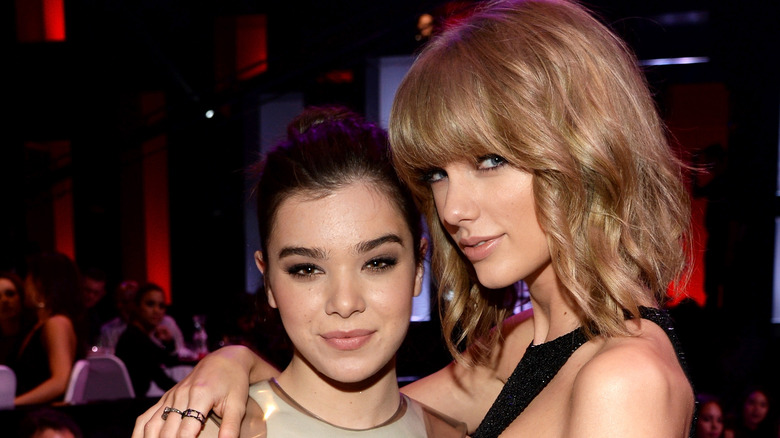 Kevin Mazur/Getty Images
While it's unclear whether Taylor Swift and Hailee Steinfeld have spent any quality time together recently, what is clear is that both gals have been busy focusing on their careers. Swift notably released two surprise full-length albums — "Folklore" and "Evermore" — in the span of six months during the pandemic, as well as a re-recording of "Fearless: Taylor's Version" in April. Swift is set to release another re-recording of her 2021 album, "Red," in November (via Pitchfork).
Steinfeld's acting career has been on the rise the past few years, with the 24-year-old actress appearing in "Pitch Perfect 3," "Bumblebee," "Charlie's Angels," and of course, the Apple TV Plus series "Dickinson," in which she plays famed poet Emily Dickinson (via IMDb). Her TV mini-series "Hawkeye," is also currently in post-production, and she slated to voice Gwen Stacy in "Spider-Man: Into The Spider Verse 2," which will hit theaters sometime in 2022.