Why The Internet Is Turning On Josh Duggar's Wife Anna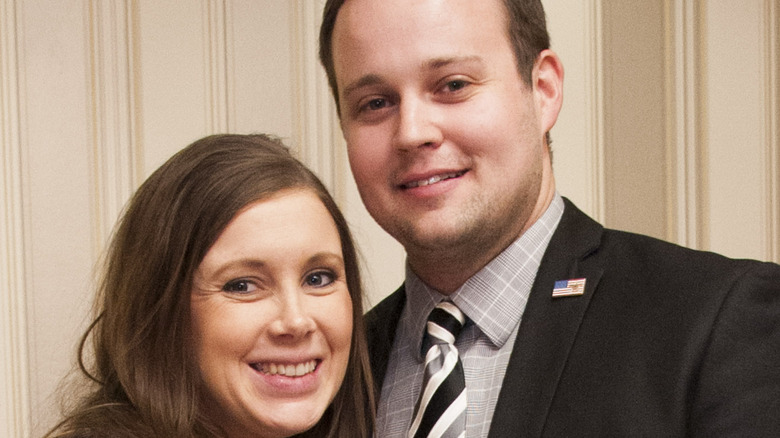 Kris Connor/Getty Images
For years, the Duggar family of "19 Kids and Counting" and its spinoffs built their reputation on wholesomeness, love and faith. But in recent years, that reputation has been tarnished, largely due to the actions of the Duggars' oldest son. In 2015, dismayed fans learned that Josh Duggar had inappropriately touched several of his younger sisters and a family friend when he was a teen (via USA Today). Soon thereafter, leaked records revealed that Duggar had allegedly been a subscriber to the Ashley Madison website, which facilitates affairs for married men (via People). Then came the final and most shocking blow: In April 2021, Duggar was arrested and charged with "receiving and possessing material depicting the sexual abuse of children" (via Us Weekly). 
The scandals have divided the once close-knit family. Parents Jim Bob and Michelle released a statement supporting Josh and his wife, Anna, and praying "that the truth, no matter it is, will come to light." Sisters Jinger and Jill were more critical; Jill called the situation "very sad," and Jinger and her husband, Jeremy Vuolo, declared their support for the "authorities and judicial process" and for TLC's decision to cancel the "Counting On" show featuring the adult Duggar children (via Page Six).
Fans of the Duggars continue to follow the individual members via their Instagram accounts. Tens of thousands offer their likes and comments on photos of family outings and the many grandchildren who have been added in recent years. But their support for Anna Duggar has been flagging in recent weeks.
Fans feel that Anna Duggar is in a toxic marriage
Anna Duggar has six children with husband Josh, and she's in the last stages of pregnancy with their seventh, a girl. You would think that an unemployed, pregnant mom would be flooded with sympathy and offers of help; not so in this case. Anna has been loyally standing by her husband, despite the horrific charges against him, and people are having a hard time understanding why. On September 27, she appeared with Josh outside the courthouse after a pre-trial hearing (via People). Anna is also reportedly leaving the children with her family most of the time so that she can stay with Josh at the house of his court-ordered guardians (via The Sun). Josh is allowed to see his children as long as Anna is also present.
Katie Joy, who follows the Duggars on her "Without a Crystal Ball" channel and Instagram, quoted a source who knows the family well, but who has "lost all sympathy [and] respect for Anna" for putting Josh above the interests of her children. Many followers agreed. One said, "She's definitely in denial, and when he's sentenced or convicted, she's going to fall apart." Another said, "As a mother, she should be RUNNING! She should be alarmed, ashamed, pissed off! ... [but] she's probably scared to death to be alone."
Others pointed out that Anna may be too entrenched in her spiritual beliefs to understand that her marriage is toxic and that her husband's crimes are serious.
Anna Duggar may feel she has no other options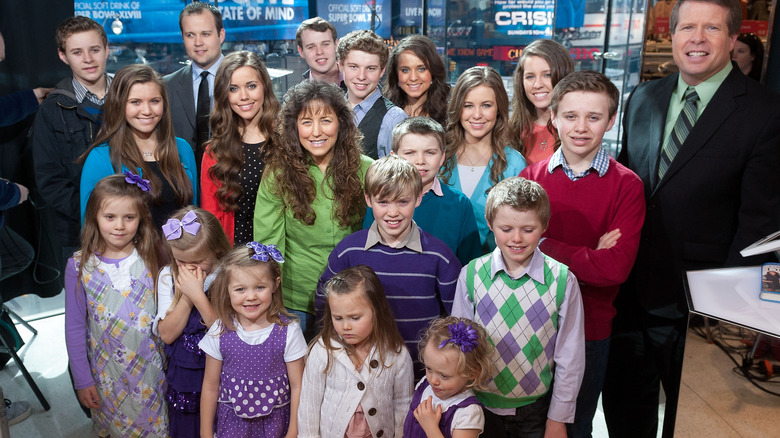 D Dipasupil/Getty Images
Many also noted that Anna comes from the same ultra-conservative Christian background as her in-laws. The Duggars follow the teachings of a sect known as the Institute in Basic Life Principles, founded by a controversial leader named Bill Gothard (via Radar Online). The IBLP teaches that marriage is for life and the man is the head of the family, with women as obedient at-home mothers. Birth control is discouraged, so families like the reality-show Duggars and Bates see large families as part of God's plan.
Documents shared by the Recovering Grace blog reveal a blame-the-victim approach to abuse. The church teaches that women in abusive marriages should endure the suffering "for righteousness." In cases like Josh Duggar's, they recommend calling law enforcement only if the man's wife, family and church can't change his ways. With a baby on the way and without a job, Anna Duggar may feel she has no other choice but to stick by her husband.
One sympathetic fan wrote on Katie Joy's post, "For the outsiders looking in — it's easy to say she should leave him, she should be disgusted, etc., but until you are in that situation, you just don't know or understand. Once she accepts what he has done, she will feel disgusted."
If you, or anyone you know, have been a victim of sexual assault, help is available. Visit the Rape, Abuse & Incest National Network (RAINN) website or contact RAINN's National Helpline at 1-800-656-HOPE (4673).