Here's Why Kylie Swim Isn't Sitting Right With Shoppers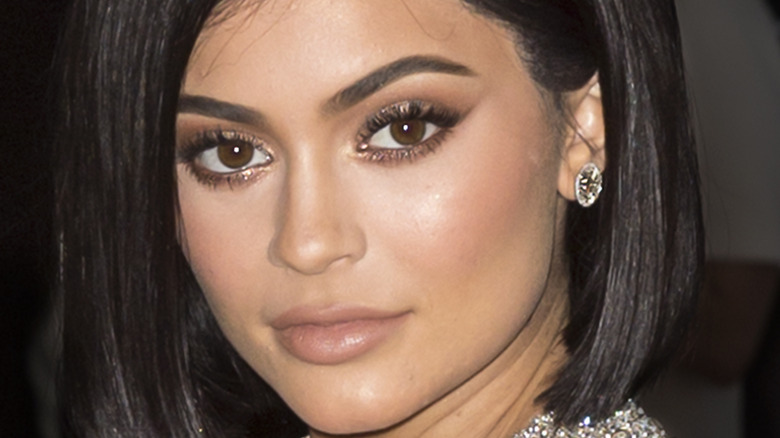 Ovidiu Hrubaru/Shutterstock
Kylie Jenner has asserted herself over the past few years as a force to be reckoned with within the world of beauty and fashion. In 2015, at just 18 years old, Jenner revealed her entrepreneurial side to the world via her multi-billion dollar company, Kylie Lip Kits. Then, in 2016, she rebranded her entire line of beauty products with Kylie Cosmetics, which eventually introduced her very first eyeshadow pallet as well as a line of holiday products in December of that year, per WWD. It's no surprise that she was deemed the youngest self-made billionaire of all time with such entrepreneurial success at just 21 years old (via Forbes).
After a few more years of creating more makeup products, all with different styles and functions, as well as a release of her very first skincare line, it would appear that she is now making a leap into a completely different industry: fashion (via CR Fashion Book).
On August 17, 2021, Jenner took to Instagram to share the exciting news that she would be releasing a line of swimwear called "Kylie Swim," teasing fans by posting photos of herself and various models wearing the mysterious swimwear in question. According to WWD, the products will consist of "swimwear, beach cover-ups, headwear, tops, bottoms, footwear and robes," and "swimwear-related accessories." But unfortunately for Jenner — and countless fans — the reception to the swimwear hasn't gone exactly as expected.
Customers were shocked upon receiving the products they ordered
The "Kylie Swim" products — which were officially released on September 17, 2021 (via Cosmopolitan) — have thus far received less than stellar reviews. Over the months, Kylie Jenner has released dozens of photos of the swimsuits in question to both her personal Instagram account, as well as an account dedicated exclusively to hyping up the products. The photos showed off the different designs available, the bright neon colors, and the fabrics that appeared to be high-quality. But if you ask customers, this wasn't the reality at all once they finally received the hyped-up products.
TikTok user Makeup by Shayla released a video that left an "honest AF review" of the "Kylie Swim" items she purchased. She says that while she thinks the overall look is "super cute," the quality of the products are disappointing based on the sheer fabric and thin proportions. Another user, TikToker kindredl, says that what she ordered is just "not it." She added that the material is so "paper thin" that it just "shows everything." Not only did she take issue with the quality of the fabric, but she also found the seams to be "terrible."
While some customers made jokes about the disappointing quality of the swimwear, others were much more bothered by it. One person commented, "For how much you are worth, your products should be so much better quality. suits and skincare alike, you're jipping people out of their hard earned money it isn't cool," per Page Six.