Paul Bettany Reveals The Most Brutal Part Of Working On Wandavision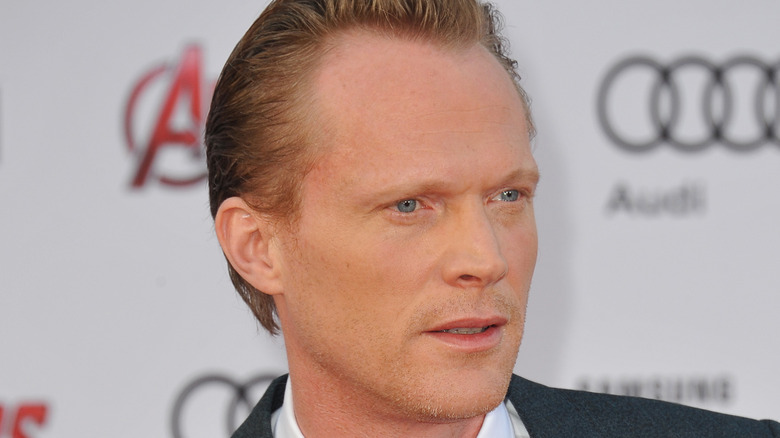 Jaguar PS/Shutterstock
Fans of the Marvel Cinematic Universe (MCU) were anxious to see what was next after "Avengers: Endgame" premiered in 2019. The film brought an appropriately action-packed conclusion to a saga that had been in development for more than a decade. But while the Avengers assembled to defeat the ultimate baddie, they also suffered serious losses to the lineup, which led to questions about how the franchise could continue.
Marvel hinted at the future with "Spider-Man: Far From Home" that same year. While a next phase of films is already in the works ("Black Widow" and "Shang-Chi and the Legend of the Ten Rings" were both released this year), the universe expanded to include television shows hosted exclusively on Disney's new streaming platform Disney+. So far we've gotten three: "WandaVision," "The Falcon and the Winter Soldier," and "Loki."
Of those, "WandaVision," starring Elizabeth Olsen as Scarlet Witch and Paul Bettany as Vision, has become something of a fan favorite. The series was certified fresh with a 91% rating on Rotten Tomatoes, and it won Best Show at the 2021 MTV Movie and TV Awards (via Variety). The cast has also been lauded for its work. That includes Bettany, who picked up a win at the Gold Derby TV Awards (via Gold Derby) and was nominated for an Emmy (via Los Angeles Times).
Bettany has also spilled some tea about working on the project. Recently, he even revealed the surprising challenge he faced to become a superhero.
Paul Bettany says getting in and out of costume was challenging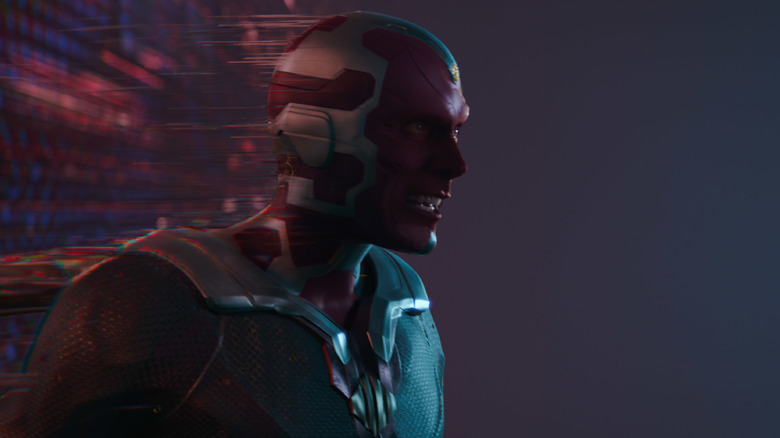 WandaVision Images, Disney+
For those who are unfamiliar with the intricacies of the MCU, Paul Bettany's character Vision is an synthezoid created by Ultron but retrieved by the Avengers and enhanced by Tony Stark (Iron Man) and Bruce Banner (The Hulk) in "Avengers: Age of Ultron" (per Marvel Cinematic Universe). He has a humanoid shape, but the hero is very much technological. And he's red. You may have noticed Bettany is not an artificial being, and his skin is not red. The actor told Digital Spy that getting into and out of the iconic makeup was "brutal."
"It's hard to talk about the discomfort of a costume and make-up, but I will," he admitted. Getting into character was less of a pain that taking off the makeup at the end of a shift. "A lot of damage is done from taking it off, which is usually fine if you are working two or three days a week," he said. "But your skin gets tattered if you are working six days a week..."
Bettany isn't the only superhero who has had a hard time with a makeup routine. Jennifer Lawrence was candid about the difficulties of playing blue-skinned Mystique in the "X-Men" franchise. She questioned the safety of breathing in body paint during an interview with EW. Rebecca Romijn, who played the shapeshifter in an earlier run of the films, told Looper that the seven-hour makeup application process was the most memorable part of the role. However, she spoke fondly of the lengthy process.
His makeup team found a way to help Paul Bettany preserve his skin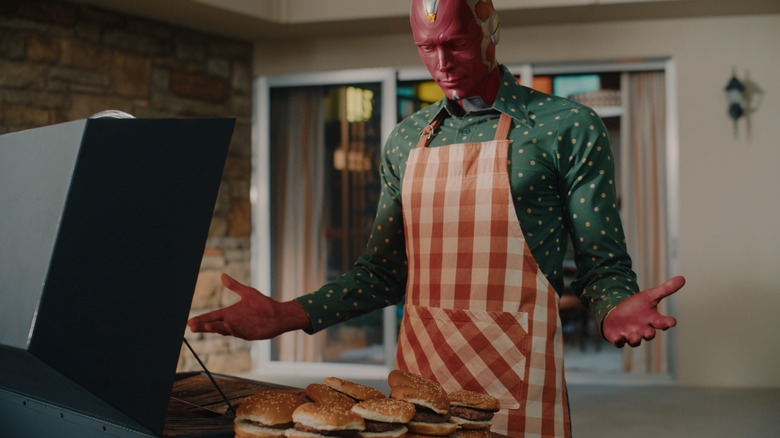 WandaVision Images, Disney+
While he admitted the makeup was at times brutal, Bettany was quick to point out that the series came up with a way to help him make the process easier. According to the actor, they got crafty and built what he referred to as a "tiny mobile sauna," which he used to melt some of the product off, says Digital Spy. "At the end of the night, I would get into this little magical cupboard and I would sit in there with a beer." Admittedly, it sounds like there are much worse ways to end the night.
How did the system work? Bettany provided a run-down. "I'd be fully dressed in robes with hot towels over my head and I'd sit in there for half an hour to try and sweat the make-up off," he explained. "And even if I didn't sweat the make-up off, it lifted it enough that it was much easier to get off my face."
It sounds like Bettany may be getting a break from the challenges of his Vision costume. Although "WandaVision" was a smash hit, Elle noted that the show was billed as a limited series. That means that there were no original plans to develop a second season. However, it's important to expect the unexpected where the MCU is concerned. That means anything is possible, and Bettany could be back as the hero tomorrow.