This Might Be Why Jimmy Kimmel And His First Wife Got Divorced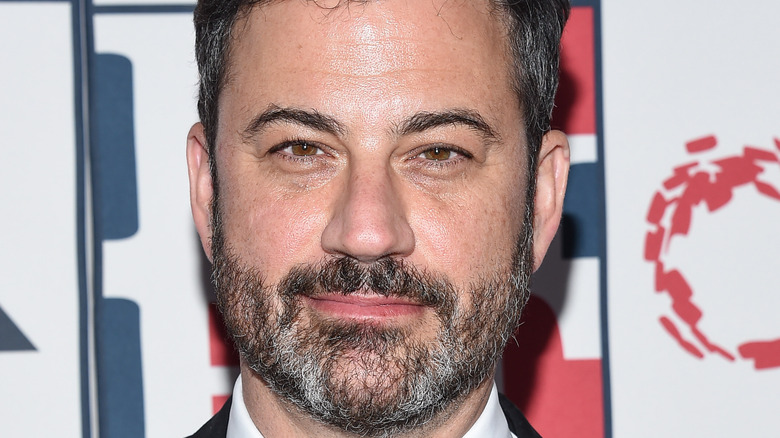 DFree/Shutterstock
Jimmy Kimmel is a happily married family man these days, but he has a bit of a bumpy romantic history. Before starting a family with Molly McNearny, Kimmel was married for nearly a decade and a half and shares two children with his first wife. There is a lot of speculation about what went wrong, but this may be the reason Jimmy Kimmel allegedly left his first wife.
Kimmel was married to Gina Maddy for 14 years after meeting her during college at Arizona State University (per Parade). The two tied the knot in 1988 and had their first child, Katie, in 1991 and their second, Kevin, in 1993. Ten years after Kevin joined the family, the couple parted ways. Splitting before Kimmel made it big, they didn't issue any sort of formal statement at the time. And the silence certainly didn't help the rumor mill from churning once the spotlight was lit.
A popular theory is that Kimmel was involved with Sarah Silverman toward the end of his marriage and the infidelity may have contributed to the strain in the relationship (per Fox News). Kimmel and Silverman knew each other for years before getting romantic, but the timing still seems off to some. A source told Fox News at the time that their affair was "one of the worst kept 'open secrets' in Hollywood" and Silverman was known to refer to Kimmel as her "boyfriend." The two went on to decide that they made better friends than lovers.
Jimmy Kimmel's life after divorce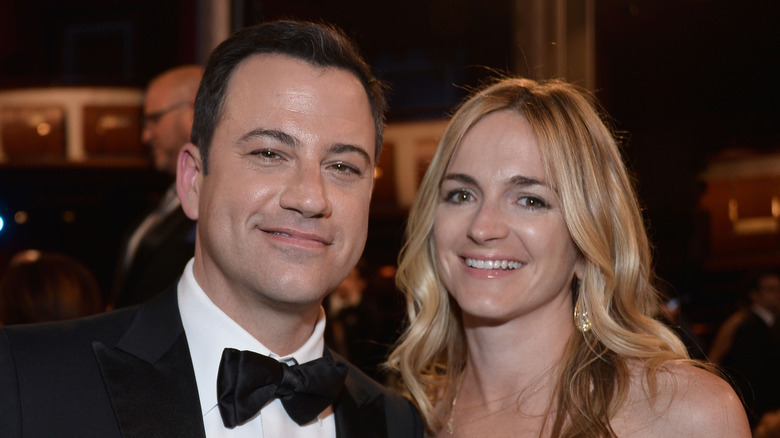 Frazer Harrison/Getty Images
While the alleged affair likely did little for his failing marriage, the breakup with Silverman did open Kimmel up to date someone pretty special. Around the time things ended with Silverman, he met Molly McNearny when she was a writer on his show "Jimmy Kimmel Live" (per People). The two worked together for a few years before seeing one another romantically. But in 2009, they gave it a go and went on to get married in 2013. After a year of marital bliss, they welcomed their first child, Jane, in 2014. And their son, Billy, was born in 2017. 
Speaking with Glamour about how the relationship blossomed, McNearny explained that it was a delicate balance dating in the workplace. "At one of the writers' meetings ... he asked us what our five favorite foods were. I listed mine, which were pizza, gnocchi pasta, a BLT, crab claws, and a cheeseburger. Shortly after, he had invited me to his house, and I was very nervous. I mean, this is my boss. I was thinking, I gotta be careful here. He opens the door, and the whole house smelled delicious ... He had made them all from scratch. I couldn't believe it, and I realized how incredibly thoughtful and generous he really was." 
The relationship is still going strong and a shared love of food could be the secret. Rocky past aside, it might very well be that they've found lasting love together.