What We Know About Jimmy Kimmel's Daughter Katie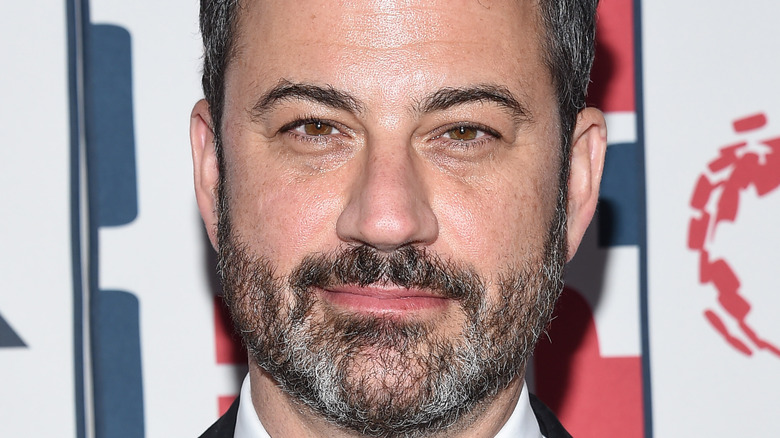 DFree/Shutterstock
Before Jimmy Kimmel shot to fame on his award-winning late-night series, "Jimmy Kimmel Live!," he enjoyed a marriage with his ex-wife Gina Kimmel (via Pop Sugar). Though his fans know much more about his current wife Molly McNeary and their two young children, Jane and William, the talk-show host shares two children with Gina as well. Katie and Kevin are both in their adult years and share a strong connection with their famous father (via Fabiosa), so of course, Kimmel was in attendance at his daughter's wedding (via Yahoo).
Katie married her partner Will Lodgson in a ceremony surrounded by their closest friends and family. The artist wore a white gown with a rainbow tiara at her reception, which was brimming with beautiful flowers and handmade ceramic pieces. Before attending the ceremony, Kimmel dropped by "The Ellen DeGeneres Show," where he revealed how he feels about his first born's milestone moment and new partner (via People).
Jimmy Kimmel is very close with his daughter Katie
In an interview with Ellen DeGeneres, Jimmy Kimmel revealed how he feels about his daughter getting married (via People). After the late-night host revealed Katie's wedding date, DeGeneres congratulated him. However, Kimmel explained that he doesn't understand the sentiment. He explained, "I don't know what I'm being congratulated for. Congratulations on raising a human that is attractive enough to be taken by one person. It's not like we were trying to get rid of her, you know? It's not like we're selling a houseboat on eBay or something like that. But I guess congratulations is the thing."
Later in the interview, Kimmel revealed that he likes Katie's spouse. He shared, "People ask that too like, 'How's the guy?' And I'll tell you, the guy is great. His name is Will and he's a great guy. And if he wasn't, he'd be dead right now." He added, "That's how we operate in my family." 
Since the reception, attendees have shared videos from the special day to their social media accounts. One attendee even posted a video of Katie dancing with her dad (via Daily Mail). It's clear from Kimmel's smile that he was happy for his daughter and what awaits her.