The Meaning Behind Hailee Steinfeld's Self-Directed Music Video I Love You's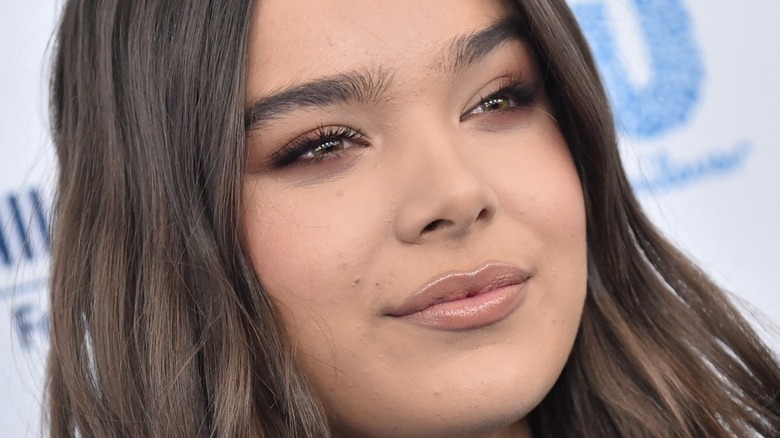 DFree/Shutterstock
Hailee Steinfeld is a music powerhouse. She's part singer, actress, trendsetter, and beauty icon, and she continues to tack on impressive titles with every new project. Per Billboard, the multi-hyphenate has graced Hot 100 charts five times and her 2015 single "Starving" reached number 12. Moreover, her powerful performance in the critically acclaimed 2010 film "True Grit" landed her an Oscar nomination at just 14 years old (via Insider).
With all of the accolades pouring in, Hailee Steinfeld's career trajectory is only growing and diversifying. In March 2021, the "Most Girls" singer collaborated on a vintage inspired swimwear line with Frankies Bikinis, per WWD, and in September, she reminded everyone of her fashion expertise at the Met Gala (via ET). Her outfit game also extends to her music videos. Bustle gave Steinfeld a shoutout for her glamorous looks in her 2015 "I Love Myself" music video. Her expertly put together outfits take center stage in every performance and music video, along with her soulful vocals.
Every music release marks an era of transformation for Steinfeld, and the meaning behind her self-directed 2020 music video for her single "I Love You's" solidifies her storytelling prowess.
The story behind Hailee Steinfeld's I Love You's music video
Hailee Steinfeld's smash single "I Love You's" pays homage to and samples from music legend Annie Lennox, per MTV. It's only fitting that this masterpiece marks her directorial debut (via Dork). Steinfeld opened up to Harper's Bazaar about her experience co-directing the music video with director Sarah McColgan. "My whole concept was a party of one," the pop singer explained. "Basically describing that moment where you realize that the only way I'm going to be okay is if I take time for myself, if I take time to focus on myself, if I take time to relearn myself and let myself heal."
Self-reflection and self-love are running themes in the song and music video, which explains why she appears alone. In a March 2020 interview with EW, the "Pitch Perfect 3" star admitted that past breakups were the inspiration behind the emotional song. In the music video, we see her slowly getting over that heartbreak and falling for herself again in simple, but artfully shot scenes (via YouTube).
Steinfeld also dove deeper into the vibe she was going for on-set (via Harper's Bazaar). "I wanted this video to feel fun and confusing and wild and introspective and confined, but also vast and large and wide." Ultimately, Hailee Steinfeld's music video can't be put into a box — just like she can't.