Of All Meghan Markle's Looks This One Stands Above The Rest
Naresh777/Shutterstock
It's no secret that Meghan Markle's actions have been scrutinized by the press for quite some time now. In fact, even before Meghan married into the British royal family in May of 2018, it seemed like her every move was deeply analyzed — and her first, big public appearance after she said "I do" was certainly no exception. 
In the past, royal watchers have struggled to accept or appreciate the simple yet elegant flair that Meghan brings to the scene. Elle Australia notes that Meghan's "wardrobe appears to make up for the things she's not allowed to say in public." Fashion can certainly be an expression of who we are, and as we have watched Meghan's transformation right before our eyes, she's seemingly gracefully found her footing with her simple, classic, and chic choices. While the choices aren't always what the British public is accustomed to, fans of the Duchess of Sussex love to see her elegant and unique sense of style shine through.
Needless to say, Meghan's outfit choice for the annual Trooping the Colour celebration in June 2018 was bound to garner attention, especially since it marked "her first major post-honeymoon appearance," per Insider. That being said, it still delivered some serious shock value.
Was Meghan Markle's off-the-shoulder dress inappropriate?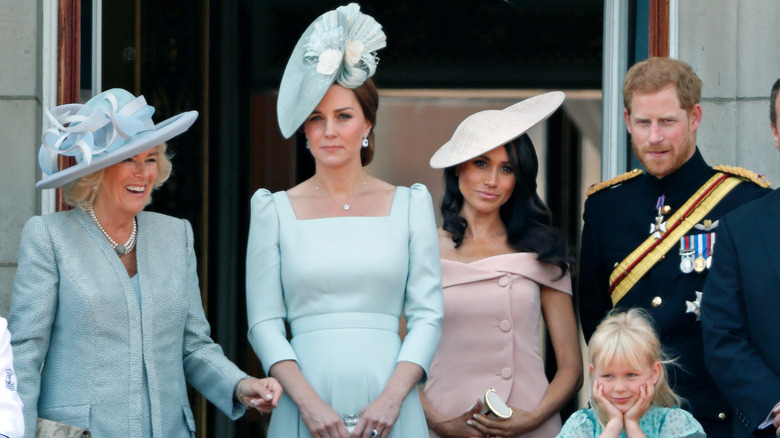 Max Mumby/indigo/Getty Images
For her Trooping the Colour debut in June 2018, Meghan Markle donned a "bespoke Carolina Herrera, baby pink, off-the-shoulder dress with button detailing, and a matching light pink hat," per Harper's Bazaar.
While it seems hard to fault such a classy look, according to Insider, the appearance was met with an uproar. Per the outlet, Twitter users went so far as to call Meghan's look "inappropriate," describing it as "a bit much." However, as Insider notes, Meghan's sister-in-law Kate Middleton has worn off-the-shoulder dresses on several occasions, highlighting yet another instance of Meghan being held to a different standard than those that have come before her.
The dress was seemingly perfectly fitted for Meghan, and the attention to detail with the buttons on the dress and Meghan's choice to simply accessorize with a few rings and a clutch complemented the look perfectly. While standing regally beside her sister-in-law, fans of the "Suits" alum were surely more so focused on how elegant the Duchess of Sussex looked as opposed to the potential royal fashion faux-pas.